IMAGE He's Just Not That Into You/Cinestar (2009)
Many of us have been led to believe that love conquers all, and while that does sound nice, reality just doesn't work that way. We're not saying that happy endings don't exist—this couple proves that they do—just that you need a lot more than love to make a relationship work. Allow us to demonstrate. Here, 12 times love just isn't enough.

1. When he can't hold a job and has absolutely no ambition in life
Hindi nakakain ang pag-ibig.

2. When he loves you, but he can't be faithful
Even if he always comes home to you, enough is enough. Huwag kang martyr! Once a cheater, always a cheater.

3. You two want very different things.
He wants to start a family, but you don't. He wants to live abroad, but you want to stay in the Philippines. It happens. You can try to work things out, but know when to cut your losses and move on.

4. When his family intends to tear you two apart
Sometimes, it's just not worth the trouble.

5. Marami siyang utang.
Don't agree to marry him until he gets his act together. Conjugal property  = creditors will be running after you, too.

6. When he's immature
Dealing with a child is exasperating. You need a man, not a boy.

7. When you know you're just settling
Maybe you've been together for so long that you've become comfortable with where you are or maybe you're just afraid that no one else will look at you the same way—whatever you want to call it, it's still settling, and it's still not enough.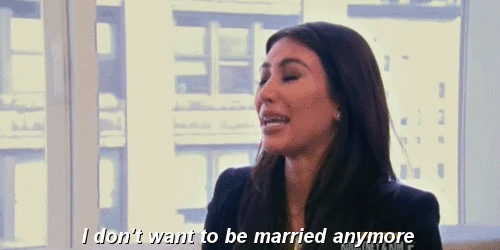 GIFS: Giphy
ADVERTISEMENT - CONTINUE READING BELOW
8. When you don't feel the same anymore
You may be the only good thing left in his life, but that's not a reason to stay in the relationship. Don't stay because you pity him. Stay because you really love him. Otherwise, you're setting yourselves up for a very unhappy and unfulfilling life.

9. There's too much drama involved
No relationship is perfect, but when every day is like a scene from a telenovela, something's got to give.

10. He's afraid of commitment.
These days, marriage is not a priority, but if that's what you want out of your relationship, you can only wait so long. See number 3.

11. When loving him means hurting someone else
Maybe he's your best friend's boyfriend or your kumare's husband. Whatever the case may be, don't let yourself get carried away. Love may make you do stupid things, but we know you're smarter than that.

12. When he hits you, calls you names, and makes you feel bad about yourself
He can apologize a thousand times or send you a dozen imported roses, but that doesn't change the fact that he physically and verbally abused you. You have to know when to walk away. If you're afraid that you'll never find someone who'll love you, remember this: If you don't love yourself enough to leave the relationship, how can you expect anybody to?    

Stuck in an unsatisfying relationship, but not sure how to end it? This may give you a bit of courage.


Load More Stories