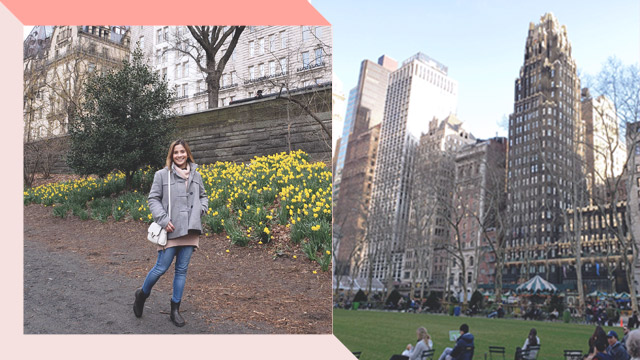 It was part of my bucket list to visit New York before I turned 30, and the city did not disappoint. There's a lot of things to do in New York—too many, in fact, so here's a simple guide to help you get started on your itinerary:
ADVERTISEMENT - CONTINUE READING BELOW
What documents do I need to travel to New York?
If you're a Filipino traveling to the US for the first time, you will need to apply for a tourist visa for your visit. Here are the requirements:
Nonimmigrant Visa Electronic Application (DS-160) Form
Passport with a validity date at least six months beyond your intended period of stay in the US
One 2"x2" photo
Processing fee of $160
Once you schedule your interview, you should also bring the following supporting documents: 
Current proof of income, ITR, property or business ownership, or assets
Travel itinerary
Letter from employer detailing your position, salary, how long you have been employed
Criminal/court records pertaining to any arrest or conviction anywhere
For working adults, aside from an employment letter, pay slips from the most recent three months
Find a step-by-step guide to US Visa application here.
Where should I stay for my first trip to New York?
This will really depend on how much you are willing to shell out on accomodations. If it is your first trip, it might be wise to spend a few days in Manhattan since a lot of the tourist destinations are there, however, it will be hard to book a decent hotel below $100 a night, so it might not be ideal if you're traveling alone. Some areas to check could be Astoria (I stayed with a friend in this area, and it was quite convenienct. It also felt very safe walking at night since it's a very family-oriented-but-still-hip neighborhood). Brooklyn or Chinatown, and Hoboken in New Jersey, Staten Island (the ferry is free!) are other options. "If there are two of you traveling, $180 will definitely get you a Manhattan hotel," our travel expert Kat previously wrote.
CONTINUE READING BELOW
Recommended Videos
How much should I budget per day in NYC?
This will truly depend on what you're interested in doing, as shopping, meals, and drinks can cost a lot in New York—especially in Manhattan. But if you just want to see the best of New York, then the most important thing to buy is the MetroCard for the subway and bus ($33/unlimited rides for seven days). How much you spend from here on out is entirely up to you. On the bright side, there's a lot you can do for free and you can honestly survive on $7 food cart meals and dollar pizzas if you're really looking to save. Some of my favorite moments were quick sitting breaks in random parks where I'd just people watch over a cup of coffee (I budgeted about $4 to $10 per cup).
In our seven-day guide for New York on a budget, we came up with an itinerary if you want to spend about P4,500/day. Admittedly, I spent a lot more on food and drinks than I expected, but I made up for it by taking the subway everywhere (Uber only when you're three or more) and not really shopping too much. 
ADVERTISEMENT - CONTINUE READING BELOW
What should I do on my first trip to New York

?

I used City Mapper and Google Maps to navigate my way throughout the city and bought an international sim via Klook. Below was my *actual* schedule, some based on friends' locations and some last minute location detours, so I suggest you still research your route beforehand and group your destinations by location.

Day 1

I fought jetlag by walking over to Queen's Comfort in Astoria for brunch.

ADVERTISEMENT - CONTINUE READING BELOW

When my friend and host finished work, we took the subway to Grand Central for my Gossip Girl moment, and walked to The New York Public Library. We also had pistachio crepe cake from Lady M Bakery, sat down at Bryant Park and had a major catch-up session—it was the best place for hours of chikahan.

ADVERTISEMENT - CONTINUE READING BELOW

We then walked to Times Square, the Rockefeller Center, and I also got to see St. Patrick's Cathedral.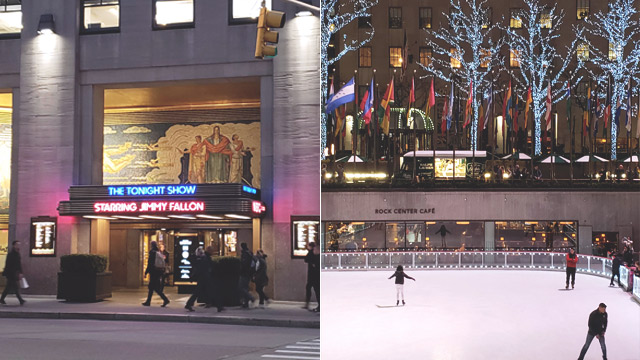 Day 2
My best friend took the bus from Boston and we headed straight to The Met. We also walked around Central Park and enjoyed hotdog sandwiches from Nathan's.
ADVERTISEMENT - CONTINUE READING BELOW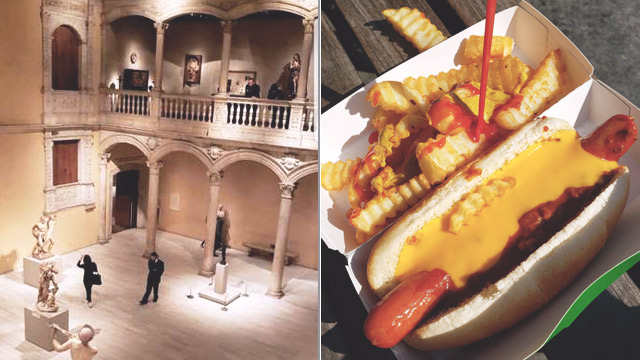 We went to a bar near homebase called The Astorian, which had a speakeasy inside.
Day 3
We walked over to the Brooklyn Bridge, but because it was a Saturday, it was pretty crowded. We then left for Bushwick, which is probably one of my favorite neighborhoods. Williamsburg may be the most popular spot for bars and all things gentrified in Brooklyn, but there's something about the charm of Bushwick that I prefer (maybe it was also the older crowd).
ADVERTISEMENT - CONTINUE READING BELOW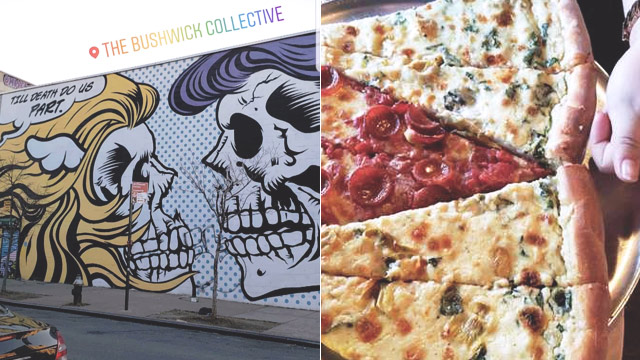 We had pizzas at Artichoke, and also got to have drinks at this pretty cool, conceptual mini-theater called Syndicated Bar + Theater + Kitchen.
ADVERTISEMENT - CONTINUE READING BELOW
We then went to see a show at the famous Brooklyn Bowl, had a nightcap at Sunshine Laundromat and Pinball which was an arcade bar, again, a speakeasy, this time inside a laundromat. We had a real nightcap (read: breakfast food) at Neptune Diner back in Astoria.
Day 4
I was lucky enough to be in the Port Authority area and got the chance to try the famous and iconic Luke's Lobster roll. It was one of the most expensive items I bought for something that was pretty small, but it was tasty and dense. Definitely a must-try. Besides, as far as splurges go in New York, this one is still pretty affordable (and memorable). It is right by the New York Times office, too, which is just a pretty cool sight to see.
On the same day, I was able to see the Vessel, walked the High Line, visited the Flat Iron, and had a small cup of mac'n'cheese from Beecher's (which I really wish I could have more of here in Manila—it's incomparable).
ADVERTISEMENT - CONTINUE READING BELOW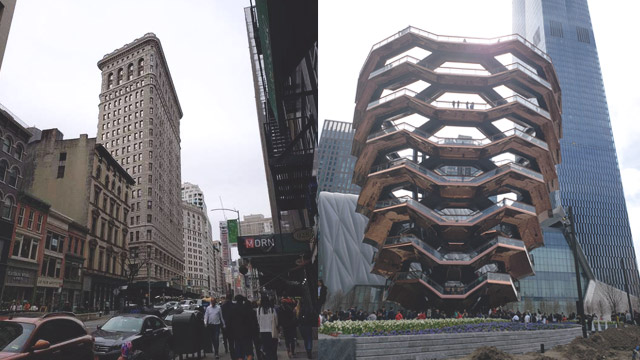 I also went to a rooftop bar to get a good view of iconic buildings like the Chrysler Building.
Day 5
A trip to New York wouldn't be complete without a visit to MoMa, which you can also buy discounted tickets for via Klook. From there, I walked around NYU, then Soho, and Chelsea Market. I met up with a friend at a bar called Dutch Fred's for a bit, and then went to catch Burn This (starring Adam Driver and Keri Russel).
ADVERTISEMENT - CONTINUE READING BELOW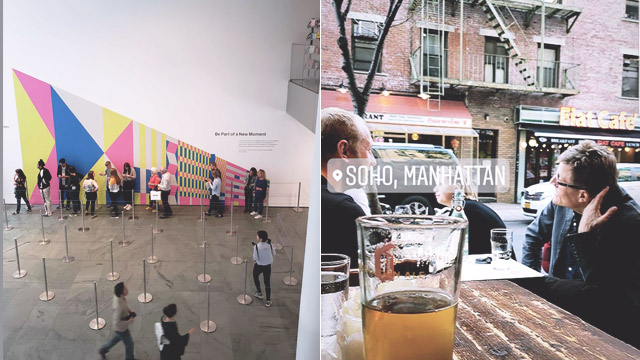 A very helpful FN Tip: If you're planning on sight-seeing all day, just watch a Broadway show in the afternoon. I watched at night and fell asleep, which I discovered, has happened to a lot of my friends. It's the most expensive nap I've ever taken. Might as well schedule it as a walking break at 2 p.m.
ADVERTISEMENT - CONTINUE READING BELOW
We capped of the night at Sake Bar by Hagi, where I had mentai pasta (five stars!).
Day 6
I woke up and took the long ride to see the Statue of Liberty via the Staten Island ferry. After taking the ferry back and forth, I checked out Battery Park, and went to 911 Memorial & Museum, and the Oculus. The Bull of Wall Street is nearby too.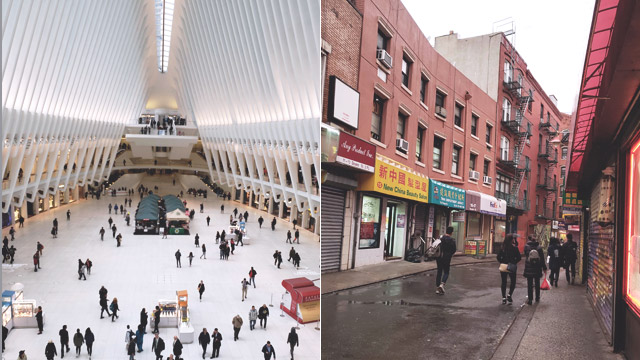 ADVERTISEMENT - CONTINUE READING BELOW
That night, I got to go to Chinatown and have drinks at a speakeasy called Apotheke.
Day 7
I wasn't going to leave New York without having a meal at Katz Deli, and it was by far the best pastrami sandwich I've ever had. I also made this dessert day and had a cookie from Levain's, and ice cream from the Milk Bar. I stopped by the Museum of Natural History and was treated to one of the most engaging walking tours ever.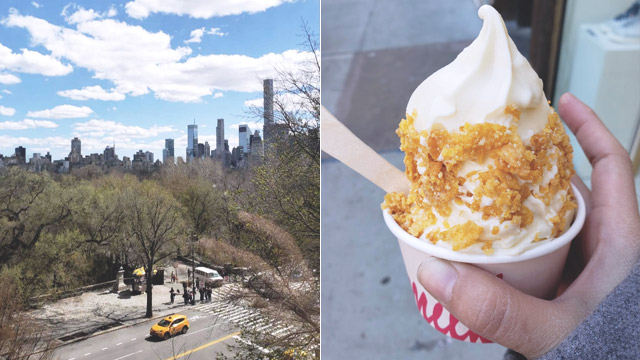 ADVERTISEMENT - CONTINUE READING BELOW
I capped off my afternoon with rose milk tea from a cafe in Astoria (wouldn't have it again but worth trying if you like rose), followed by a Greek dinner (don't leave Astoria without having one). I took an Uber to the airport and flew back to Manila already planning my second trip. Will definitely be back, with more food pit stops next time.
Load More Stories