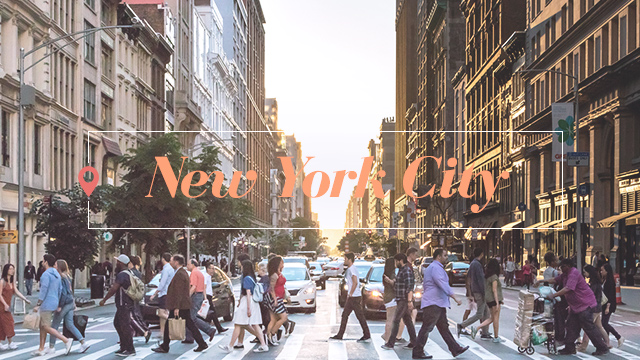 A friend told me recently that she bought a round trip ticket to New York for $600 + P1,620 travel tax and paid a total of P34,000 on Cathay Pacific. Philippine Airlines recently announced direct (no technical stops!) to New York starting October at just slightly more (approximately P40,000). The Big Apple is now within easy reach, which made me think of how many beautiful and Instagrammable sites I love in New York are actually free of charge. Here is a summary of your P100,000 trip to New York:
ADVERTISEMENT - CONTINUE READING BELOW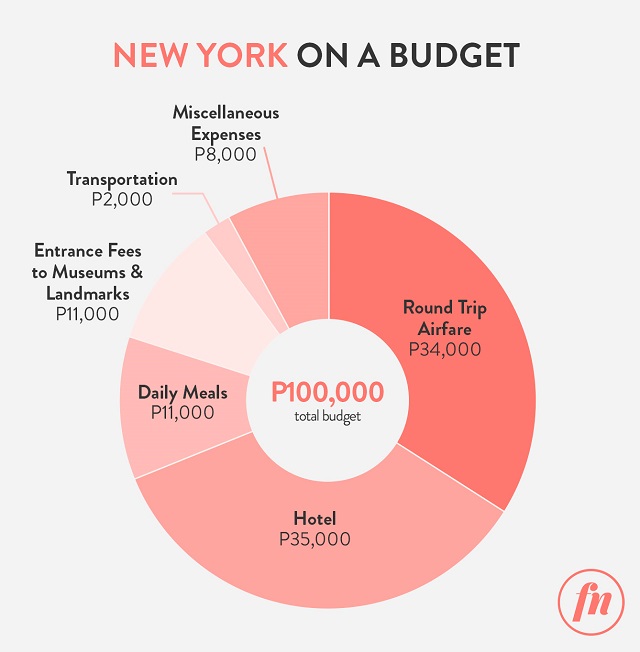 *Make sure your tourist visa to the US is still valid. If not, it will cost you an additional $160 (approximately P8,630).
RELATED: How to Save, Plan Smart to Make Your Paris Trip Come True in 2018
How to save on airfare
Today, we don't just get travel fairs once a year; airlines now have monthly sales for different destinations, so keep your eyes and ears open! Most of the tips I get are from friends and colleagues talking about their own trips. 
Here are a few others you can try:
Turn on Twitter notifications for the major airlines that fly to New York is my trick, so you can quickly search for flights.
The popularity of the Asian airlines have also seen a surge in cheap flights. Airlines like ChinaEastern, Cathay Dragon, Asiana. Make sure to check often—Google is your friend! If unsure of the airline, check recent reviews.
I'm still a big Skyscanner app user. I check it regularly even when I don't have plans.
As before, a flexible trip date means bigger savings.
Choosing your NYC accomodations: Hotel or Airbnb?
Best case scenario is you have a friend or relative in New York or New Jersey and don't mind a couch stay. But for the real experience, here are some tips to lower the cost:
I have friends who only use Airbnb and are die hard fans. Just be sure to 

check

reviews thoroughly as I've heard that New York is one of the cities where last minute cancellations are more common.

Try hostels if you're feeling young and adventurous.
I personally prefer hotels, I'm 41! Plus I've always liked the vacation feel of staying in a hotel. $90 a night is our recommended budget. You might not get one in most parts of Manhattan but search hotels in these areas: Brooklyn, Chinatown, Weehawken and Hoboken in New Jersey, Staten Island (the ferry is free!). If there are two of you traveling, $180 will definitely get you a Manhattan hotel.
ADVERTISEMENT - CONTINUE READING BELOW
Getting around NYC
The subway is open 24 hours (although trains are limited from 12 - 6 a.m.) and is the best way to go around the city. A seven-day pass for unlimited subway and bus use can be purchased for $32 for a regular pass, and to go to JFK, just add $5 for the AirTrain each way.
A guide to one week in

New York for first-time visitors

ADVERTISEMENT - CONTINUE READING BELOW
Day 1: Foodie Day
Combine today with a stroll around the East mid-30s streets and see both the Empire State ($20 to go up to the 102nd if you want to see a view) and Chrysler Buildings. Walk to the Flat Iron Building and see the musicians busking at Madison Square Park. For lunch, try Eataly for Italian food (four cheese and carbonara, anyone?), gelato and an Italian grocery. Cost is about $15-18 for a meal. If you're a mac and cheese lover, head to Beecher's at the Flat Iron Building for a small bowl!
ADVERTISEMENT - CONTINUE READING BELOW
From Eataly, cross to the west side and walk around the Chelsea Market, a cute food hall and shopping market housed in an old factory. My favorite is Los Tacos for $3.50 each and Takumi Tacos for Japanese! I love dessert, and for $6.99, you can indulge in one of the best milkshakes at Creamline.
Climb up the steps and walk the 2.33 km of The High Line in the afternoon. The High Line is an abandoned railway station that has been elevated and is a beautiful path with art installations and gardens.
ADVERTISEMENT - CONTINUE READING BELOW
Get off the other end of the High Line and walk east to the Penn Station for dinner at Pennsy.
Total Cost: $20 (Optional for Empire State) + $15 for pasta and gelato or mac and cheese + $15 for dinner in the the Pennsy food hall= $50 
Day 2: Broadway
Today start with lunch at Shake Shack ($15, but for $20 you get a SmokeShack, cheese fries and a milkshake and you're full all day) and make your way to Times Square. Find TKTS under the makeshift steps in the middle of Times Square and buy your ticket for the 2 p.m. or 7 p.m. show. If it's your first ever, you can opt for classics like Phantom, Chicago, Lion King, or Wicked. To save a bit more, you can also try lining up at the box office before it opens at 10 a.m. for rush tickets. They sell few same-day tickets for $40 on average.
ADVERTISEMENT - CONTINUE READING BELOW
FN TIP: If you're lazy (like me) download the Today Tix app and see cheap tickets. A rep will meet you 30 minutes before the show outside the theater. It's legit and I've used it many times. Sadly, the best musicals of late like Hamilton and Dear Evan Hansen might be impossible to get into (unless you have $500 to spare) but sign up for the ticket lottery a few hours before and score the chance to pay $50 for a ticket (TodayTix has lotteries) or check playbill.com.
ADVERTISEMENT - CONTINUE READING BELOW
After, go see the sites and characters on Times Square. Just keep in mind that a photo will cost you $5, so don't pose with them unless you absolutely want to.
ADVERTISEMENT - CONTINUE READING BELOW
After your show, wait at the artist entrance to see Broadway stars sign autographs and pose for photos. Afterwards, go back to Times Square to see the lights after sunset! Then head to Junior's for dinner and cheesecake.
Total Cost: $15 at Shake Shack + $55 for Broadway + $20 Junior's = $90
Day 3: Culture 
Start with a hot dog at Gray's Papaya ($2-$5). Get two for more satisfaction! For breakfast you can get a bagel, cream cheese, muffin or donut from $1-1.75. 
Cross Central Park and walk around all day. 
ADVERTISEMENT - CONTINUE READING BELOW
If you want to see the zoo, it's $12, and ice skating rinks in the winter also cost $12.
By mid-afternoon, cross to Eastside of the park to The Met Museum for an hour or two (or if you're like me, four) to see some of the world's best art collections!
ADVERTISEMENT - CONTINUE READING BELOW
ADVERTISEMENT - CONTINUE READING BELOW
Later on, have dinner at The Halal Guys. The original Halal Guys is a food truck in mid-town Manhattan. You can get a rice platter for $8.99. It is a full meal and will keep you satisfied for hours (open til 5 a.m.!)
Total Cost: $5 for Gray's Papaya hot dogs + $25 for the Met + $10 for dinner at Halal Guys = $40
ADVERTISEMENT - CONTINUE READING BELOW
Day 4: Lower Manhattan
Start your day at lunch in the cheap eats on Canal Street (Chinatown) and grab a fried rice bowl for $7-8.
See the 9/11 Memorial Museum ($24) to see the heartbreaking photos, letters and videos from one of the saddest days in U.S. history. Tickets are available to be purchased online months in advance and is recommended.
ADVERTISEMENT - CONTINUE READING BELOW
See the Bull of Wall Street and walk down to Battery Park to see the Statue of Liberty before finishing dinner at one of the restaurants around the Oculus or at Mighty Quinn's for pulled pork near Battery Park ($18).
If you have some extra cash saved up for some luxury shoes or bag, check out Century 21 department store for name brand items at deep discounts. Just across the Oculus and the Memorial grounds.
ADVERTISEMENT - CONTINUE READING BELOW
Total Cost: $8 for fried rice lunch + $24 9/11 Memorial Museum admission + $18 Mighty Quinn's = $50 + shopping
Day 5: Architecture and Brooklyn
Start your day at the New York Public Library to see the beautiful architecture and the grand ceiling.
Head to the Grand Central Terminal and try the Tacos Grand Central (chicken quesadilla is yummy). Walk east to see the New York State Supreme Court Building and its intricate architecture.
ADVERTISEMENT - CONTINUE READING BELOW
ADVERTISEMENT - CONTINUE READING BELOW
Head downtown east to the Brooklyn Bridge for beautiful, Instagram-worthy photos and a walk across the bridge.
ADVERTISEMENT - CONTINUE READING BELOW
Spend the late afternoon and dinner in the Brooklyn area where you can choose between many activities like the Brooklyn Flea Market, Coney Island or the Brooklyn Botanical Garden (my choice if you're in New York in late spring as they have cherry blossoms that are tracked in their website!).
Dinner in Brooklyn.
Total Cost: $30 for lunch and dinner 
Day 6: Midtown
Start your day at Rockefeller Center to see the skating rink, the outside of NBC Studios and the Radio City Music Hall. See the inside of St. Patrick's Cathedral and it's altar. See the largest Apple store in New York which in itself is a tourist site!
Head to the Museum of Modern Art (MoMA) and (like me) spend half a day seeing modern art and installations.
FN TIP: If you are an employee of any of their sponsor corporates you could get free entrance. Check the museum website for more info.
ADVERTISEMENT - CONTINUE READING BELOW
Right outside the MoMA on the street are stalls selling old New York and broadway posters and paintings. It is rumored that the artist Banksy once set up a stall outside Central Park selling canvasses for $60 that are now worth a fortune!
ADVERTISEMENT - CONTINUE READING BELOW
After the MoMA, head to the MoMA Design Store for really cool stuff!
For lunch or dinner, try a classic New York diner like Astro or Cosmic, which are both 10-15 minute walks.
Insomnia Cookies for cookies (you can have them a la mode, too) is quite near!
ADVERTISEMENT - CONTINUE READING BELOW
Total Cost: $15 lunch + $25 MoMA + $15 dinner + $2.50 cookies = $57.50
Day 7: Explore!
There are many, many more sites, museums, attractions, shows. I always reserve the last day to see another Broadway show depending on how much money I have left!
The Museum of Natural History where they made the movie Night at the Museum is also a must-see. Sometimes, I choose my last day to simply walk around Central Park in the Meat Packing District, Soho, Chelsea and grab my favorite cookies and softserve from MilkBar or ice cream from Big Gay Ice Cream or cupcakes from Magnolia Bakery.
ADVERTISEMENT - CONTINUE READING BELOW
Other cheap eats
If you find yourself in the Broadway area, there is a small second floor called City Kitchen that has Luke's Lobster (expensive at $17 but my seafood loving friends swear by it). Whitman's burger for $9 which is a New York classic.
Katz Deli is a New York icon. While people usually order the pastrami or corned beef, I personally love their brisket sandwich. A deli sandwich and drink will cost you somewhere around $22-25.
I don't think I've ever gone to New York without eating pizza, ever. NY Pizza Suprema so far is my favorite pizza by the slice in Midtown Manhattan. Try the white pizza, which is surprisingly good!
If you have a sweet tooth: I am a cookie monster so no trip is complete without finding the best cookies. Go to Levain Bakery for huge, thick cookies in the upper west side and Milk Bar cookies and milkshake in east village and midtown. Try their corn and compost cookies and their birthday cake milkshake and cereal milk softserve (anywhere from $3-10).
ADVERTISEMENT - CONTINUE READING BELOW
I haven't even scratched the surface of New York and my friends who love to go out and party will be extremely disappointed to hear that I have not included bars and clubs in any list! So I apologize in advance! I could go on and on with my list and happy to give more tips. For more questions, email Kat.Rodriguez@gmail.com.
With additional reporting by Ysabel Y. Yuzon
Load More Stories