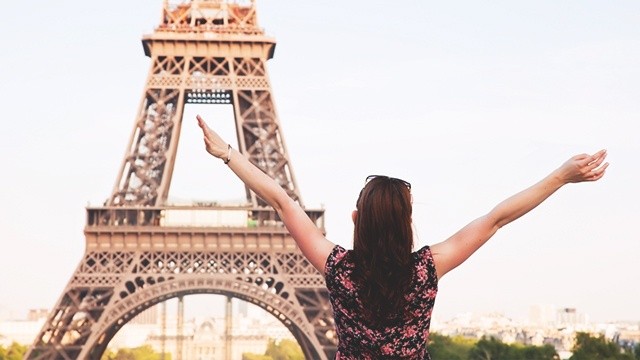 It's very possible to fly to Paris for P110,000—or even less, if you're taking a friend or partner with you! The cost may initially sound huge, but if you plan a year ahead it is very much achievable. With some adjustments to your daily expenses and little tweaks and sacrifices for a year, you CAN make it to the City of Lights. This suggestion also assumes that as a 30-something woman, you want to treat yourself and won't be staying at a hostel. At the minimum, you can book an AirBnB within the metro or at a walking distance to the city center.
ADVERTISEMENT - CONTINUE READING BELOW
Here is the breakdown of your 10-day Paris trip assuming you're a solo traveler: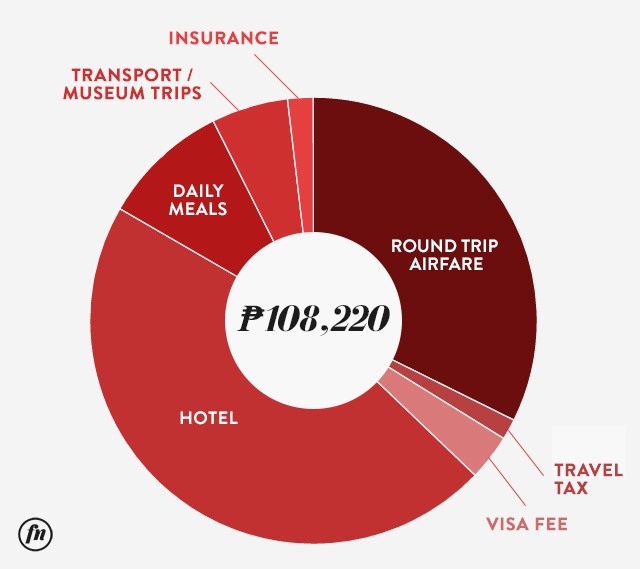 Paris on a Budget
Round Trip Airfare: Approximately P35,000 (depending on promos)
Travel Tax: P1,620 (pay online at tieza.gov.ph to skip the airport line)
Visa Fee: P3,600
Hotel: P50,000 (can be halved if you're traveling with a buddy)
Daily Meals: P10,000
Transport/Museum Trips:  P6,000
Insurance: P2,000
Total: Approximately P108,220
(*Rates may change without prior notice)
Now, let's get on with how you can actually get yourself on a plane to Paris.
Stage 1: Saving
This is basic round-up math, folks. P110,000 is approximately P9,200 a month or Php307 a day.
Now, assuming you earn a minimum of P30,000 a month, let's say you spend P5,000 a month for transportation to and from the office; another P6,000 for food (that's P200 a day); and P5,000 for drinks with friends and other Tita-of-Manila miscellaneous expenses (that's P1,250 per weekend). That's about P14,000 for Paris, which means you're good to go in less than a year. 

But what if you have to pay for actual things that a responsible adult needs to set aside money for, such as loans, rental fees, utilities, plus the life savings you've been building? Say P10,000 goes to rent or car payments a month, then you're left with P4,000. If that's the case, the P200 a day for food is going to have to go down to P100 a day by skipping Starbucks and switching to 3-in-1 coffee and baon or lunch at your neighborhood Jollyjeep. Additionally, you need to shave your P5,000 gimmick budget and other gastos down to P2,500. That isn't so bad and is pretty much realistic. In any case, you can still look forward to your 13th month pay and hope for a performance bonus this coming December. Or if you have the energy for it, take on a few side jobs to earn extra income.
ADVERTISEMENT - CONTINUE READING BELOW
Step 2: Planning
Go on Twitter and follow the major airlines that fly to Paris; KLM, Etihad, Emirates, Qatar Airways, Cathay Pacific, Singapore Air, Thai Airways, Malaysia Air, and hopefully PAL and Cebu Pacific soon. You can also try flying from Clark—the cheapest Qatar Airways flights are out of Clark!
Wait for the travel sale announcements. In the meantime, watch out for travel agent ads in the Monday newspapers for discounted flights, and follow and wait for the Citibank, HSBC, BPI, and BDO credit card travel fairs (and fares). These are usually in January or February, April, June, and October or November. Consider going in the off-season.
With flexible travel dates, a $700 or P35,000 ticket is very easy to obtain.
Go on Hotels Combined, Trivago, or AirBnB, and make reservations only for $100 a night (that's around P5,000) for accommodations. Remember to keep these bookings without pre-payment because you will need them for your visa application. To be sure, always take note of online reviews and check out Google Maps for the best room offers, services, and locations.
ADVERTISEMENT - CONTINUE READING BELOW
Now, you're ready to head to the French Embassy website and pre-book your visa interview schedule.
Stage 3: Getting Your Visa
The short term Shengen visa will generally require the following:
A six-month valid passport
Visa application form
Your old passports
PSA (NSO) issued birth certificate
Certificate of Employment,
A bank certificate and six-month statement
ITR
€30,000 insurance (from a local insurance company or on Axa Shengen online)
A detailed itinerary and an airline booking (not a paid ticket)
Always remember to show up on time for your interview. Getting a Shengen visa can be quick if you've got all your requirements on hand. You can apply up to 3 months before your scheduled trip.
Stage 4: Itinerary
Paris is a huge city which can be a bit intimidating for a first-time traveler to Europe. In case you're at a loss with what to see and where to go first, here's my suggested Paris itinerary which I've actually tried and tested:
ADVERTISEMENT - CONTINUE READING BELOW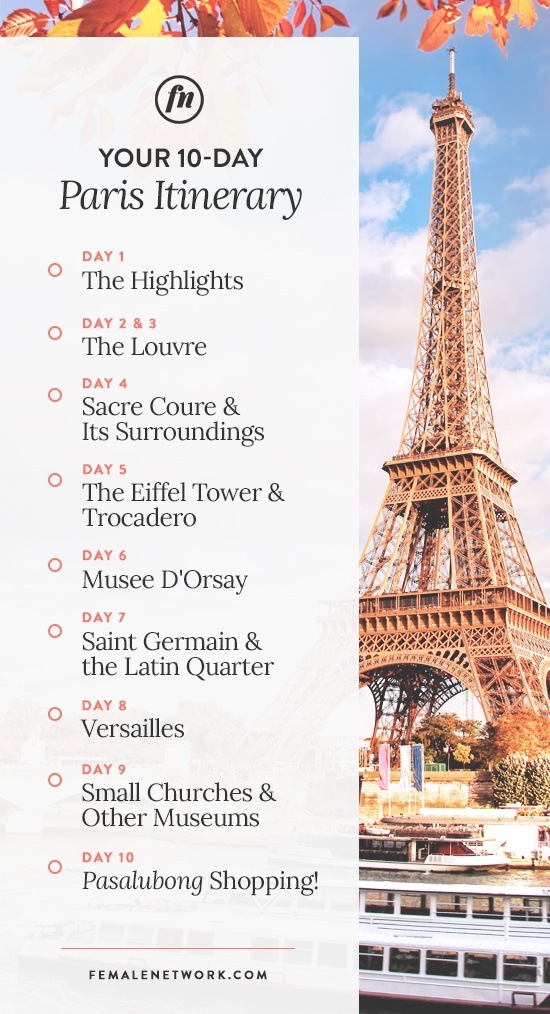 Conversion rate:  €1 = About P55
Day 1: The Highlights
See the Notredame (free)
Walk the side of the River Seine through the various beautiful bridges (Pont in French) OR walk the Jardin de Tuileries from outside the Louvre all the way to Champs Elysee and to the Arc de Triomphe.
ADVERTISEMENT - CONTINUE READING BELOW
Day 2 and 3: The Louvre
You can spend two full days here—because Louvre! A ticket per day costs €15. If you're a big culture buff, consider buying a 4-day museum pass for €56, which will give you access to over 60 (yes 60!) museums. Parismuseumpass.com or any major museum ticket offices will have this. Visits are free every first Sunday of the month along with George Pompidou and The Orsay. 

Must see: Mona Lisa, the winged victory, the Egyptian collection (amazing!)
Day 4: Sacre Coure and Its Surroundings
Walk around and see the artists of Montmartre and see the Sacre Coure
Take a few stops from Montmarte to walk the antique and flea markets of Paris. You can buy a few nude sketches for €5 to €10 by student artists in the 1940s. 
Day 5: The Eiffel Tower and Trocadero
Since you're already in Paris, go and climb the Eiffel Tower! That's €17 to get the top.
ADVERTISEMENT - CONTINUE READING BELOW
FN TIP: Wait at the trocadero until sunset to see the tower light up. 
Day 6: Musee D'Orsay
This former train station was turned into a mostly impressionist art gallery with Van Goghs, Gaugins, Renoirs and all those other French sounding artists that make you feel so cultured. The entrance fee is €17.
Day 7: Saint Germain and the Latin Quarter
See the Odeon (€38), the Pantheon (€7), and the Jardin de Luxembourg (free) with its beautiful Rodin statues.
Enjoy free musical performances in the spring and summer at the Jardin du Luxembourg (check their website for schedules).
Day 8: Versailles
Let them eat cake! See Marie Antoinette famous summer palace. You'll cash out €5 to take the 35-minute train trip to the location, and approximately €28 to get inside. 
Day 9: Small Churches and Other Museums 
Check out the baroque Saint Sulpice (free), Saint Chapelle, Saint Eustache, and the Museum L'Orangerie with really cool Salvador Dali stuff (€18.50). 
ADVERTISEMENT - CONTINUE READING BELOW
Day 10: Pasalubong Shopping!
You can shop for trinkets today if you have extra cash before heading back with P110,000 less but a lifetime of experience! 
Stage 5: Daily Eats
Contrary to popular belief, you can enjoy good meals in Paris without sacrificing an arm and a leg. Try these yummy local delights for size:
A baguette or panini would be about €2 to €4
A croissant or pastry is anywhere from €9 to €12
A meat crepe or other crepe is around €3 to €5
A Moroccan dinner would cost about €7 to €10 
A falafel for dinner is around €4 to €10 
So that means €18 or P1,000 a day is definitely doable.
That's it! Just note that Paris is a walking city, so your entrance and transport budget will have more than enough balance left to use for exploring! 
Good luck and joyeux voyage! 
*Rates may change without prior notice.
ADVERTISEMENT - CONTINUE READING BELOW
Thinking of getting a personal loan to help fund your dream trip? Check out the Female Network Loan Calculator to compare different bank rates.
Load More Stories