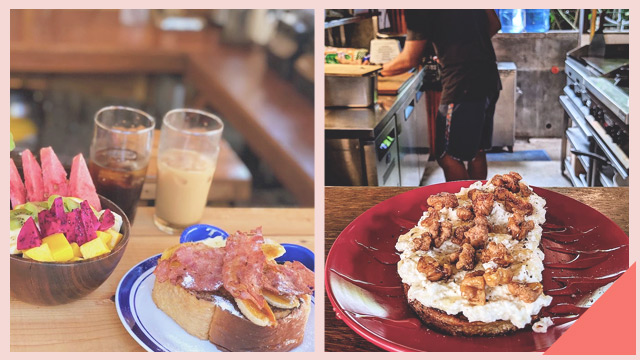 Aside from being the 'surfing capital of the north,' La Union has attracted a lot of creatives, wellness advocates, and up-and-coming entrepreneurs, amplifying it as the must-experience tourist destination for older millennials and GenZ alike. Gone are the days when Midway Grill was the only other option for a fancy night out. Now you get a choice of various cuisines and comfort food in one strip. 
Where to stay in La Union
There are a lot of hotels, hostels, and apartelles in the area, such as the classic Urbiz Garden or affordable Veronica's Lodge; but peak season could mean traffic and an unsettling volume of tourists. If you prefer to stay a little further away from the crowd, one great option is Silungan Hostel. Their rates are highly competitive considering the facilities are very new: P2,500 for 2 pax, P4,000 for 4 pax, P6,000 for 6 pax, and it comes with free breakfast, too. The only rule is that you CLAYGO, and you're not allowed to eat or drink inside the rooms.
ADVERTISEMENT - CONTINUE READING BELOW
You can also expect fully air conditioned rooms, free wi-fi, and spacious free parking.
What is there to do in La Union?
Surfing, of course, is a must especially if it's your first time. Prepare to shell out about P400 for an hour-long lesson. Ask your hostel for a contact as most are sure to have a go-to.
If you feel like staying on land, sign up for a yoga class at Duyan Yoga.
A walk-in session only costs P350, and you can do it right before you head out for a surf session or to cap off a long, tiring day. Even if you're not a yogi, the experience of doing yoga outside of a studio is always a good, healthy way to have a deeper appreciation for being outdoors.
ADVERTISEMENT - CONTINUE READING BELOW
Shop at Open House
Support a lot of DIY or small business owners by shopping jewelry and beauty products like shampoo bars at Open House.
Here's where to eat in La Union
El Union Coffee
A trip to La Union wouldn't be complete without at least one visit to El Union Coffee. Order a grilled cheese with bacon jam if you're feeling indulgent.
ADVERTISEMENT - CONTINUE READING BELOW
ADVERTISEMENT - CONTINUE READING BELOW
Masa Bakehouse
It's a must for Panaderia Toyo fans to pass by Masa Bakehouse.
ADVERTISEMENT - CONTINUE READING BELOW
This is an absolutely necessary detour to make if you love coffee and bread. (The coffee is by Tasa sa Masa. Their cold brew is one of the best I've ever had.)
Buhay Gulay
ADVERTISEMENT - CONTINUE READING BELOW
The "first and only vegan carinderia in La Union." I loved their healthier alternative to sisig. 
Salad Stoke
ADVERTISEMENT - CONTINUE READING BELOW
Owned and operated by sisters Wya and Willete Lorin, Salad Stoke is the perfect resto for an early brunch if you have differing preferences. It's not hard to find something to like, and they're pretty reasonably priced too. Prepare to shell out about P230 for your order. FYI, though, they're closed on Wednesdays, so time your visit accordingly.
ADVERTISEMENT - CONTINUE READING BELOW
Tagpuan sa San Juan
Great for night caps (and to prevent a hangover), you can't go wrong with any of their rice bowls. I personally love the pares and bagnet!
Gefseis Greek Grill
ADVERTISEMENT - CONTINUE READING BELOW
Perfect for a fancy dinner date if you're celebrating something special in La Union. Be sure to order the Greek Salad, hummus, moussaka, lamb chops, squid and beef kebabs. (Come as a big group so you can order different items!)
Saboroso
If you love inasal, make it a point to have a meal with your entire group at Saboroso Elyu. Order the liempo for sharing, and have a few beers while you wait.
ADVERTISEMENT - CONTINUE READING BELOW
Seabuds
ADVERTISEMENT - CONTINUE READING BELOW
For a healthier alternative, check out Seabuds and have a smoothie overlooking the shore.
Other La Union FAQS
How do you get to Flotsam and Jetsam La Union?
Flotsam and Jetsam describes itself as an "artsy social hostel run in a fun easy-going way by a group of longtime friends and family who love travel and travelers." (There was even a 2015 movie about it starring Solenn.) To get there, you just need to board a bus heading to La Union and get dropped off right by the hostel, in San Juan.
How do I get to La Union?
To get to La Union with your own car, the best, simplest route could be via the North Luzon Expressway (NLEX) to the Subic-Clark-Tarlac Expressway (SCTEX) after the Dau exit. At the end of SCTEX, get on the Tarlac Pangasinan La Union Expressway (TPLEX). TExit at Pozorrubio and turn left on the McArthur Highway. The McArthur Highway (Manila North Rd), where you will pass through San Fernando before you reach San Juan.
ADVERTISEMENT - CONTINUE READING BELOW
If you're taking the bus, you may book a ticket from bus terminals in Pasay or Cubao, either to San Fernando or San Juan itself. If you get dropped off at San Fernando, you may take a jeep to San Juan.
How much is the bus fare from Manila to La Union?
If you take the deluxe Partas buses from Manila to Sebay, San Juan, rates are at P534 (Cubao) and P552 (Pasay). Other regular buses foing to San Fernando are at about P400. Alternatively, you may choose a bus bound for Vigan, Abra, or Laoag. If you book online and in advance via Biyaheroes, allot about 10% for the booking fee. These convenient, air-conditioned buses don't do passenger pick-ups along the road, and will pass through TPLEX.
Load More Stories