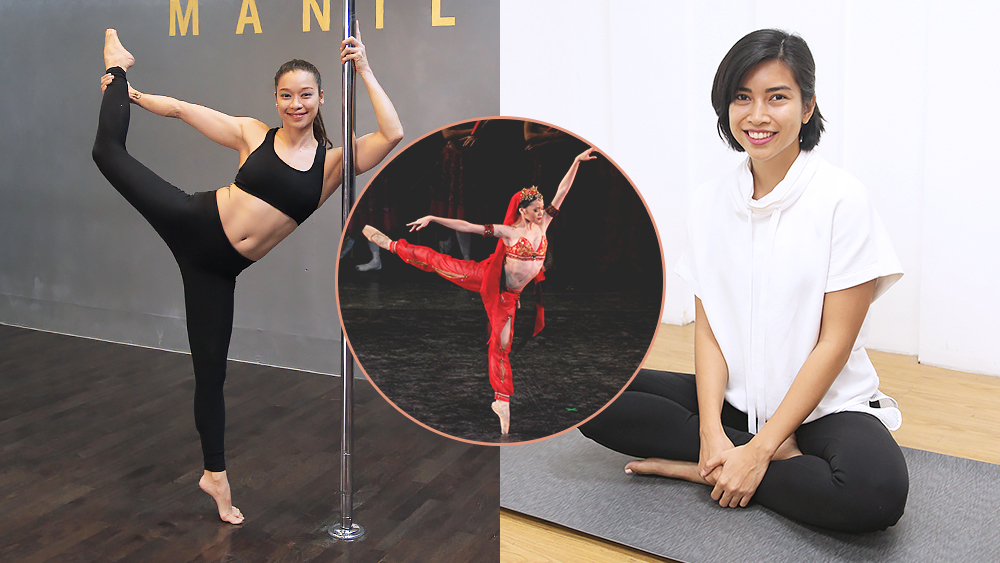 Looking at ballerinas, dancers, and yoga practitioners being at ease with their beautifully toned bodies can seem like a far-off peg for those of us who are stuck at home or in offices typing the day away. However, there is a way to slowly rid yourself of that unhealthy sedentary lifestyle as ballerinas Katherine Barkman and Dawna Mangahas, pole dancer Kyla Ortigas, and holistic wellness coach and yoga instructor Camille Romero shares simple exercises that can help you get off your fanny and start you out on the road to fitness.
ADVERTISEMENT - CONTINUE READING BELOW
Pull up like a ballerina
Arm stretches
Most of us are probably already familiar with these movements as they're usually done as warm-ups before any physical activity. Arm stretches make for great exercises after typing in your computer the whole day, which basically places your shoulders and arms in one position, causing them to stiffen.
Try these movements by Katherine Barkman, principal dancer of Ballet Manila.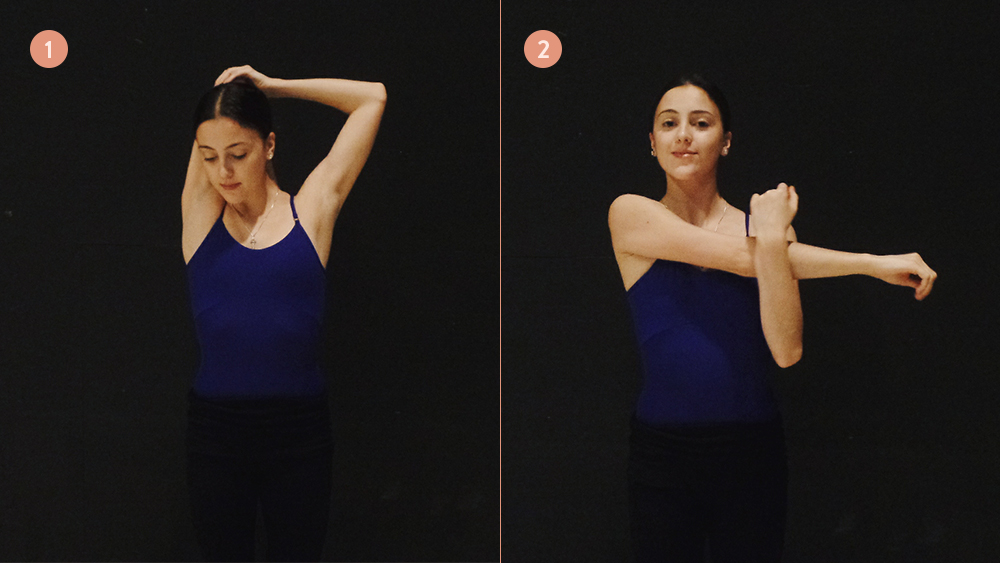 ADVERTISEMENT - CONTINUE READING BELOW
Recommended Videos
1. Raise one arm behind your head then bend it so that your hand touches your upper back. Grasp the elbow with your other hand. Gently pull as far as you're comfortable. You'll feel the stretch in your triceps.
2. Raise one arm across your chest at shoulder level, and hook it with your opposite arm using your elbow. Gently pull to feel the stretch on your shoulders.
Spinal rocking
If your back feels stiff after getting home from work, lay an exercise mat on the floor and try spinal rocking. Ballet Manila's Dawna Mangahas shares that spinal rocking is a great way to keep good posture. "I do spinal rocking four times a day… You just need to lay down, bend your knees and your head together, then start rocking for twenty seconds. I find that it relaxes my muscles as well and makes it easier for me to move around and keep a straight posture."
ADVERTISEMENT - CONTINUE READING BELOW
Check out Katherine as she demonstrates how it's done: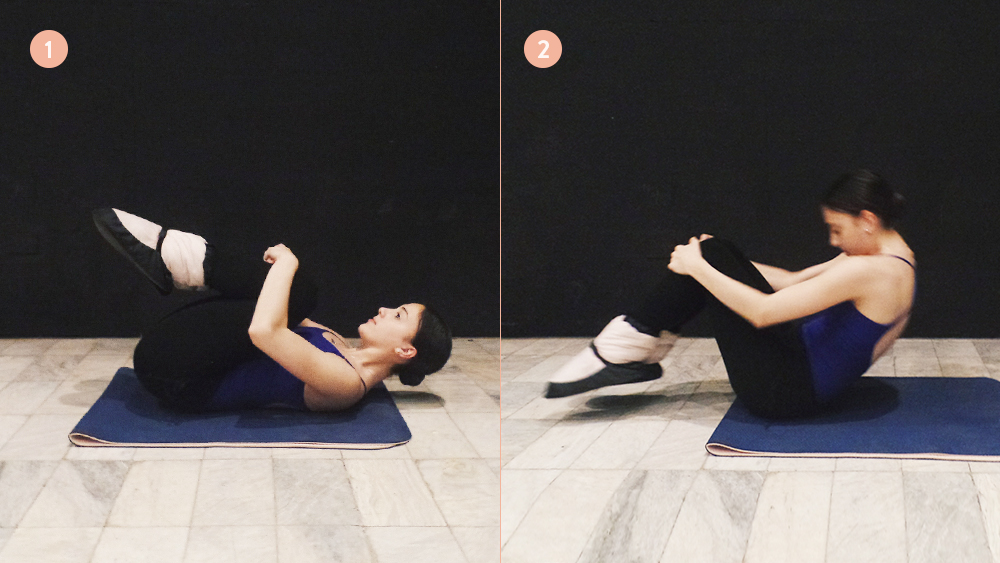 Lay on your flat on your back on the floor (use a yoga mat or a towel). Pull your legs knees to your chest and wrap your arms around them in a fetal position, then slowly rock forward and backward.
ADVERTISEMENT - CONTINUE READING BELOW
Catch the world premiere of "Snow White," choreographed by Lisa Macuja. For more information, visit www.balletmanila.com.ph.
Move like a pole dancer. 
Walk
It does sound simple, but it's actually the best that you can do for your body on a daily basis. Kyla Ortigas of Polecats Manila believes that before you can even go all-out in the gym, you first need to warm your body up for movement. "We usually recommend walking just to get you moving," she shares. "If you're really super busy at work, make sure that you get up every 15 to 30 minutes, walk around for a minute or two, and go back and sit down, just so your blood flows the right way."
Straddle
"This is something that you can do at home when you watch TV or read a book. Keep your legs stretched straight either in front of you or on the side into a straddle."
ADVERTISEMENT - CONTINUE READING BELOW
Sit on the floor with your legs stretched before you or on your sides, and make sure that your back is pulled up.
Pike Stretch
Sitting for long periods at work can take a toll on your back. Oftentimes, you forget about your posture and slouch forward, putting pressure on the muscles and constricting blood flow. Kyla notes: "The goal is to get our chest to touch our knees and not our stomach so we don't hunch. It's mostly just to stretch your hamstrings, because I noticed in the office we sit in our chairs, and the flow of blood gets stopped [be]cause you're always in this angle, [and] it's really not good for movement. That's why when people work out for the first time after years… they find it very difficult. It's not because they're not capable. It's more or less their body stopped flowing the natural way."
ADVERTISEMENT - CONTINUE READING BELOW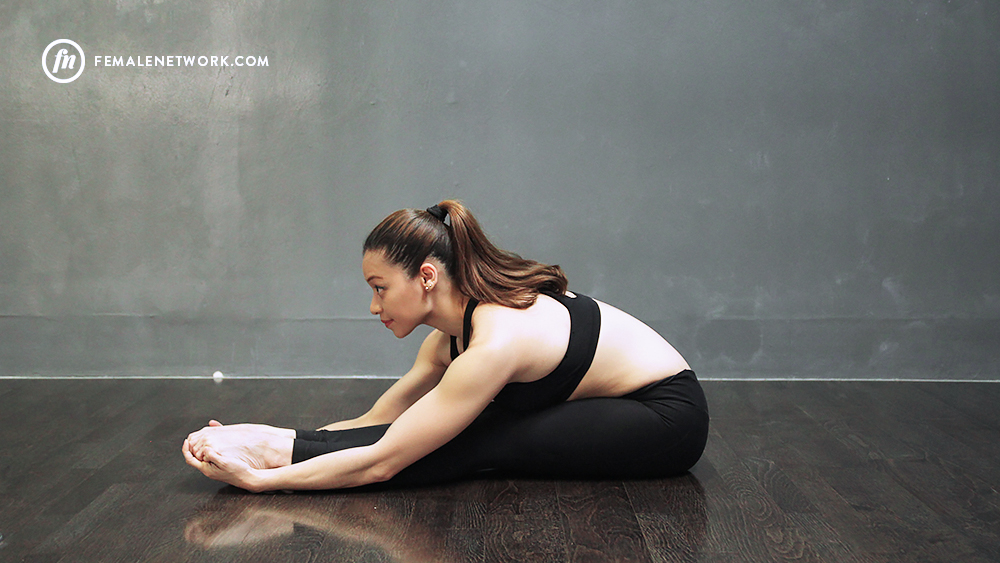 Sit on the floor with your legs stretched straight before you. Raise your hands above your head, pull up your spine, and reach your toes, or as far as you can go.
Pole Cats Manila offers pole dancing, strip tease, and aerial hoop and silks classes. Visit www.polecatsmanila.com for more details.
ADVERTISEMENT - CONTINUE READING BELOW
Stretch like a yoga instructor.
Chest, shoulder, and neck stretch.
Holistic Health Coach and Yoga Instructor Camille Romero shares that tension can really build up when you remain sedentary the whole day. "A lot of the time that you're at your desk, you're crunched down. [Your chest] is the one that holds the tension, that and your shoulders."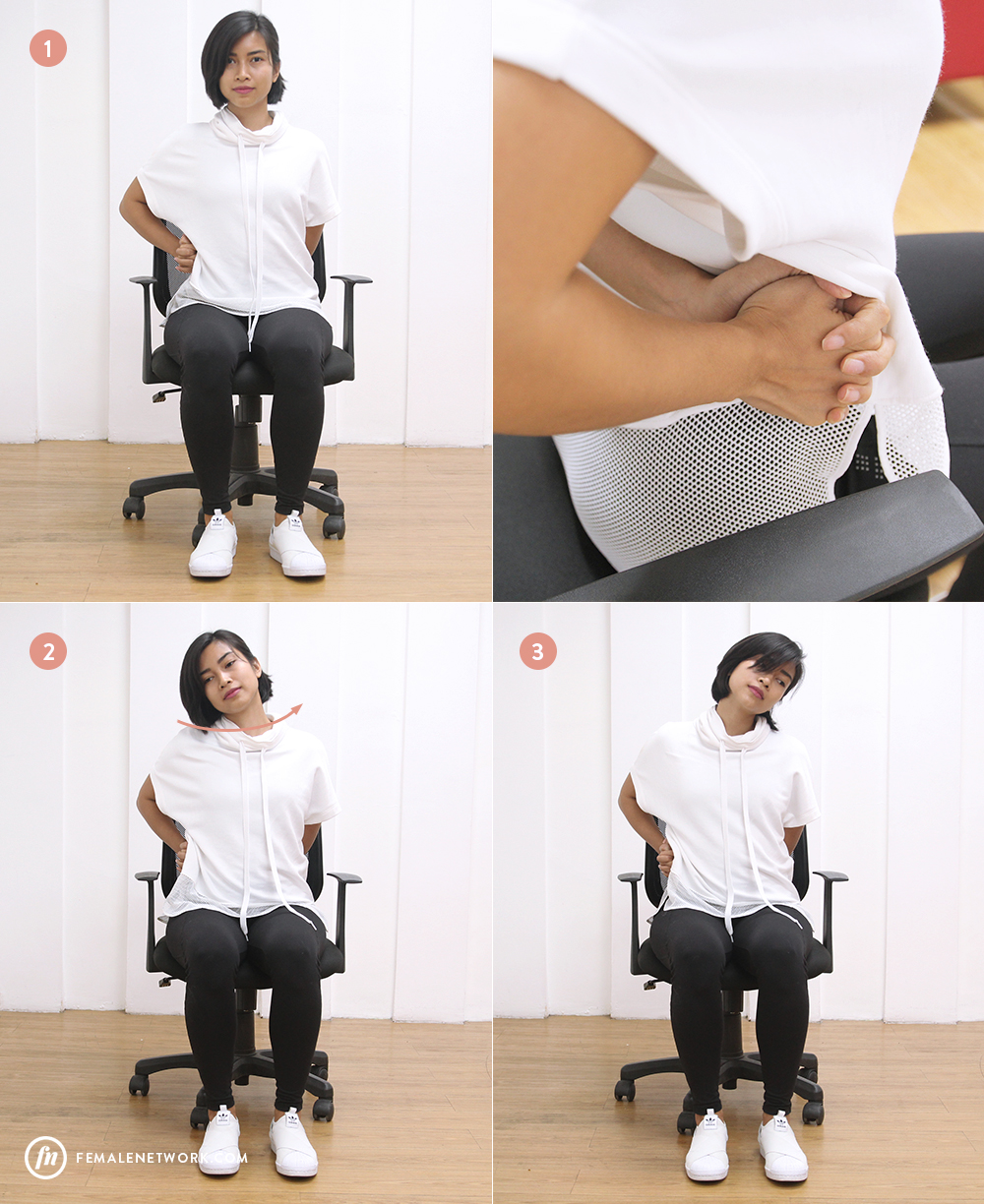 ADVERTISEMENT - CONTINUE READING BELOW
"Interlace behind you and bring your hands to one side of the waist. Pull the elbows close together to open up the chest." Tilt your head to the same side as your hands are clasped to release tension, then slowly roll your head while exhaling to your chest, and inhale as you roll your head to the other side.
Back stretch
Your lower back is the ultimate victim when you're working for hours on end. If you really can't get out for a quick walk, release the tension by lengthening your spine. Camille demonstrates how to be kind to your back even while at your desk: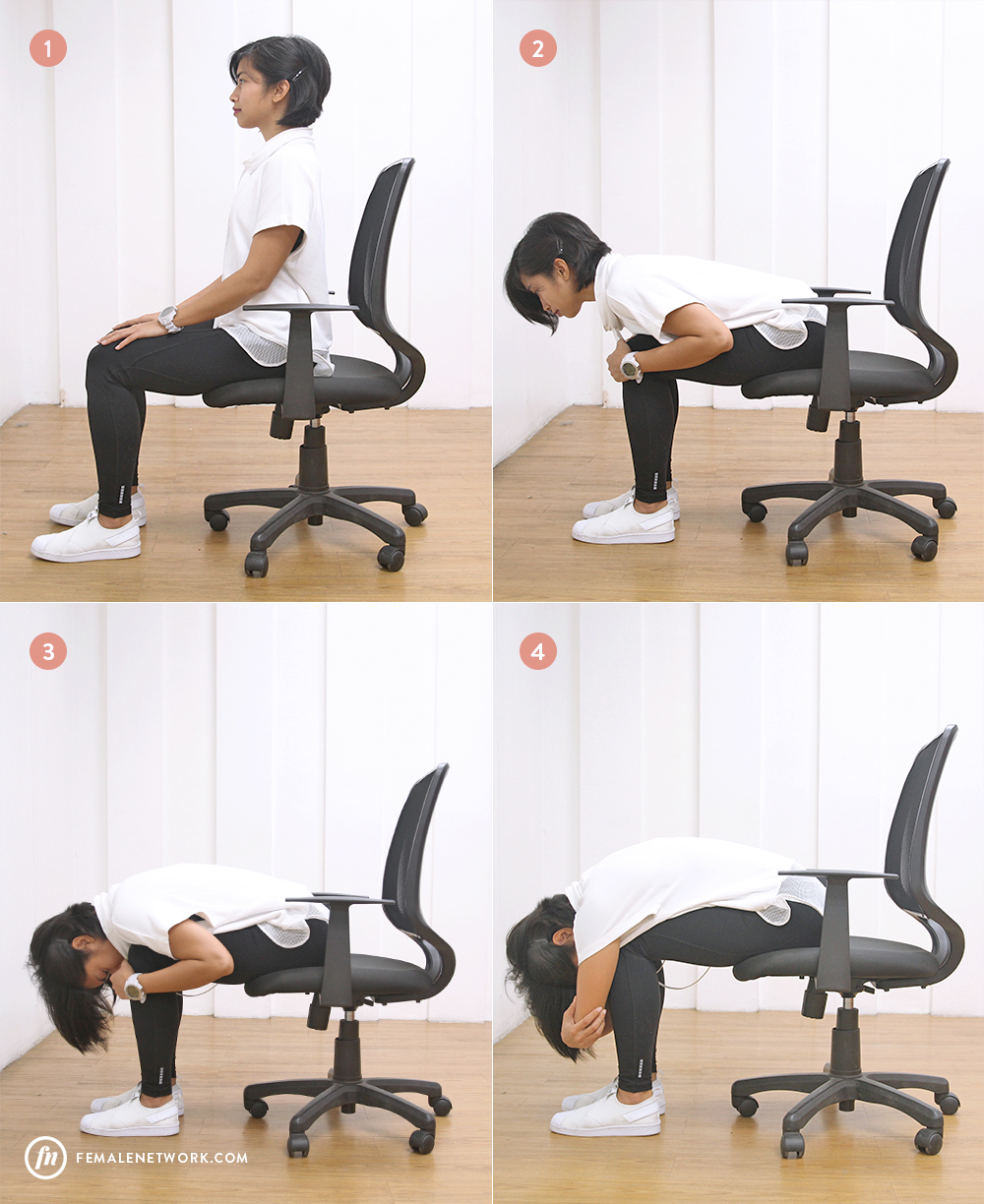 ADVERTISEMENT - CONTINUE READING BELOW
"Make sure that your feet are flat on the floor, your knees are [positioned above] your ankles. [Make sure] that your legs are at a 90-degree angle. Lean forward until your torso rests on top of your thighs. Relax your head down and grab on to your elbows. [Press] your hips down towards the chair and [reach the] top of your head down towards the floor."
Torso stretch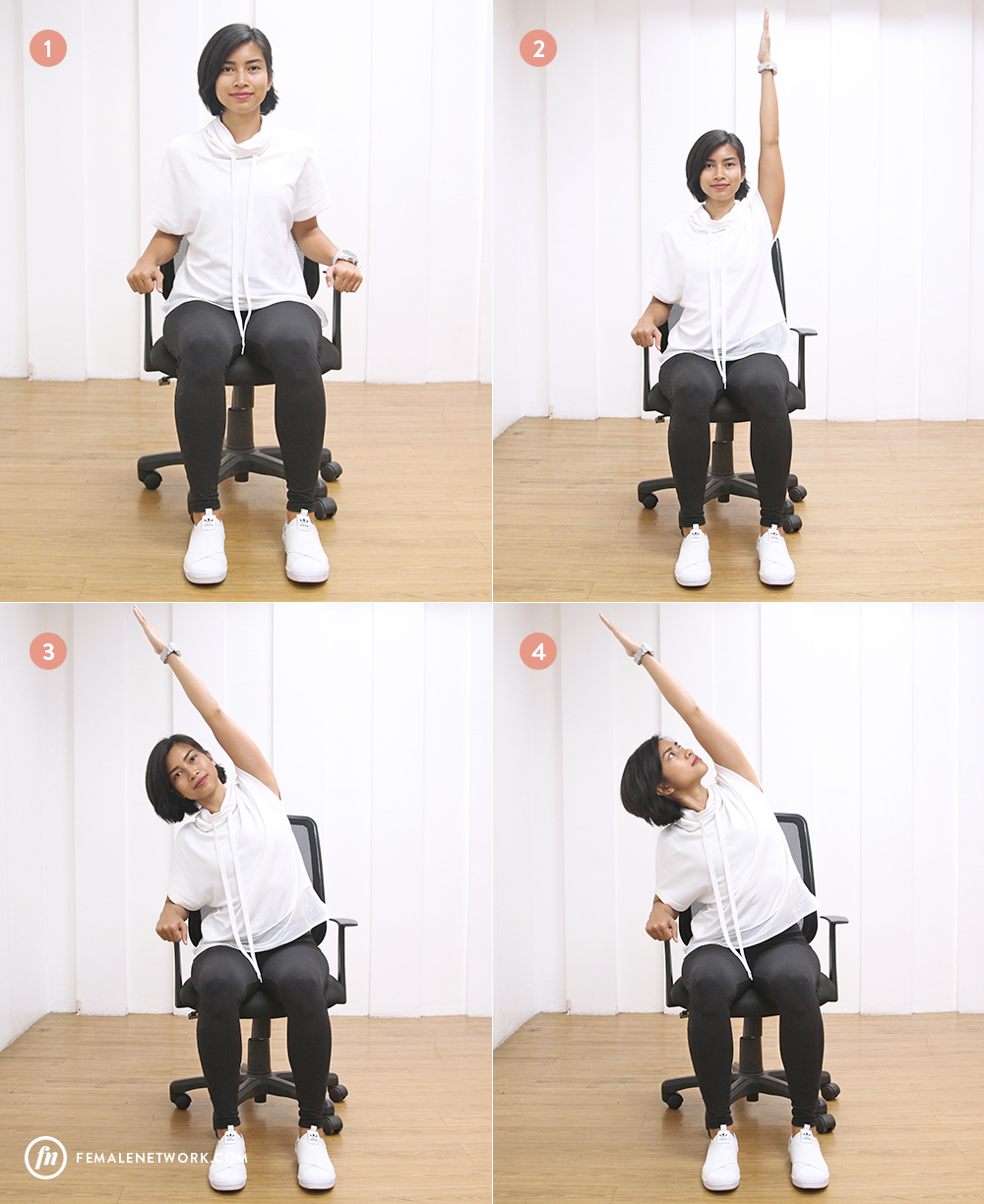 ADVERTISEMENT - CONTINUE READING BELOW
"Keep your feet hip-distance apart, knees right on top of the ankles. You can grab on to the armrest of the chair, otherwise you can place your hands next to you on your seat, and then inhale… Raise your arm up, relax your shoulders… On your exhale lean towards the opposite side."
For classes and consultations with Camille Romero, contact her at cmf.romero@gmail.com. 
Load More Stories