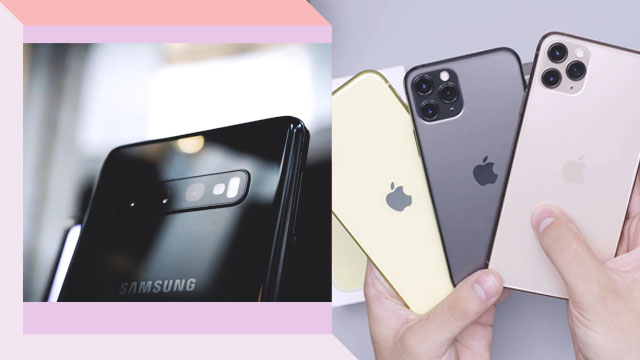 It's a new year and with it comes a whole new generation of handsets for us to drool over. In 2019, we got our first glimpse of how foldable screens can work for smartphones and for sure we'll see more of that in the coming years on other kinds of devices. Who knows, we may even have a totally new product that will take advantage of this new tech!
ADVERTISEMENT - CONTINUE READING BELOW
For now, let's focus on the immediate future. Here are some of the smartphones that will undoubtedly make waves in 2020.
Huawei Mate XS
Predicted price: less than P130,000
What it is:
2019 was a very challenging year for Huawei thanks to Google withdrawing their Android operating system for the company to bake into their devices. They were the first to out their foldable phone in the Mate X, but that never made it out of China last year.
This time around, Huawei has the backing of its own OS and the eventual warming up of the masses, especially because of the great mid-range offerings they have in the country. The Mate XS will be the second foldable smartphone from the brand, and will reportedly feature 5G connectivity, the latest Kirin 990 chipset, a smaller overall folded size than the Mate X, but with a more durable hinge and body—plus, it will be cheaper. Do note that the Mate X went for P130,000 (converted) in selected territories so here's hoping it will be a significant price drop for the XS.
Pros:
5G connectivity

Top specs at (hopefully) cheaper price point

Updated hinge technology for better durability
Cons:
Fragile-looking

Might not come with Android OS
Motorola Razr 2020
Predicted Price: Around P76,000
What it is:
The early 2000s is back thanks to Motorola finally releasing information about the 2020 edition of the Razr. The iconic clamshell made waves when it was first released but that was during the time when a physical keypad was the only way for you to interface with your phone.
Thanks to foladable screens, the Razr is making a comeback within the first half of 2020 as a smartphone that has a 6.2 inch display unfolded. Flip it down and you'll see a smaller screen for notifications as well as a fingerprint scanning strip.
While Motorola needed to bump down the specs (Snapdragon 710 with a 16MP rear + 5MP embedded camera combo) in order to keep costs down, it still comes with a USD 1,500 price tag, which is around P76,000.
ADVERTISEMENT - CONTINUE READING BELOW
Pros:
Big on nostalgia!

Solid-looking construction

Adapted the classic look and features into the smartphone age
Cons:
Very expensive for its specs

No headphone jack
Samsung Galaxy S11/S20 series
Predicted Price: around P55,000 on launch (base model)
What it is:
February is just around the corner and for techies, it's not only about Valentine's Day anymore. Samsung's Galaxy Unpacked event will happening on February 11, and for sure announce a new series of smartphones under their Galaxy line.
ADVERTISEMENT - CONTINUE READING BELOW
The Galaxy S11 series (which might be renamed S20) are all slated to be unveiled at the event and from what we know, the phones will come with the latest octa-core Snapdragon 865 chip and an Adreno 650 GPU. From leaked renders, it seems like Samsung will still go with an in-display fingerprint scanner but will have a punch-hole front camera. At the back, these phones will have a whopping five rear cameras.
There is no actual price yet for these new flagships, but it would probably start (baseline specs) at around P55,000 and will go higher depending on the actual handset and memory configurations.
ADVERTISEMENT - CONTINUE READING BELOW
Pros:
Possible punch-hole camera looks very unobtrusive on the display

Curved displays for all versions

Samsung has a great track record for its products
Cons:
The placement of the five cameras may look a bit too 'extra'
Samsung Galaxy Fold 2
Predicted Price: Around P50,000
What it is:
The big name in smartphones isn't backing down the competition with its own foldable offering. The second-generation Galaxy Fold is coming in hot with a redesign on how it closes, as it will adapt a clamshell configuration while in pocket mode.
This is reportedly to take on the Moto Razr 2020 edition. Engineering-wise, a clamshell fold is better (less moving parts) than a vertical fold and it also looks better. After all, there is a reason why a clamshell became a popular trend in phone design back then. Expect the Fold 2 to come with a hefty price tag though (around USD 1,000 or P50,000), but not as eye-popping as the Razr 2020's asking price with a step down in specs as well.
ADVERTISEMENT - CONTINUE READING BELOW
Pros:
Clamshell fold looks a lot better than bi-fold wallet style

Probably the cheapest foldable phone option right now
Cons:
Moving parts might still be an issue (as with all foldable phones)
iPhone 12
Predicted Price: Starts at P55,000
What it is:
Everyone's favorite fruit is also coming out with a new generation flagship, though much of the news are still rumors at this point—no final say from Apple themselves so things may still change.
The upcoming iPhone 12 is rumored to have different screen sizes depending on the version you are getting: the iPhone 12, the iPhone 12+, or the iPhone Pro MAX. For sure the new iPhone will come with a powerful A14 chipset, which may just outclass any Android-based chip in the market.
It's also rumored to come with an OLED display and up to 120 Hz refresh rate, which is par for the course since display refresh rate is the next spec that smartphone manufacturers want to bump up. Expect great-quality cameras (quad rear cameras maybe?) and possibly even 5G connectivity for this set of devices and an asking price that would probably start at P55,000.
ADVERTISEMENT - CONTINUE READING BELOW
Pros:
The OLED combined with display refresh rate of up to 120 HZ is going to make everything pop

5G connectivity

The iPhone 12 might be the phone where Apple finally catches up with Android phones in terms of features!
Cons:
Battery life might take a hit with big display technology
Load More Stories