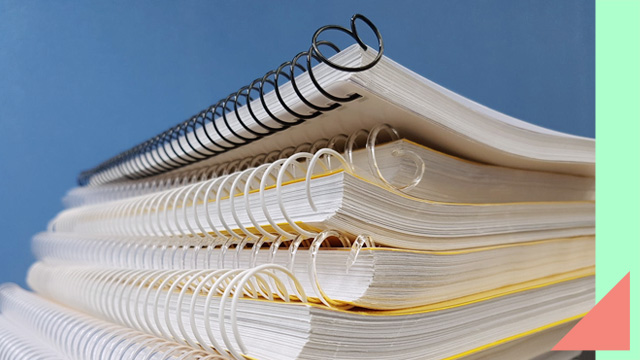 No one wants to think of accidents and disasters at this time. But one thing I've realized is that there's no more important time than now to safely store and organize important documents so you can easily access them in case of emergencies. I say this after witnessing the struggles of an acquaintance who recently lost her father to COVID-19 — she could not properly arrange his funeral because she could not find a copy of her dad's memorial plan.
ADVERTISEMENT - CONTINUE READING BELOW
5 smart ways to store and organize important documents
 Each family member will have a set of personal documents, so it's essential to have a storage system that can easily be found by any person in the household. On Smart Parenting's Facebook Community Smart Parenting Village, Pinays share their tips on how to sort and file important papers.
1. Use a clear book.
Many use a clear book to store documents. (You can buy one for around P100 to P150 at Shopee.) Rosenelle Tajanlangit shares she organizes these per type or purpose:
"Clear book 1 for government documents like birth, marriage, and baptismal certificates, plus BIR, PhilHealth, and PAGIBIG documents. Clear book 2 for my and my hubby's school and work documents, and other certificates. Clear book 3 for my children's school credentials and certificates. Clear book 4 for all documents regarding our house loan. Insurances are also in a separate book as arranged by our financial advisor."
CONTINUE READING BELOW
Recommended Videos
Gabrielle Binaday shares that she also uses four types of clear books—one for hospital records, one for grad school documents, one for her partner's documents, and the last for other miscellaneous files—while Cesz Azana uses one clear book with "the most important documents like passport, birth certificates, and land titles." This is so she can easily grab it in case of emergency: "'Eto 'yong mga 'di pwedeng mawala," she says.
2. You can also use an expanding envelope.
Others prefer an expanding envelope with each category properly labeled. Dani Ramos shares, "We have different ones whether for school, office, government documents, certificates, house, car, insurance, etc." She adds that she has another one for her kids per school year to easily keep track of school notes and reminders, slips, receipts, and more.
Jelyn Hidalgo uses browns envelopes for each family member. Each one includes birth certificates, passports, and other legal documents. There is also an envelope for documents that involve her and her husband, like their marriage certificate, join accounts, car insurance, and the like. She keeps it all in one expanded envelope "para 'di mahihirapan hanapin or bitbitin in case of emergency."
ADVERTISEMENT - CONTINUE READING BELOW
3. Have backup copies.
Some government agencies require photocopies of your legal documents for applications, so make it easier for your family by storing copies in a separate envelope. You should also consider scanning the documents (there are free apps that you can download so you can scan with your phone!) and uploading them on a private cloud storage (like Google Drive, OneDrive, or iCloud) or external hard drive like how our moms do it. In case you are unable to salvage your documents due to emergencies, you can at least have a copy printed out to help in new applications.
4. Store documents in one rack or bag that you can easily grab on your way out of the house.
Mom Karina shares that instead of clear books and expanded envelopes, she uses clear envelopes and places clear L-type folders/4-slot folders inside to categorize the documents. She puts all these in a magazine rack.
ADVERTISEMENT - CONTINUE READING BELOW
Alternatively, you can also put the documents in your emergency bags (read how to make one and what to put inside here) located near the door so you can easily grab it when going out.
5. Create a landing pad.
Avoid bills from piling up by assigning a "daily drop zone in a high-traffic area," like your kitchen, for incoming mail and paperwork, advises Real Simple. You can mount a basket on a wall so it will be obvious when the items are overflowing. Get tips from mom Emerald Bailey, who set up a family command center for her home here.
This story originally appeared on Smartparenting.com.ph.
Load More Stories