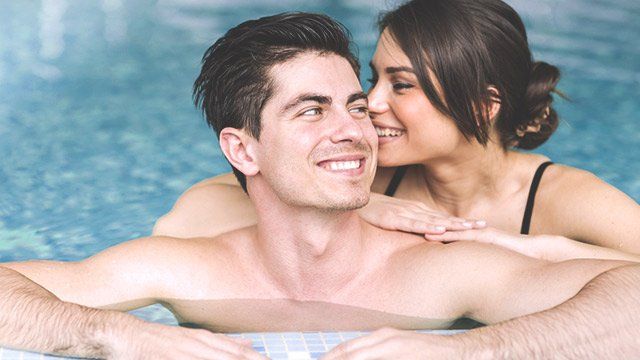 If you and your significant other are looking for ways to give your sex life a boost, then you've probably thought of doing it in the water, but according to experts, it's not advisable to do so. Sure, it may be sensual and exciting, but it comes with a lot of risk factors – especially if you're in public water spaces like lakes and oceans since they are by far the dirtiest, says Idries Abdur-Rahman, M.D., a board-certified OB gynecologist. 
ADVERTISEMENT - CONTINUE READING BELOW
CONTINUE READING BELOW
Recommended Videos
So before you decide to do the deed underwater, know that it puts your vagina at risk as you can get bacterial and yeast infections because of all the dirt and grime in public water areas. Swimming pools are not an exception either, since chlorine can irritate your lady parts or "disrupt the natural pH balance in your vagina" and pee (yes, people pee in the pool!) is just downright gross.
Other than it being extremely unclean, uncomfortable, and unhealthy, it could also be painful due to the lack of lubrication. "The irony of having sex in water is it actually washes away any natural lubrication the vaginal area creates," says sex therapist Amanda Robb. "This can cause increased friction and a feeling of dryness making for an uncomfortable sexual experience. Try a silicone based lubricant when you are having sex in water; silicone provides a slippery texture and is safe with latex and non-latex condoms and is not water-soluble," she adds. 
ADVERTISEMENT - CONTINUE READING BELOW
There are other ways to take your love making sessions to another level – without compromising your vaginal health. Here are some stories that may help you:
It's not something you plan on, or something you think will happen to you. And yet here you are, in your oversized pantulog, sitting beside your man in bed, and neither of you are feeling sexy. Don't worry though! Reconnecting with your sensuality and your man is not impossible. The fire can return to your sex life, and it's not as hard as you think.
Every woman wants to have awesome sex. But for some, it's much harder to ask for something specific, or something different. Here are ways to be more expressive in bed.
ADVERTISEMENT - CONTINUE READING BELOW
Do you have a racy bedroom idea that involves removing your clothes, peeling a banana, and performing some sort of erotic play that has never seen the light of day? Then this is the perfect time time to do it!
You really want to know how to make sex more enjoyable? Well, this article isn't going to tell you about new positions or new sex toys that you can take with you when you and your man get it on. It will, however, tell you an age old truth that is often forgotten--sex begins even before you take your clothes off and doesn't end after the big O.
Comments
Load More Stories