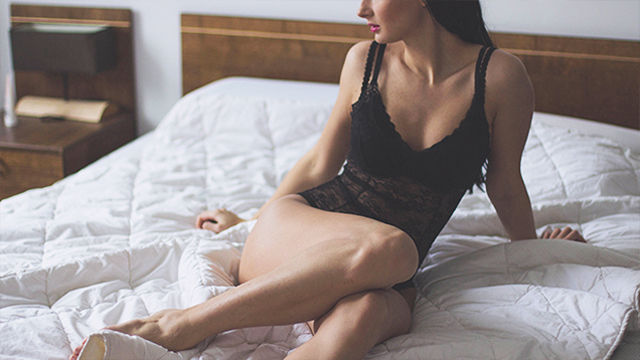 It's not something you plan on, or something you think will happen to you. And yet here you are, in your oversized pantulog, sitting beside your man in bed, and neither of you are feeling sexy. He's doing work on his laptop; you're nursing a glass of wine and reading chick lit. You look over to him and you still love this man deeply, but you're no longer feeling fire in your loins. When you do have sex, it's so routinary that you find yourself thinking about food while doing the deed, and not in a sexy way.
ADVERTISEMENT - CONTINUE READING BELOW
CONTINUE READING BELOW
Recommended Videos
Don't worry though! Reconnecting with your sensuality and your man is not impossible. The fire can return to your sex life, and it's not as hard as you think. Pun definitely not intended.
1. Change something.
Do you like sporting a full bush? Try getting a Brazillian wax. Do you do the deed before you go to bed? Try morning sex. Always doing it on your bed? Give the furniture something to talk about, and get nasty on the kitchen counter. Small changes can have giant effects, and the feeling of doing something "new" can add to the excitement.
2. Touch yourself.
How can your partner know how to please you in new ways if you don't know what you like? Spend an hour or so in bed, naked and free, and discover yourself. And don't just be good to your vag! Make sure you explore the rest of your erogenous zones. And once you're satisfied with what you've found, make sure to share your newfound knowledge with your guy. Guide him through your new favorite spots and how to light them up.
ADVERTISEMENT - CONTINUE READING BELOW
3. Exercise.
Obviously, exercise is good for your body. But did you know how important it is for your sex life? Regular, consistent exercise stimulates fantastic blood flow in your body, helps reduce stress and boosts your self-esteem. Exercise also allows you to be more aware of your body and your physicality, and this makes you more in tune with your sensual self. Nothing is sexier than feeling real good in your own skin.
4. Ask and tell.
Sometimes, our guys have fantasies that they're just afraid to say out loud. Most probably, you do too. If he's shy to talk about his own freaky-deaky desires, be the first one to say it out loud. Tell him what you'd like to try, and actually try it out. Even if you end up not liking it, you'll have a great secret you can always look back on! And it will eventually lead you to the things you actually do like. Win-win!
ADVERTISEMENT - CONTINUE READING BELOW
5. Destroy distractions.
Sometimes we forget to focus on each other because we have too many distractions Make sure you have time at night reserved for each other. No phones, laptops, or TV. Just you and your man, talking about your day and nonsense things and playing footsie under the sheets. It doesn't even have to lead to anything sexual, but the connection you'll feel with each other will make sex more meaningful and enjoyable.
6. Be exciting outside.
This doesn't mean you have to have sex outside. Doing new, exciting things with each other out of bed can help rekindle the fire. You can start with something simple like surprising him in the office. When exposed to a side of him you don't usually see, you may remember why you were so attracted to him in the first place. Don't forget that the health of your sex life is greatly affected by the health of your actual life. Let loose, have fun, and then get down and dirty. Trust us, you won't regret it.
ADVERTISEMENT - CONTINUE READING BELOW
Comments
Load More Stories