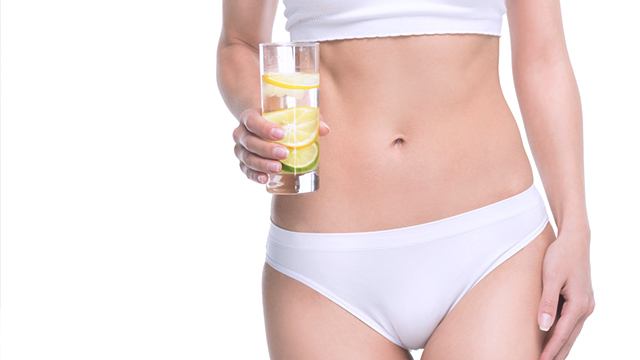 That layer of fat around your belly is not just a nuisance when it comes to dressing up; it also sets you up for some actual health problems. Also known as visceral fat, your bilbil can throw off your hormones and put you at risk for diabetes and heart disease.
ADVERTISEMENT - CONTINUE READING BELOW
Read on for four ways to get a flatter stomach and increase your overall health.
Ditch the Junk
As the saying goes, abs are built in the kitchen. You can train as hard as you can every day of the week, but if you're eating junk all day, your belly fat is there to stay. Trade in your slice of cake and bag of chips for some fresh fruits and veggies and we guarantee you'll be shedding that unwanted belly bulge sooner than you think. Crash diets or skipping meals don't work either. Those only throw off your body's metabolism. Balanced meals and proper nutrition are definitely the ways to go. Eating a good amount of healthy food for each meal will help curb your cravings and give your body what it needs to burn fat and build muscle.
Hydrate, hydrate, hydrate!
Since we live in a tropical country, it's easy for us to get dehydrated—sometimes without even knowing it! Eight glasses of water a day in this climate might not be cutting it. Aim to chug down at least two liters a day to stay properly hydrated. Drinking enough water will help your body run more efficiently, thereby increasing your metabolism and your ability to burn those unwanted fats. And if you're thinking about replacing a couple of glasses of water for juice or soda, think again. Sweetened beverages are one of the biggest culprits in making your belly grow. All that added sugar is not good for you and will only add inches to your waistline.
ADVERTISEMENT - CONTINUE READING BELOW
Stay Active
Studies show that cardiovascular exercises such as running, swimming, or biking are the most effective for reducing the size of your belly. Squeeze in some extra steps by taking the stairs instead of the elevator or parking in the farthest slot from the entrance. Resistance or weight training is also beneficial for losing extra inches. These exercises can increase your muscle mass, which also increases your body's fat burning abilities. If you combine cardiovascular exercises with the resistance or weight training in your weekly schedule, you'll be on your way to achieving that flat belly in no time!
Find Your Zen
Stress is one of the top belly fat builders and it's not just because it makes you want to eat a bar of chocolate after a long day. When you are under stress, your body automatically produces cortisol—a hormone that stimulates the storage of fat in your body. Make time to de-stress by visiting a spa, going out with the girls, or catching up on your favorite shows. Getting enough sleep is also crucial in lowering your cortisol levels. Try setting an alarm as a nightly reminder to go to bed early enough that you get at least seven hours of sleep. By getting enough sleep, your metabolism will be able to stay on point—keeping your belly in check as well.
ADVERTISEMENT - CONTINUE READING BELOW
Camille Romero is a Holistic Health Coach and Yoga Instructor. For classes and consultations, contact her at cmf.romero@gmail.com.
Recommended Videos
Comments
Load More Stories