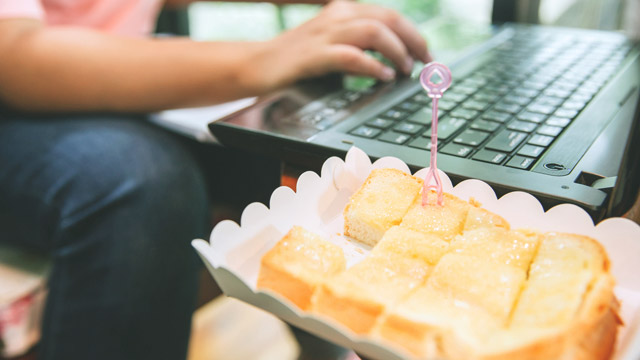 It's sadly almost normal for every one with a nine-to-five to rant about how stressful work is, but for some, rants are just the tip of the iceberg. It's one thing to be stressed about certain tasks that you know can be completed, but it's another to be continuously anxious about your teammates, your boss, and your job, all the while wishing that you could just finally resign.
ADVERTISEMENT - CONTINUE READING BELOW
Staying in a job you hate is a heavy burden, and it can definitely affect your health. According to a feature on Health.com, high-stress situations can cause you to gain weight. Dr. Katherine Tyron of global research organization Vitality Institute notes: "It really has to do with diet, physical activity, and behavior."
Here are a few things that you're probably doing that can cause unhealthy weight gain:
1. You stress eat.
One of the most common outlets of highly-stressed individuals is food. "When work stress starts eating us, we start eating," says an article on TIME. It's been suggested that immense pressure also affects food choices: according to the Harvard Health Publishing, "physical or emotional distress increases the intake of food high in fat, sugar or both...
"Once ingested, fat- and sugar-filled foods seem to have a feedback effect that dampens stress related responses and emotions. These foods really are 'comfort' foods in that they seem to counteract stress—and this may contribute to people's stress-induced craving for those foods."
CONTINUE READING BELOW
Recommended Videos
2. You sit for long periods.
When you've got tons of deadlines to meet, you don't notice time passing by. It's important to stand up from your seat at least every three hours. In fact, one of Female Network's previous articles has mentioned that staying sedentary won't only cause weight gain, but also increase the chances of an early death: 
"Those who had more than 11 sedentary hours in a day increased their risk of all-cause death by 12 percent as compared with those who had only four sedentary hours. They also increased their mortality risk due to cardiovascular disease by 13 percent, coronary heart disease by 27 percent, and cancer by 21 percent."
3. You don't eat on time. 
Skipping meals may be a small thing, but it can start a chain reaction: first it makes you unable to focus; then your brain convinces your body that it's in survival mode, causing the release of the stress hormone cortisol, which stores extra calories to keep you up and running. And because your body is screaming for energy, you tend to reach out for sweets (see Number 1).
ADVERTISEMENT - CONTINUE READING BELOW
The more you disrupt your usual meal cycle, the more stressed your body is.
4. You don't sleep on time.
Pulling all nighters for your job means that you regularly lack sleep, and sleep deprivation can negatively affect your metabolism, which, in turn, can cause you to gain pounds. 
What to do
Let's face it: not everyone has the privilege of resigning right away. If your job has started to become too stressful and unfulfilling for you and it's beginning to affect your physical, emotional, and mental well-being, the easiest way you can address it is by speaking with your direct supervisor. There are times, however, that your direct supervisor is your issue. While it's possible to speak with HR, there's also no denying that reporting your boss may cause him or her to retailate.
Sometimes, the best course of action is to walk away.
Do diet pills work?
While some health supplements may help with weight loss, be wary about diet pills that claim miraculous results in such a short span of time. Schedule an appointment with a nutritionist (or possibly a mental health professional if you feel like managing your daily stress is more urgent in the meantime) but do not rely on shortcuts and temporary solutions to address major health issues. Exercise, a balanced diet, and proper self-care can get you closer to a healthy lifestyle than a pill. It's still most important to address the root of the issue, which, in this case, could be your stressful job. 
ADVERTISEMENT - CONTINUE READING BELOW
Now, to deal with a job you hate and you plan on leaving, you must first ground yourself and assess your current situation. Confirm the source of your stress, find out how much you can do to remedy it, then ask yourself for how long you can hold on. Once you've given yourself a time frame, create an exit plan—look for other opportunities while making sure that you have enough money to keep you going if what you're initially looking at doesn't work.
Unless the situation calls for it, don't resign without a Plan B. Always have a safety net. Remember that quitting doesn't always mean that you've given up. It can also mean that you want something better for yourself.
Load More Stories