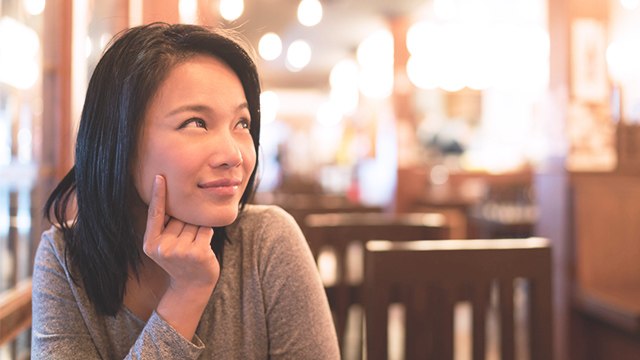 This year, I tried to keep my resolutions simple by focusing on just three things: health, money, and time management. Not all my efforts were effective, but I noticed that the ones that stuck were those that started with small, very doable steps. It's about turning effort into habit.
ADVERTISEMENT - CONTINUE READING BELOW
You don't always need to start big. You just have to start somewhere. Here are a few of my favorite ones:
Eat right, especially when you're alone.
I love food, and I looove eating out—that's never going to change. So instead of depriving myself when I'm out exploring a new spot, my simple rule is that I regulate my meals when I'm alone, and indulge only when I'm out for dinner with family and friends. Not only does this mean I get to enjoy food with loved ones, it also helps me eat smarter.
Share food.
Here's a win-win situation: If you can't help but give in to your french fries or ice cream cravings, then split it with a group so you consume less. And whether you're sharing with your officemates or family at home, bringing something the team can enjoy together is always a good way to boost morale.
ADVERTISEMENT - CONTINUE READING BELOW
Recommended Videos
Set a budget limit when eating alone.
Again, because it's easier to set parameters when you're on your own, aside from monitoring what you eat, try to adjust how you spend.
What works for me is I set a budget cap for my solo meals, and choose only special nights (like a barkada get-together or after a 12-hour work day) where I splurge on my dinner.
Don't ever sacrifice your nighttime skincare routine.
It's not just about beauty, it's stress management. It takes ten minutes to wash your face and layer on your skincare ingredients; and you always feel better after, from the inside out. Worse comes to worst, there's always micellar water!
When too busy, exercise before hitting the shower.
I always thought of exercise as a health investment for the future, but I grew to love it once I started feeling its benefits as I went along. You have more energy, you're focused, and you learn to self-motivate. When life gets in the way, try to squeeze in a twenty-minute workout before you shower. Maliligo ka na rin naman eh.
ADVERTISEMENT - CONTINUE READING BELOW
Track your expenses daily—down to the last centavo.
As I set a financial plan for myself, I spent weeks monitoring and tweaking my regular spending habits.
The key to financial stability is financial awareness. If you're not sure how to create a monthly budget for yourself, allot about two months for simply noting down how you spend your money. This will give you a clear idea as to what your priorities are, where you're overspending (there's always that one thing...), and what you can change. Be open to making a few lifestyle adjustments here and there, and before you know it, you'll be growing your money like the responsible adult you've always wanted to be.
Pay off your credit card debt monthly.
It's hard to draw the line between your needs and wants when you're a grownup, and that's how you find yourself justifying that P30,000 juicer. Ladies, learn to live within your means. Whether it's a cell phone, a washing machine, your dinner or makeup, set your priorities straight and only buy what you can afford. If you want something nice, work for it.
ADVERTISEMENT - CONTINUE READING BELOW
Go to work early, and leave on time.
Aside from beating traffic, I find that I work better when there are less people around me. The first few hours of quiet can really set your pace for the day, and if you plan it right, you can leave work as early as possible without slacking off. Yay to more me-time.
Make sure you don't go two weeks without seeing a friend.
Whatever life throws at you, nurture your healthiest, most honest relationships. Make an effort to see a different friend at least once a month, and don't go ever two weeks without catching up with someone you love. Life's too short, people. 
Load More Stories