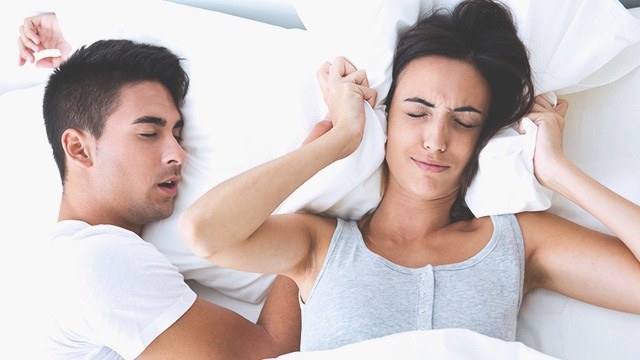 There are several things we can stand compromising when it comes to relationships; from quirky habits that surface every now and then to a total change in your routine—all for love. But what if your partner is a loud snorer? A lot of guys get embarassed by this issue so it can be challenging to bring it up, but it's not something that should be ignored if it's starting to affect your sleeping habits. If you're a light sleeper, chances are you'll find it difficult to catch some z's. Will you be able to tolerate it or just give up and call it quits?
ADVERTISEMENT - CONTINUE READING BELOW
Before you throw in the towel, know that it's possible to get some quality sleep even though your significant other is a loud snorer. You just need to try a couple of things. Here are some options to start with:
Find a sleeping position that works.
When you lie flat on your back, your tongue and soft palate fall at the back of your throat causing a vibrating sound while you sleep, says Daniel P. Slaughter, MD, an otolaryngologist and snoring expert at Capital Otolaryngology in Austin, Texas. He suggests that the best way to prevent this is to make sure your partner sleeps on his side.
"A body pillow (a full-length pillow that supports your entire body) provides an easy fix. It enables you to maintain sleeping on your side and can make a dramatic difference." 
Lessen the alcohol consumption.
Having too much to drink every now and then not only damages your liver, but it could affect the way you sleep, too. It's because alcohol relaxes the throat muscles, making someone more prone to snoring.  
ADVERTISEMENT - CONTINUE READING BELOW
Recommended Videos
But don't worry if you and your man like to go out. If you guys are somewhere you really have to ingest alcohol (not that you ever have to REALLY drink, but you don't need to cut if out completely), drink moderately and make your cut off about three hours before bedtime. You have to be sober and alert for that drive home anyway!
Invest in a humidifier.
Having a humidifier can do wonders—not only will it make your room smell great, it could also improve the quality of your sleep as well. Nasal congestions and allergies are the worst when the air is dry, that's why a humidifier is something worth getting since it helps moisten the atmosphere. 
Load More Stories