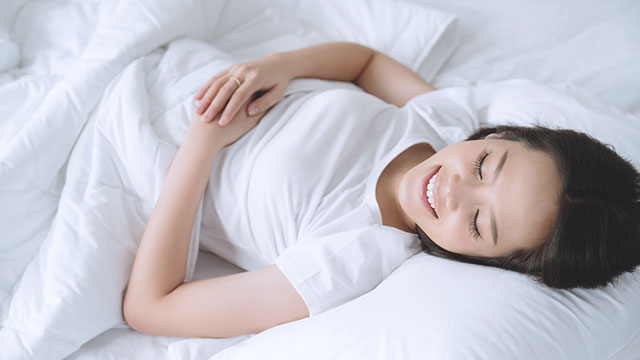 Did you know that the body's performance when deprived of sleep and when drunk is the same?
A study has recently revealed that lack of sleep produces impairments in cognitive and motor performance equivalent to alcohol intoxication. It was found that after 17 to 19 hours without sleep, the body's alertness is similar to that of someone whose blood alcohol concentration is .05%, considered "impaired" in the U.S. legally drunk scale. 
ADVERTISEMENT - CONTINUE READING BELOW
With your busy schedule, we bet you don't get as much sleep as you need. (Don't let it happen to often, though!) Here are some tips to maximize the hours you do get to snooze:
Turn off all light sources—including the blinking light of your TV and your phone during bedtime.
Anything with light, such as LED lights, that blue light on your computer screen, your phone screen, even when your eyes are closed to actually see it, affects your sleep pattern and quality. It forces the body to wake up because it works on an ancient pattern when our ancestors have relied on the blue light of dawn as a signal of a new day and the time to rise. "Any light you have with a blue spectrum in it is going to destroy whatever melatonin—also known as the sleep hormone—is in your brain," says Dr. Ted Achacoso, chief science officer of wellness institute BioBalance.
Always set your alarm according to sleep cycles.
The average sleep cycle is around 1.5 hours or 90 minutes, which means a 7.5-hour sleep is a pretty good amount with roughly five cycles. If your alarm clock wakes you up in between cycles, you get the feeling of being jerked awake like you were hit by a truck or you get the groggy, sleep-deprived feeling all day. The lesson is, if you have to set your alarm, count the minutes and set it for when a sleep cycle ends, whether its just two (3 hours) or three (4.5 hours) or four (6 hours) cycles.
You can make use of sunlight as your "alarm."
On days when you can afford to not use an alarm clock, try letting some sunshine in your room in the morning by leaving the curtains slightly open. Human bodies are conditioned to wake up when exposed to sunlight. This way, you wake up a lot easier and less groggy.
ADVERTISEMENT - CONTINUE READING BELOW
Remember that quality is as important as quantity.
This is the reason why waking up after a complete sleep cycle is very important. But know that ensuring you get quality sleep can also be achieved through wellness products or natural remedies that support the body for a good night's sleep. Various essential oils, for instance, can help relax and soothe the mind in time for bed.
This story originally appeared on Townandcountry.ph.
* Minor edits have been made by the Femalenetwork.com editors.
Load More Stories