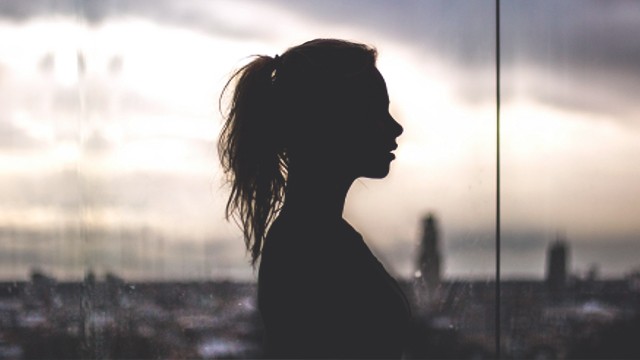 Just a few years ago, admitting one's depression, anxiety disorder, and similar problems was a huge no-no. It was seen as a sign of weakness. The fear of being told to just suck it up or don't act like a brat, or being labeled as too loony to be among the "normal" people makes the suffering compound until it no longer feels bearable. This is what I went through when instances of anxiety attacks back in high school rendered me debilitated to function. Only when I was already married and another attack ensued that I turned to professional help.

For years I had to deal with my condition on my own, not really grasping that I didn't have to, only because I was told that it's a personal journey. It's not. Having psychological health problems is exactly like having physical ones. The sooner you find treatment, the better you'll feel. It's nothing to be ashamed of, just as taking medicine for bodily ailments isn't.

You don't have to go through this alone. Help is right around the corner. Here's a list of organizations that offer reliable services while helping spread awareness about meantal health:

1. Natasha Goulbourn Foundation (NGF)
One of the most active and biggest non-profit organizations in the country is NGF. The foundation is named after fashion designer and NGF's founder Jean Goulbourn's daughter Natasha, after she took her life at the age of 27 due to depression. Since 2007, Jean and the NGF team have embarked on a mission to spread awareness through lectures and offer support through their confidential crisis lines and referrals to doctors.

326, LRI Design Plaza, 210 Nicanor Garcia Street Former Reposo Street,
Bel Air 2, Makati, 1209 Metro Manila, Philippines
Phone: +63 2 897 2217
http://www.ngf-hope.org

2. In Touch Community Services (ITCS)
Established in 1980 , ITCS operated as a non-profit organization aimed to assist newly-arrived expatriates and their cross-cultural issues. Years later, they've open their doors to the Filipino community with their crisis line and counselling services. Today, ITCS has provided support for Filipino families, children, and expatriates, with "emphasis on guidance for newcomers" along with events and workshops aimed to increase awareness and train individuals to be of professional help to others.

General Contact Info:
Monday to Friday 9am to 5pm
Telephone: + 63 2 893 1893 / 810 6233
Fax: + 63 2 893 1892
Office Address: No.48 McKinley Road, North Forbes Park, Makati City, Metro Manila, Philippines
Email:intouch@i-manila.com.ph

Crisis Line:
Monday to Friday 9am to 5pm
Telephone:+ 63 2 893 7603
Email:crisisline@i-manila.com.ph

Face-to-Face Counseling:
Monday to Friday 9am to 5pm
Telephone: + 63 2 893 1893 / 810 6233

3. Randy Dellosa Wellness Center / Life Change Recovery Center
Randy Dellosa is a famous life coach, counselor, psychotherapist, clinical psychologist, physician, psychiatrist, and osteopath. The doctor's degrees in Psychiatry (M.D.), Clinical Psychology (Psy.D.), and an Osteopathy (DO-MTP) allow him to provide a wholistic and creative approach to healing. His Life Change Recovery Center offers compassionate treatments for psychiatric patients and addictive individuals.

General Contact Info:
105 Scout Rallos Street, Timog Area, Quezon City
(02) 415-6529
(02) 415-7964

4. Centre for Family Ministries (CEFAM)
When several psychologists couldn't really help me with my situation, I turned to my church's psychologist-counselor for help. The sessions, a mix of spiritual and scientific topics, have been very helpful in my case. And coming from a group leader I trust, it felt like I was confiding with a family member. If you belong to a religious group, find how they can be of help too. A reliable and sought-after group is CEFAM, which has provided topnotch couple and family counseling for over 25 years. The psycho-spiritual approach may be just what you need to give your spiritual relationship a boost.

General Contact Info:
Spiritual-Pastoral Center, Ateneo de Manila University Campus Loyola Heights, Quezon City
Fax : (632) 426-4285
Telephone numbers : (632) 426-4289 to 92

Satellite Counseling Site (In cooperation with Don Bosco Parish)
Don Bosco Parish
Arnaiz Avenue corner Amorsolo Street, Makati City
(632) 894-5932 or 34

5. Department Of Health (DOH)
Just this year, DOH announced that mental health will be a priority of the new administration, adding "modern-day living diseases" on the list of the department's top concerns. They've recently launched Project Hopeline (in partnership with National Centre for Mental Health and NGF), a 24/7 hotline handled by nine trained crisis responders to support callers and connect them with counselors and mental health professionals.

For immediate assistance, call:
(02) 804-HOPE (4673)
0917 558 HOPE (4673)

FN Tip: You can also get in touch with Dial-A-Friend for confidential and free counseling. The numbers are 5251743 and 525188, Monday to Friday, 9am to 7pm.
ADVERTISEMENT - CONTINUE READING BELOW
ADVERTISEMENT - CONTINUE READING BELOW
Recommended Videos
Load More Stories