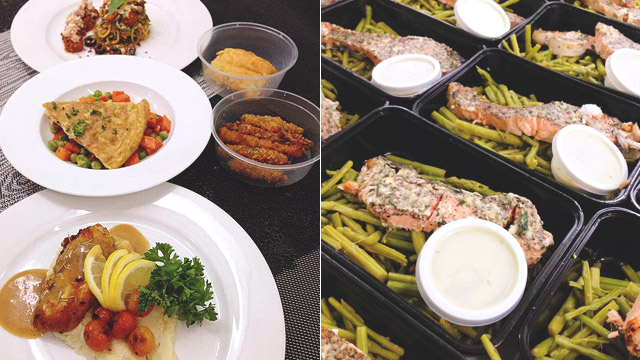 Keto, as you probably already know, is the diet fad that everybody has been talking about. Its popularity comes from the concept of losing weight even while eating fat. Keto practitioner Regina Banda explains it better on Yummy.ph: "A nutritional ketogenic diet is eating low enough dietary carbohydrates that makes your body produce and use ketones, and eventually fatty acids, for fuel. This is a harmless physiological state called nutritional ketosis. Carbohydrate requirements will be different for each person, depending on their weight and their activities."
ADVERTISEMENT - CONTINUE READING BELOW
Compared to other, stricter diets, it seems like an easier way to lose excess weight, right? But while Keto looks really good and enticing on paper, not everyone is on board with it. In fact, on the list of best diets for 2017 released by U.S. News, keto is ranked 39 out of 40 by a panel of doctors and nutrition experts, citing that while it's great for short-term weight loss, "its combination of unusually high fat plus remarkably low carb content" can be a cause for concern "for people with liver or kidney conditions, who should avoid it all together." The risks and benefits of the diet are also still up for debate for people who have heart conditions or diabetes.
CONTINUE READING BELOW
Recommended Videos
Hearing from both ends of the spectrum, I tried the diet for a week with Fit Food Manila's delivery service to see how it would affect me. Of course, seven days is such a short time to really see results, so I didn't expect any drastic weight loss. I did, however, hope that I'd feel lighter and less bloated, and I'm happy to report that it did get my tummy a little flatter, though it wasn't at all an easy ride.
ADVERTISEMENT - CONTINUE READING BELOW
How I Regularly Eat
Once I stepped into my thirties, I became more aware of the things that I eat not only because my metabolism has slowed down, but also because I've learned to be more keen about my family's health history, which included hypertension and diabetes. I still do enjoy cakes and pastries, but I've learned to balance everything out with just the right amount of veggies and meat. Moreover, spending long weekends at my parents' house has somewhat lowered my tolerance for things that are too sweet and salty since they have a really healthy diet. This made me think that hey, maybe keto won't be so hard.
Let's just say that I spoke too soon.
Pre-game: Fasting
A feature on Perfectketo.com notes that fasting before going on keto can "help you deplete glycogen stores more quickly and eliminate carb intake so you can enter ketosis quickly."  Lucky (or unlucky) for me, I was on forced fasting before starting the diet due to stomach flu a few days prior. So yes, I started my keto journey on a very empty stomach.
ADVERTISEMENT - CONTINUE READING BELOW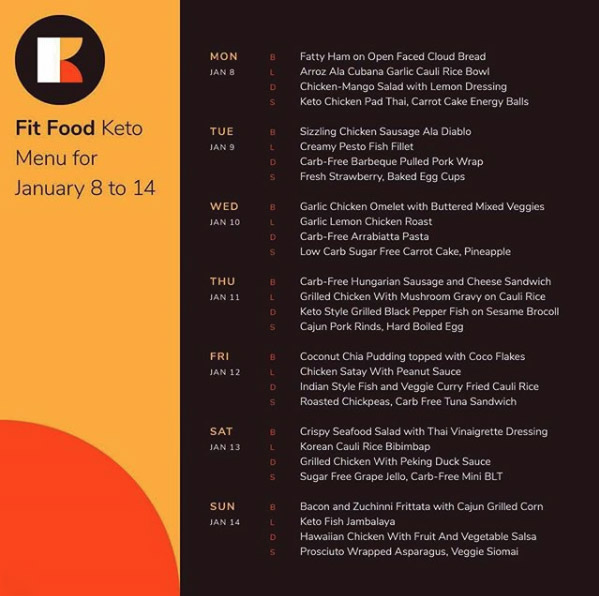 Day One
Breakfast was Fatty Ham and Scrambled Eggs Open Faced Cloud Bread. It was pretty good, and I thought that if this was going to set the pace for the next five days, then it would be no problem. "Cloud Bread" isn't exactly bread as we know it since it doesn't have flour and it's totally egg-based, but the upside is that you can easily replicate it at home:
ADVERTISEMENT - CONTINUE READING BELOW
As I was coming out of a fast, I didn't try to eat everything in one go. I ate half the sandwich at around seven in the morning, then the other half at 10. I did the same thing for lunch, which was Arroz Ala Cubana Garlic Cauli Rice. The morning and afternoon snacks were enough to tide me over to dinner.
People say that there's a high possibility that you get "keto flu" during your first day. Perfectketo.com explains that "keto flu" is one of the side effects of going into ketosis, and the symptoms include headache, dizziness, stomach pains, lack of focus, irritability, and sugar cravings. I didn't feel any of them, but I did begin sweating a lot, and I mean a lot. I sweated so much I was asking myself if it was how hot flushes felt. I was also always thirsty, so I drank a great deal of water while sipping small amounts of Gatorade just to make sure I had a safe level of electrolytes in my body.
ADVERTISEMENT - CONTINUE READING BELOW
Day Two

I seriously loved the Sizzling Chicken Sausage ala Diablo with Stir Fry Carrots for breakfast, though the sausages could use less salt. And since I really love celery dipped in cream cheese, I enjoyed having it as a mid-morning snack.
I did have to break the diet though since I had a food event to attend in the afternoon, and I, of course, had to try a few dishes. I still watched my portions with the lechon de leche and sinigang (which are technically still keto-friendly), but I do admit to eating a roll of matcha bread which definitely took me out of ketosis if ever I was already in it. In any case, I didn't take dinner afterwards and I still had a full belly.
ADVERTISEMENT - CONTINUE READING BELOW
Day Three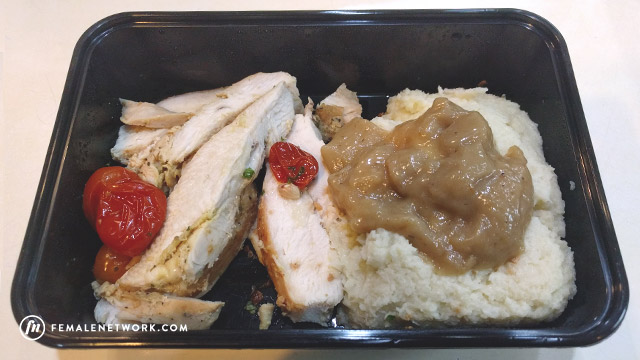 Although the photo I took doesn't look too nice, Fit Food Manila's lunch of which was Garlic Lemon Chicken Roast on Garlic Butter Mashed Cauliflower was delicious, and it urged me to look for a good mashed cauliflower recipe I could do at home. Here's one that I found that's easy to follow:
ADVERTISEMENT - CONTINUE READING BELOW
Unfortunately, the Carb-Free Arrabiata Pasta for dinner that I think was made from zucchini got spoiled in spite of it being in the fridge the whole day, so I looked for an alternative and bought Chicken Salad (without the wonton) from Ooma. 
There were some points during the day when I would feel lethargic, so I would take a cup of black coffee. I still kept on sweating like there's no tomorrow, and that meant I also kept on drinking water.
Day Four
I oddly didn't feel full with my meals today. Early in the evening, I could feel my acid dyspepsia acting up so before it got worse, I looked for something to eat. Yes, I'm guilty of once again eating bread. It was half a slice, but still, carbs galore. I ate my keto meal of Grilled Black Pepper Fish on Sesame Broccoli when I finally got home.
ADVERTISEMENT - CONTINUE READING BELOW
Day Five
It was a pretty sad morning as my Coconut Chia Pudding Topped with Coco Flakes and Chopped Almond got spoiled. I wasn't surprised though—anything with coconut milk spoils easily, even when refrigerated. I instead bought a Go Salads! shake for breakfast.
Day Six
For a Saturday (which is when my family and I meet up for dinner), it was amazing that I managed to stick to full-on keto. I realized that portions are really important because as long as you eat the right amount of food at the right time, you can actually stay full until your next main meal. 
Day Seven
Who would have thought I would have lasted this long with no rice? Admittedly, I ate a bit of bread, but for someone who really loves bread, it's a huge thing for me to be conscious about steering clear of it for as much as I could. After my last keto dinner, I felt gratified. I did my best, after all.
ADVERTISEMENT - CONTINUE READING BELOW
The Verdict
So here's the ultimate question: Did I lose weight? Well, considering I ate bread and broke ketosis several times, I still did lose a pound or two--but I wasn't really obsessed with how heavy I was anyway. What was great were the effects of the diet that didn't appear on the weighing scale: I felt less bloated, I lost a bit of extra bilbil in my tummy area, and (TMI) I had great and on-time bowel movements. I did feel cleaner internally since keto wasn't really about eating steak on a daily basis. Plus, it inadvertently trained me to eat just the right portions and made me more conscious about what I put in my body, all the while giving me the validation that while my regular eating habits are not at all unhealthy, it could still be healthier. I'm not saying that I can go strict keto—I think my many mishaps have already proven that—but at least now I can actually make better food choices instead of going for the easy snack.
ADVERTISEMENT - CONTINUE READING BELOW
The downside of keto for me was that I did feel a bit weaker. I pride myself on my physical strength, and while I can still lift weights, I felt like my arms were lacking the steadiness they used to have. I also got days when I had headaches which were probably due to the absence of sugar. When that happened, I nibbled on small pieces of 75 percent dark chocolate.
Having meals made by Fit Food Manila made my life a great deal easier as I didn't need to worry about what to cook or how to portion; however, as with other diet and meal services, it's always a rush against time to keep food fresh—and at times, you do get spoilage. When unexpected things happen, you'll have to know what you can eat and where you can find them. With keto, it isn't so hard—just pick viands that are without sugar and carbs.
ADVERTISEMENT - CONTINUE READING BELOW
Another thing I noticed with subscribing to delivery services is that I end up with plastic containers piling up in my kitchen. It's convenient, but not environmentally-friendly. I hope that someone could devise a system wherein containers can be washed, returned, and rotated so people can eliminate the use of disposable containers.
All and all, unless you have liver, kidney, or other physical issues, I think keto is worth a shot as long as you speak with your doctor about it first. You don't need to drastically dive into it and immediately get into the hardcore stuff of calculating your macros. In fact, there are a lot of things from keto that you can apply to your life without drastically changing your diet, such as portion control and holding back on too much sugar. By simply choosing to eat better, you'd be surprised at how easy it will become to transition into a healthier lifestyle.
ADVERTISEMENT - CONTINUE READING BELOW
Fit Food Manila's delivery packages range from P370-P745/day.
Comments
Load More Stories