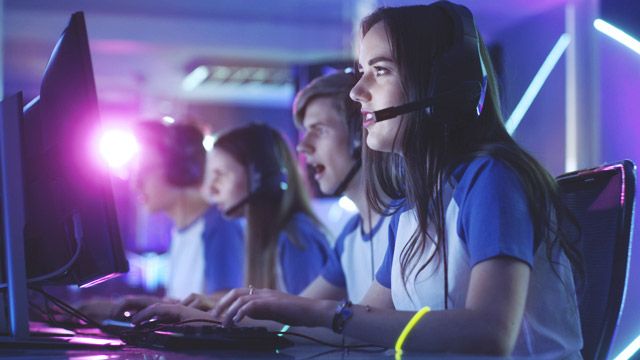 Some time ago, I was getting in a few hours of this online game I've been crazy about when a male sprite approached my character and initiated a trade. In the window that opened was a really expensive headdress that would cost millions in-game, and probably a thousand pesos in real life.
ADVERTISEMENT - CONTINUE READING BELOW
Of course, I knew that no one was silly enough to just give a rare item away so I asked how much he was selling it for. In Filipino text-speak, he replied with the address of a motel and asked for "alam no na" in exchange for the item.
The first thing that came to mind was how he knew that I wasn't a chicksilog (a man playing a female character). But before I fully understood that I was just given a very indecent proposal, the player closed the trade window and warped out of the area.
I wasn't even able to screenshot our chat, much less report him, and in between different spelling iterations of the banned word 'bobo' and other nastier things, I surprised myself when I realized that deep down, I had already accepted that this was normal.
* * *
Gaming is a booming industry in the Philippines. According to GG Network, there are more than 32 million casual and hardcore gamers in the country. While internet speed is still an issue, the improved access to high-functioning PCs and consoles as well as the proliferation of mobile devices and small gaming cafes have pushed Pinoys and Pinays from six to 60 years old to game. The good news is that 47 percent of Filipinos who play are women, which means that it's not at all a "guy thing."
ADVERTISEMENT - CONTINUE READING BELOW
This almost begs the question: if the sheer number of women gamers basically "normalizes" their presence in what has been traditionally accepted as a "masculine" endeavor, then why are issues of sexism and even harassment still prevalent?
"With the advent of the Internet, social interactions, including sexual harassment, increasingly occur online, for example, in video games,'" wrote Atty. Lorna Patajo-Kapunan in her Business Mirror column. "Sometimes, the perpetrator may be completely unaware that his or her behavior is offensive or constitutes sexual harassment or may be completely unaware that his or her actions may be unlawful."
And it's true—Filipinos, in general, have a really bad reputation as gamers. A simple Google search will result in Reddit threads, videos, and blog posts saying that the Philippines is the "trash talk capital of the world," and while this in itself is pretty toxic, it often becomes downright vile when trash talk becomes sexist and sexual.
ADVERTISEMENT - CONTINUE READING BELOW
An incident involving a certain local online group for players of a famous first-person shooter team co-op game is an example of this. A male player picked a character that his team didn't agree with during a match going sour, explaining that it was his "main" or a character that he has supposedly mastered playing.
After inevitably losing the match, an annoyed female player asked "Nabuhat mo ba?" sarcastically pertaining to the fact that his character choice did nothing to help carry the team. The male player proceeded to blame the female player for her own character choice before saying "Pakantot," followed by "Galingan mo sa pag-chupa."
Granted that a lot of gamers often tell one another to 'suck each other's dicks' during matches, would "pakantot" be well beyond what's classified as trash talk that it can be considered verbal sexual abuse? Is "not having a great day" as the male player explained an excuse enough to say what he said, adding that it's all about "equality" as men also throw each other lewd comments? And are women—and people in general—who get offended by sexual innuendoes in-game overly dramatic?
ADVERTISEMENT - CONTINUE READING BELOW
Where should a player draw the line?
* * *
Rikki Quiapon, a streamer/shoutcaster famously known as "Riku" in the gaming community, isn't new to toxicity and sexism but remains unfazed by it.
"Insta-ban," she said one afternoon over coffee. Riku has over 197,000 followers on Facebook and over 14,000 on the live streaming platform Twitch. "When I suddenly glance at the chat [while streaming], biglang may toxic person na pala saying really inappropriate things. My viewers actually protect me.
"I'm just here to play the game. Parang, I'm just so focused on the game and I don't pay too much attention sa toxic person, so I just insta-ban, and it's gone, and people go on with their lives na."
Law graduate KL So Chan is another Twitch streamer who is known to help newbies get acquainted with the scene. "It really depends. Sometimes if they get toxic—if [they're] regulars, I still talk to them, but then when it gets too much I give them a warning. It's only when they continue after that warning that I threaten them – 'Okay I'm going to time you out.'
ADVERTISEMENT - CONTINUE READING BELOW
"Whenever there are people who are having those kinds of problems, sometimes they come up to me and I give them advice on what to do… Get mods to be able to block them [and] to be able to ban them right away, or if it escalates…they can also block them on social media accounts if they get too toxic. What to do if it escalates further than that, like legal advice, where to file, like how to get evidence before you report them…giving them options."
And it's not just through sexual harassment that women are attacked in this industry, because while there are many women who are avidly into gaming, there's still an existing gender stigma when it comes to skill.
"I'm not quite sure why—I've seen my friends experience it. I've seen the community experience it," Riku acknowledged. "I've never experienced it before, but it's very frustrating to see in the community that people would just label you and judge you right away before seeing you play, or even if you suck at that game, can [they] not bring up the gender? Can't [they] just say 'you suck'?"
ADVERTISEMENT - CONTINUE READING BELOW
It's at this point that the narrative shifts: Women gamers have admittedly been judged by their gender and physical attributes so much that many have decided to make it work for them.
Twitch has a very strict set of rules when it comes to live streaming, which is understandable, as it is near to impossible to sensor inappropriate behavior in real time; however, some women have mastered moving within those boundaries while making their best physical attributes work for them.
"Some of these people actually put on a persona to be able to… interact with their viewers. It's really something they do to entertain. It's their personality, it's something they chose to be able to get their audience," KL explained. "I don't think there's anything wrong with it as long as they're doing it within the terms and conditions. I think the one for Twitch is that as long as you don't show too much skin, it's fine."
ADVERTISEMENT - CONTINUE READING BELOW
It's almost as if it has come full circle—while there are men who are known to spew sexual innuendoes without thought, there are also men who abhor women who use their looks to get viewers, and in turn, donations. "It's just that it became such a big issue that a lot of guys are complaining that, you know, there are a lot of girls that do that and they're getting all the viewers. I guess they're not okay with it because they're thinking that it's an 'unfair way' to get popular just because they're 'showing some skin.'"
Do women who use their looks while gaming and streaming propagate the culture of toxicity, sexism, and harassment online? Or are they just simply working the system as the culture has always been there after all? It's a chicken-or-egg discussion of which came first; a slippery slope.
ADVERTISEMENT - CONTINUE READING BELOW
For Riku, playing up one's looks is no issue. "If that's your personality, if you look really good, then that's your strength! It's okay!
"I think the problem now is that people tend to generalize girls that are good-looking, that are sexy, and not watch—nag-ju-judge agad. I wish the audience won't generalize those kinds of women. I know that there are women talaga who are like that, pero there are people who are not, who are genuinely there to play the game… It's a touchy subject… One thing I can say is that people shouldn't judge too quickly just because she's very hot, assuming ka na agad na 'Nah she's just doing that for donations.' I really wish people would give people a chance and not generalize."
The generalization, in fact, can lead to unwanted advances that push women to stop playing. A study from Ohio State University revealed that while most agree that trash talking is a toxic part of gaming that one would eventually learn to live with, abuse starts when other gamers target women because of their gender. "It has a lasting effect and the comments aren't easily forgotten," wrote Amanda Connolly on The Next Web. "Women are far more likely to mask their online identity in gaming as a result of this kind of abuse."
ADVERTISEMENT - CONTINUE READING BELOW
What's comforting is that locally, there are people like Riku and KL who make the community a safer, more inclusive place.
"I want more women din in the community," said Riku. "I know the barrier is thinner now. I know that there are more women in the gaming community now, but I feel like there are other girls who are afraid to take the leap maybe because they're afraid they'll be harassed, but that's why we're here. We want to show them, 'It's okay, we're right here behind you.' Everything is cool, as long as you have the right attitude and the right mindset and the passion for video games."
Amidst the din of "vuvus," "pakyus," and numerous sexual advances on global chat, the future seems bright for women in the Philippine gaming scene.
Comments
Load More Stories