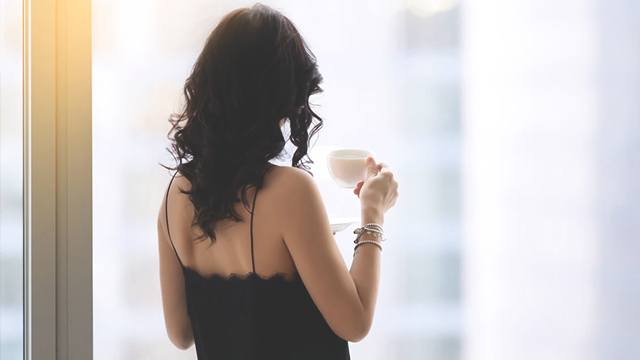 Unless you're planning to fly out or hit the road really, REALLY early in the morning, heading out of town can mean a lot of hours spent trying to weave your way out of Metro Manila traffic. This is probably why staycations have become pretty popular—you don't have to go through the stress of planning a faraway trip.
ADVERTISEMENT - CONTINUE READING BELOW
I recently took a break and went for some R&R within the confines of the Ortigas Business District, so if you're thinking of doing the same, here are a few things you can do:
Places to Stay
If you aren't going out of town, might as well go all out on your accommodations. I booked a one-night stay at Marco Polo Ortigas.
When I got to the reception area, I asked if I can do an early check-in since I arrived well before 2pm. The lady I spoke with said that she'd just get me a room upgrade so that I wouldn't need to wait. That in itself was pretty great customer service, and I wasn't even asking for it!
The Superior Suite (approximately P6,750 a night) I got bumped up into is on one of the higher floors of the hotel, which had a commanding view of Mandaluyong. It has everything from a small receiving area, to a huge bathroom, and a small divan by the windows I could relax on with a good book. The room also comes with their Continental Club benefits. You can also access these benefits even if you're booked at a different room for P1,500 per head. This includes tea and snacks in the afternoon, cocktails and canapes in the evening, and a breakfast buffet in the morning at the hotel's Continental Room.
ADVERTISEMENT - CONTINUE READING BELOW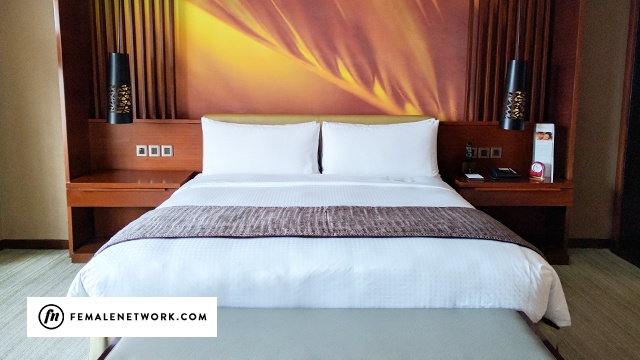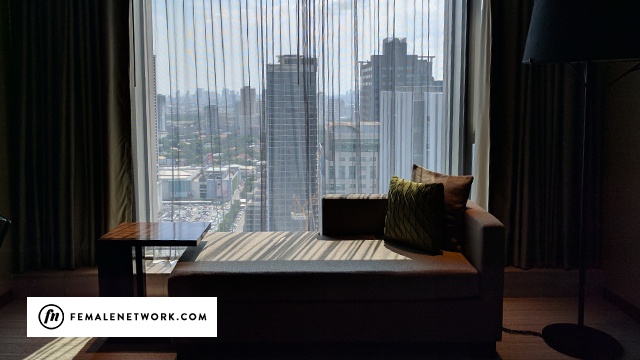 ADVERTISEMENT - CONTINUE READING BELOW
There are other great hotel options in Ortigas. If you'd like to bring your dog or your cat with you, you may want to check in at Oakwood Premier, which is just along ADB Avenue. They're considered one of the most accommodating, pet-friendly hotels in Metro Manila, so much so that they provide your doggies welcome treats and your kitties get scratching posts!
Oakwood's charm is its home-sweet-home vibe. Aside from a king-sized bed, the studio apartment executive also has a full kitchen, a dishwasher, a washer and a dryer, a work area and even a sofa. Room rate starts at P7,607.40.
If you're on a budget, you may want to check out The Linden Suites, a four-star hotel along San Miguel Avenue. My family has spent several holidays at this hotel, and I can attest that they have great staff and quality rooms in competetive rates.
ADVERTISEMENT - CONTINUE READING BELOW
A one bedroom suite offers you bed options (king size, queen size, or two single beds) and has a living room, a kitchen, and a dining area. It will only cost you P6,000 a night. If you're booking solo, a deluxe room suite is more compact, but still has the amenities you need to get the best out of your R&R--and that's for only P4,000 a night. You may also want to check out their packages because they often give really huge discounts, especially when you book online.
Things to Do

Staying in is pretty much an option if your hotel has awesome service, but if you're thinking of going out and exploring the business district without thinking about anything work-related, then you can also try the many restaurants within Ortigas that you can reach by a leisurely stroll.
ADVERTISEMENT - CONTINUE READING BELOW
Just across the Marco Polo Sapphire Road entrance is the Sapphire Bloc, which is home to so many cafes, bars, and restaurants, including Starbucks, Cable Car, Moonshine P.U.B. x Public Urban Bar. (Or, if you're trying to scrimp on cash, there's a Salad Stop just beside the hotel and a McDonalds at the intersection of Meralco Avenue.)
Across the hotel's Meralco Avenue entrance is Metrowalk which has a schedule of shows and mini concerts. If you're willing to head farther, you can opt to drop by Ayala Malls The 30th, which is right beside Renaissance Tower Condominium and a few blocks away from Marco Polo. I opted to head there and hang out with friends, have pizza at SNR, and end the night with a cup of tea in Starbucks because seriously, I haven't done something like that in a while.
ADVERTISEMENT - CONTINUE READING BELOW
After enjoying a good meal, you and your companions may want to explore Ortigas before turning in for the night. You can try visiting Mystery Manila at The 30th  which you will need to preregister for.
You can also test your aim at Arrowland at SM Megamall. (I personally come here often when I need to de-stress). For P250, you get to shoot 25 arrows plus be taught the basics of archery. You can also buy your own target for P40, which you can bring home after each session to monitor your progress.
If you really get into it, you can sign up for intensive instruction. Lessons are for P9,900 for 12 classes, which you can consume anytime you wish.
You can do everything on the list if you have time, or simply cherry pick those you wish to try. Just follow the unspoken rule of enjoying a staycation: Don't stress yourself out! It's all about slowing down and having fun, so make every moment count.
ADVERTISEMENT - CONTINUE READING BELOW
Comments
Load More Stories