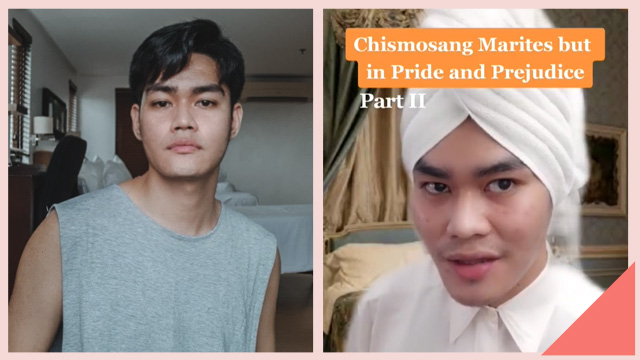 You've probably already seen the viral video of "Chismosang Marites but in Pride and Prejudice," wherein your stereotypical kapitbahay gossips about who's pregnant—only this time, in a British accent.
Your British Marites is actually Justine Luzares, a team trainer who decided to start a TikTok account to cope with the pandemic. He plays with different accents in his videos, and he has gotten so good at them that many of his uploads have gone viral.
ADVERTISEMENT - CONTINUE READING BELOW
Justine shares with Summit Media that his interest in it started when he was young. "The earliest memory that I have doing accents would be in 7th grade," he says. "First movie that captured my interest to do accents would be Troy, the 2004 movie."
While he never had any formal instruction in voice acting or languages, his ability to quickly switch speaking mannerisms has helped him a lot in his job as a trainer. "If I have new trainees… just for demonstration purposes, I would try to do accents."
Watch his full story below!
Video Producer: Jean Saturnino
Want to read more about speaking well? Check these articles out:
10 Common Grammatical Mistakes You May Still Be Guilty Of - 
25 Words You Might Still Be Misusing - 
This Pinay's Quick English Tutorials Can Help Improve Your Grammar in Your 30s 
* * *
Do you have interesting stories to share? Email us at female.network.editors@gmail.com, and we may just feature you next!
Load More Stories