Seven years ago, Boom Sason returned to the Philippines after studying in Europe, as a woman with a mission: to do custom swimwear in a then-reluctant fashion industry. Aware that the conservative mindset of the local market would be a challenge, she anchored herself on the practical and relatable predicament of Filipinas–in all shapes and sizes–looking for ways to become comfortable in their bodies when they're by the poolside or the sea. After all, the Philippines is a tropical country with thousands of beaches. "I myself was having a hard time buying swimsuits because the top or bottom wouldn't fit," she recalls. Today, the full-length mirror of her studio is a trendy hashtag of its own that features bikini-clad booties in bold cuts of her eponymous swimwear line. More than the Instagram likes and high profile clientele, however, the mark of Boom's success is that she has produced an aesthetic that is true to her core beliefs of what it is to be a woman.
ADVERTISEMENT - CONTINUE READING BELOW
"That's another thing I wanted to do [when I got back from Europe]," says Boom, "I'm not going to let anyone tell me how I should design, or stop me from showing what I want–the beauty of a woman's body, no matter what shape or size." The result is a figure-flattering range of swimwear shapes and styles that is sexy, with a confident woman wearing it. Of course, the likes of celebrities such as Sarah Lahbati, Anne Curtis, and Solenn Heussaff stand in the gorgeous swimwear, but Boom says even "normal" women can wear her pieces. "Some of my clients are women who have no confidence at all," she shares, "But I push them."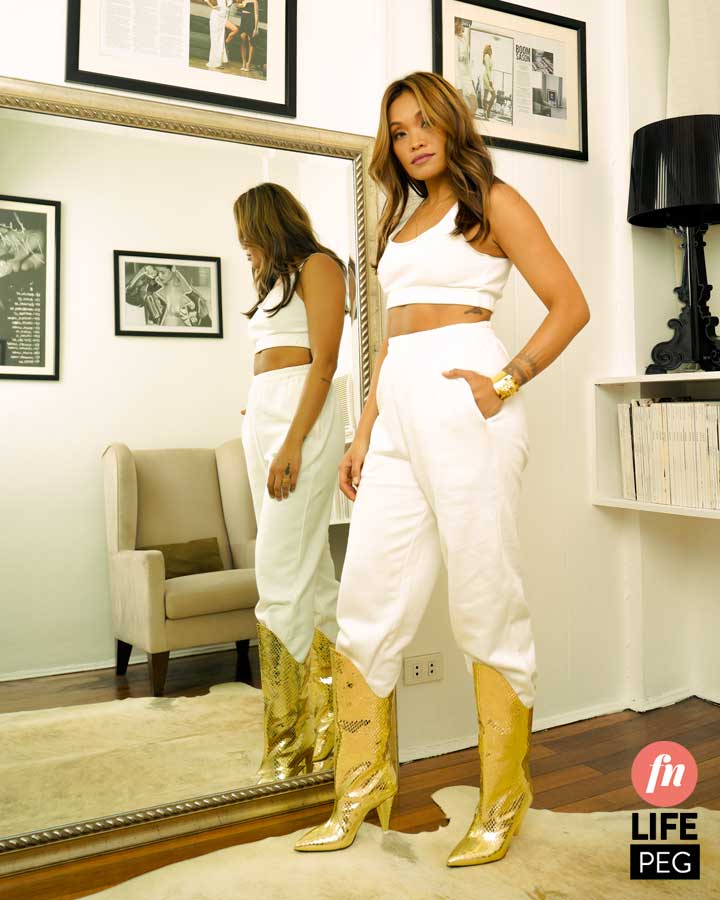 Boom remembers when she was this same type of woman whose self-image suffered from the sway of popular media. Starting to work in fashion in her twenties, Boom was–no surprise–insecure with her body. "There was no designer [then] looking at me, telling me [what to wear]," she says, but she is so hands-on with her clients that she takes away this problem, "They're so lucky nga now, eh!"
That's because Boom thrives in the one-on-one dynamic of creating custom designs, as she is also able to impart an empowering influence on her customers. "In the past two and a half years, I've been able to really see the Filipina change," Boom explains, "[She's] evolving into a much more confident woman. Open-minded. More… 'I'm ready to wear a thong! I can expose more of my butt!'–I like that." Careful to point out that her love for sexiness isn't for the sake of vulgarity, she relates her pride in being self-taught in growing familiar and comfortable with her own physique. She believes it also comes with age, seeing this in many of her regulars. "I have a lot of clients in their early to mid-30s that are more confident," she shares, "They're more relaxed with their bodies."
ADVERTISEMENT - CONTINUE READING BELOW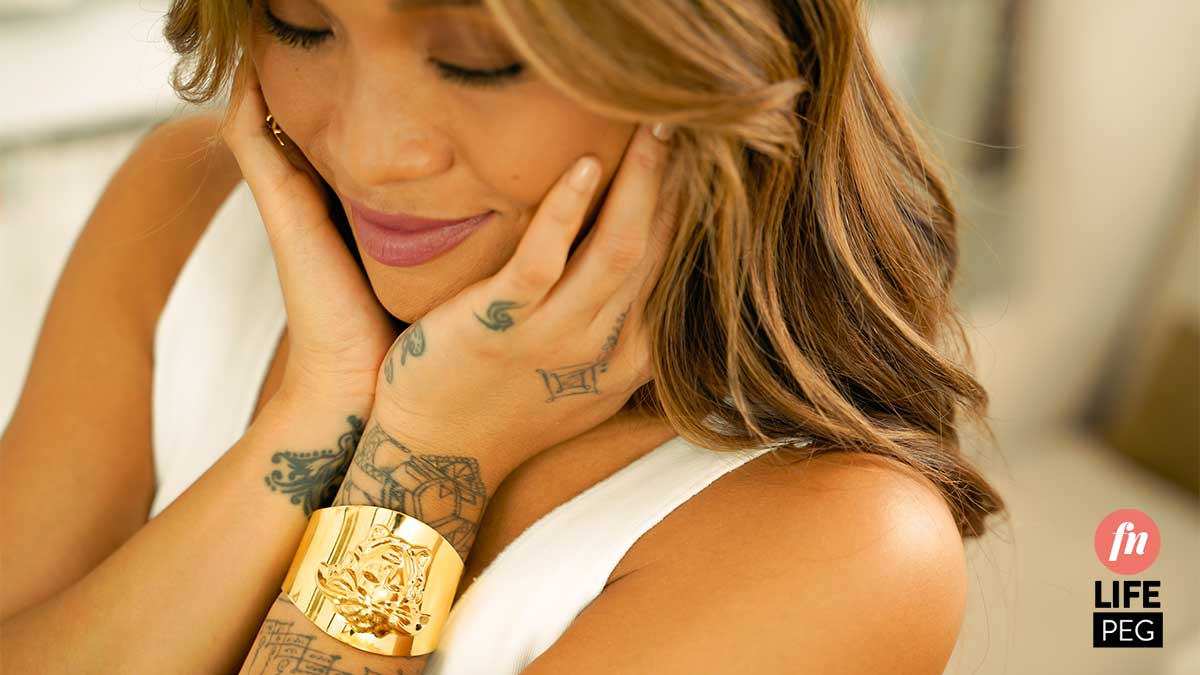 A current of edge and sexy: Boom has over 40 tattoos from artists like fellow Filipina creative Sarah Gaugler.
PHOTO: Mark Jesalva
A Brand of Confidence
Boom's journey to becoming a fashion designer extraordinaire didn't come overnight. In fact, she had already been working on a different career path before she started from scratch to pursue this dream. "I really wanted to be an independent woman," she muses, "Once you realize you have the power to do that, you'll push yourself more and you do things you never thought you could do."
Boom traveled to Italy to take up sketching and pattern making, but even then, it felt like this wouldn't be enough to bring her ambition to life. So she went on and enrolled herself in Central St. Martin's in London–a prestigious fashion and design school that would equip her in Fashion Marketing, PR, and Fashion Label knowledge. Boom continues, "If there's one thing I want to share with other women, it's that, first, you can pursue your passion and have a career out of it. Two, it's never too late to pursue it."
ADVERTISEMENT - CONTINUE READING BELOW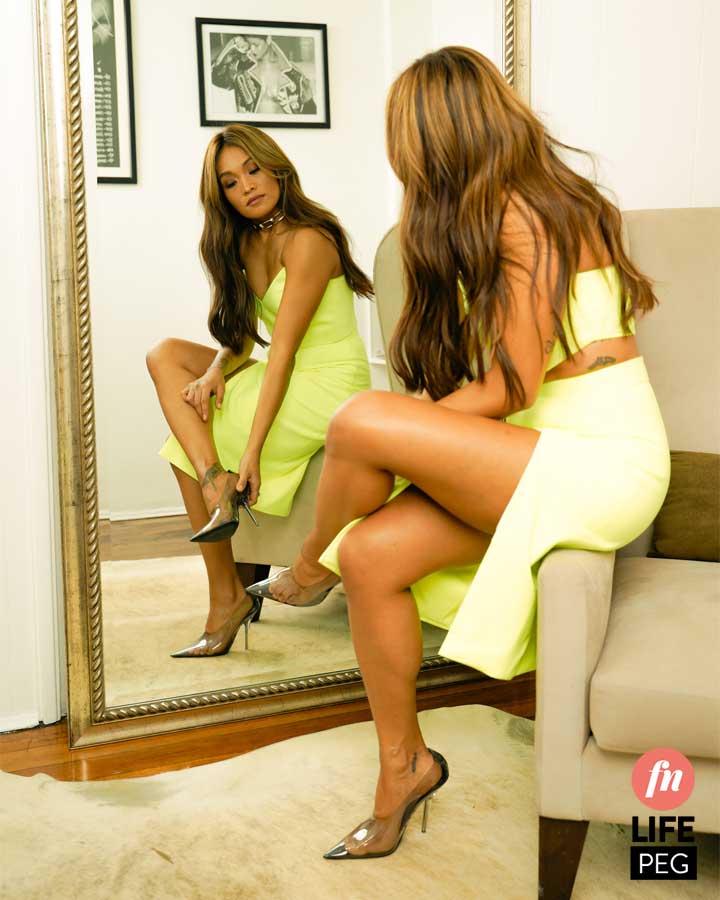 Learning is clearly an integral part of Boom's identity, so she didn't stop there. A school setting taught her the fundamentals, but she had to grasp the lessons from her day-to-day operations. "I actually read a lot of books on leadership," she says, because, "It doesn't come naturally."
ADVERTISEMENT - CONTINUE READING BELOW
One of the most important things she picked up on, she says, is not expecting perfection. "I was so hard in the beginning," Boom recalls, "[But] now it doesn't help to be that hard."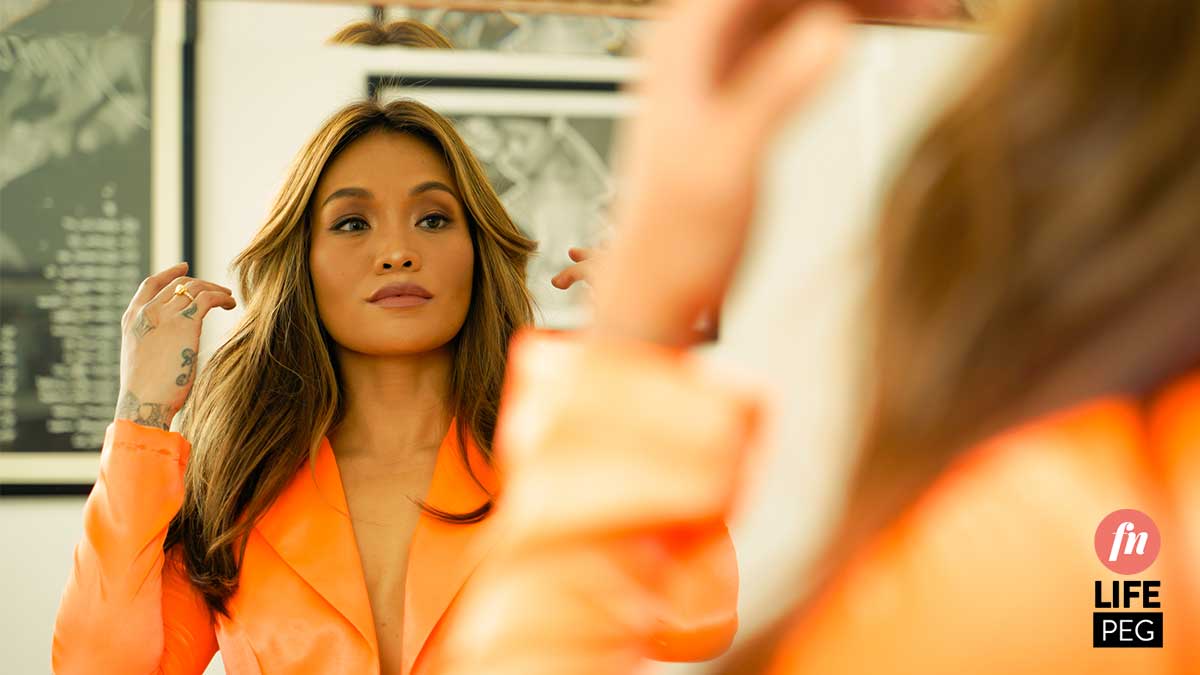 From studying abroad to building her own brand, Boom admits she always had one goal in mind: "I really wanted to be an independent woman."
PHOTO: Mark Jesalva
The early days of the business put a lot of pressure on her, and some of the more negative thoughts were of her own doing. The brand, understandably, was a representation of her identity, so Boom set the highest, toughest standards on anything she put out. "What I was striving for was that people, without looking, would recognize it as my work," she articulates, indicating her consistent effort to develop her signature aesthetic and brand.
Back then, this made Boom prone to panic and even make her give in to what she admits was a short temper. She also dealt with a lot of self-doubt. "Before, in the first six months of my business, I would think [while sketching in front of a client], I hope to God she trusts me," she shares, but as time went by, she learned to trust herself–which made her clients trust her, too. "I have learned to say no when they ask me to do something impossible," she says, "If it's going to compromise the work, I ask for more time. I'm not scared to tell them anymore. Now I can express myself better."
ADVERTISEMENT - CONTINUE READING BELOW
While she finds herself content at this point in her life and career, she feels the challenge of the bridal wear segment beckoning her to step out of her comfort zone. "Some people think pang-sexy lang ako," Boom says, but working with more brides in the next year looks like she's eager to show that her brand of confidence knows no limits.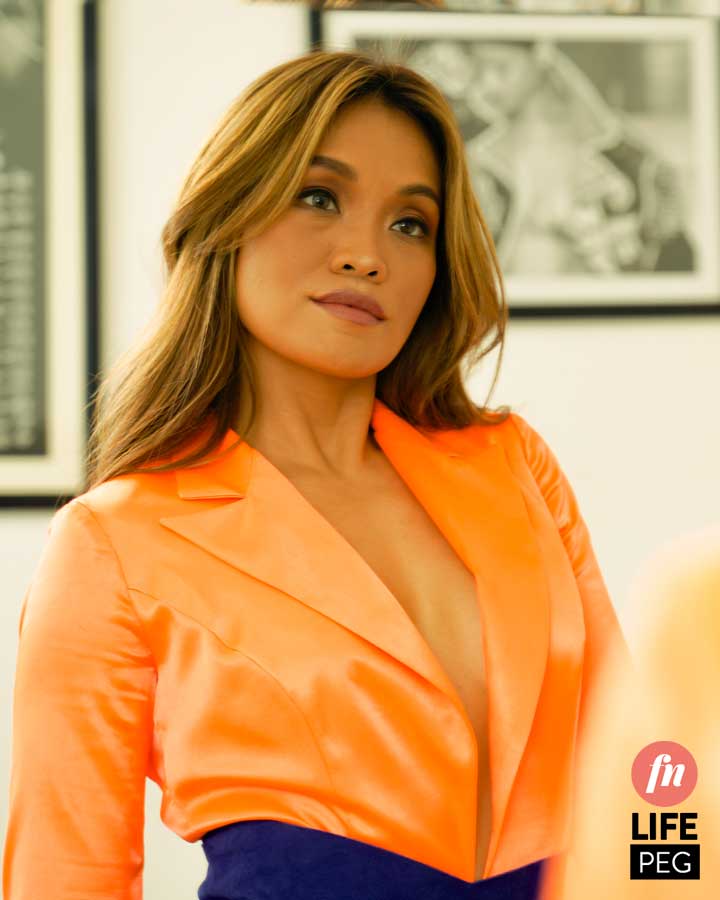 ADVERTISEMENT - CONTINUE READING BELOW
Boom's hard work has paid off, which allows her some space to step back and appreciate what she built. "More vacations and me-time, I'm working towards that." Boom is not only a fashion brand, but she's also a mom that keeps fit with four to five workouts a week. If not for her daily routine and team, it's hard to imagine how Boom keeps it together, but she shares her secret, a secret that this journey revealed to her: "That I could be strong," she says, "I wasn't confident, eh. Growing up, [I thought] 'I need to be in a relationship to be happy. I need to be in this job to be happy.' But you know what? Finding my voice in fashion made me even more confident in myself. I can do it pala."
Sometimes all it takes is a little push to go for the biggest goals–and the reward is worth it. Boom's story can be the sign that says, feel the fear, but do it anyway.
ADVERTISEMENT - CONTINUE READING BELOW
***
PRODUCED BY: Ysabel Y. Yuzon
ASSISTED BY: Charlene Owen, Patricia Melliza
ART DIRECTOR: Jico Joson
PHOTOGRAPHER: Mark Jesalva
HAIR: Antonio Papa
MAKEUP: Mikka Marcaida for NARS