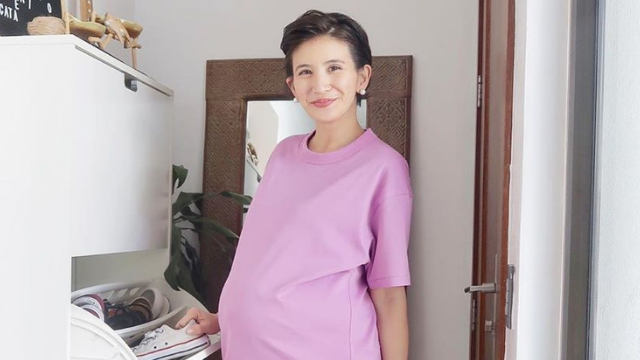 For the actress-turned-vlogger Rica Peralejo-Bonifacio, it has been a long road getting to this point in her pregnancy. Now at 34 weeks, the soon-to-be mom of two reflects how she wants to welcome her rainbow baby. 
ADVERTISEMENT - CONTINUE READING BELOW
"I am really preparing for the best birth possible that's in my head [and] in my heart, and for me, that would be a natural birth," she revealed in her latest YouTube vlog entry. Rica had to deliver her first baby, son Philip, now 5, via a C-section (CS) before after laboring for 22 hours.
"Yung talagang naturally lang yung body mo nag nagbi-birth sa baby, and the baby is cooperating with you," she added. Rica believes childbirth that is unmedicated and free of medical intervention has a lot of benefits. 
"I'm not saying that those who have had CS like me did a bad birth to their babies... kasi meron din naman talagang mga cases na kailangan nang i-CS ang isang tao at buksan dahil mapanganib na for both mom and baby," Rica noted.  
How Rica Peralejo is preparing for VBAC
The lifestyle blogger is aiming for a VBAC or vaginal birth after C-section, and she shares how she's preparing herself not just physically but also mentally and spiritually. "It's a holistic thing, and so we need a lot of preparation," she said.
1. Taking birth classes
"We really need that much understanding [about birth] kasi minsan, when we are in so much pain and pressure, mabilis nating nakakalimutan yung mga bagay-bagay," Rica said. "Maganda rin na meron kang enough knowledge [about] practices or exercises...to relieve yourself of the pain or the pressure, or even to just sustain you [during] long hours of labor," she explained. (Click here to see the most trusted birthing classes in Manila.)
Rica opted to take an online birthing class, Kingdom Childbirth Class from aheavenlywelcome.com. She said it's a good fit for evangelical Christians like her as the class teaches soon-to-be moms not only about birth hormones and labor exercises but also gives spiritual guidance. 
ADVERTISEMENT - CONTINUE READING BELOW
2. Hiring a doula 
"Because of what had happened to me before when I gave birth to Philip, and also my desire to do VBAC, I really have s strong desire to make this one a natural as possible," Rica said on her vlog, adding that she's chosen her birth team to include her husband pastor Joseph Bonifacio and a doula. 
ADVERTISEMENT - CONTINUE READING BELOW
As a birth coach, a doula helps a birthing mom to make informed choices about her birth plan. During birth, a doula is there to support the birthing mom, especially during labor. "She is trained to give you the advice to make labor faster, feel better, to alleviate the pain, to take off the pressure so you can endure longer."
Rica also highly recommends getting a midwife or doctor who will honor a mom's birthing choices without compromising her or her baby's health and safety. Rica advises, this health professional should be someone "na sobra-sobrang feel mo in your spirit na okay 'tong taong tao," Rica said.
3. Read books about birthing
Reading books is another way Rica is gathering information for her delivery and choosing the tips she feels is comfortable taking. "Sa dami ng binasa ko, pinili ko lang talaga yung gusto kong gawin," she admitted. 
For example, she learned in one book that fear of childbirth does not help and may even contribute to a more painful birthing experience. In another book, she learned that birth could be painless, but a birthing mom may also experience pain that is purposeful and good. 
ADVERTISEMENT - CONTINUE READING BELOW
Watch below Rica's vlog to know which birth classes, books, and doulas she recommends. 
This story originally appeared on Smartparenting.com.ph.
* Minor edits have been made by the Femalenetwork.com editors.
Load More Stories