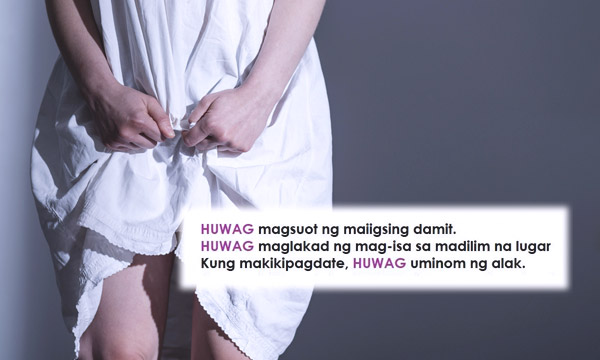 On July 17, the Angono Rizal Municipal Police Station Facebook page shared a post enumerating ways on how to avoid rape*: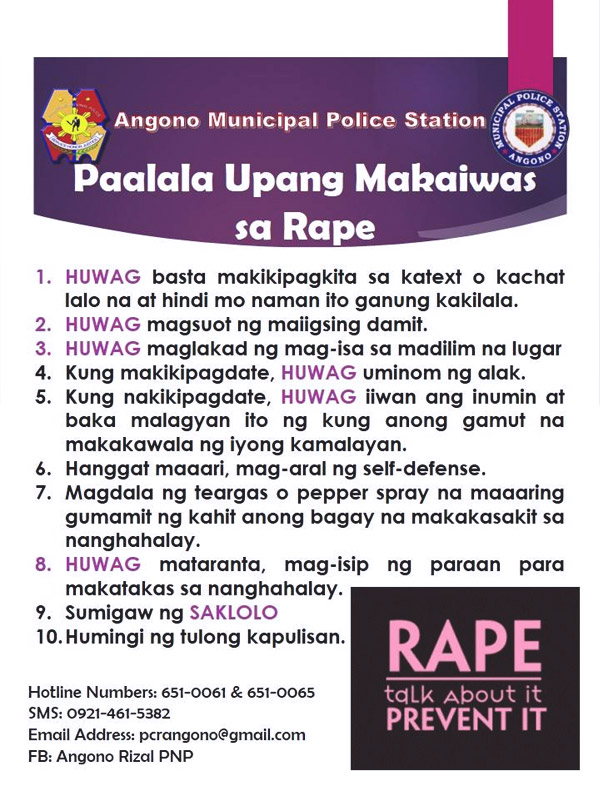 ADVERTISEMENT - CONTINUE READING BELOW
With the slogan "RAPE: talk about it, PREVENT IT," it includes "tips" like "HUWAG magsuot ng maiigsing damit," "HUWAG maglalakad ng mag-isa sa madilim na lugar," and "Kung makikipagdate, HUWAG uminom ng alak."
The list perpetuates misinformed beliefs about sexual harassment. While it's not explicitly mentioned in the original post, the page administrator confirmed in a comment that "This is a massive information drive and campaign to protect women."

This stresses an unfortunate misconception that only women get raped, when in fact, there are many cases of men being assaulted, and male victims more often than not keep silent because many people still think that it's absurd or nakakalalaki.
Moreover, this line of thinking forces women to change their lives and be forever wary of potential threats instead of actually addressing the real cause of rape—the rapist. As what has been said so many times before, rape exists because of rapists, not because a woman wore a short skirt or drank with someone she just met. Rape happens because someone wants to control another person through forced sexual activity. As Rakehs Mehar writes on The News Minute: "The lust narrative actually works to increase this power that they derive from rape. This is because the conversation almost immediately turns on the woman victim, and what she may or may not have done to encourage this lust towards her." It's both a twisted show of power and an inherent sense of entitlement. Aggression and machismo also play a key factor, as mentioned by sociologist Martin D. Schwartz and sociology professor Walter Dekeseredy in their book Sexual Assault On the College Campus: The Role of Male Peer Support: "They said several studies have found that men who have friends or peers who express acceptance of aggression towards women are more likely to engage in aggressive behavior themselves. Some of these men saw violence and danger as part of masculinity."
ADVERTISEMENT - CONTINUE READING BELOW
This just goes to show that the issue is with the perpetuator, not the victim. Rape happens no matter what the victim is wearing or doing. To help erradicate rape culture, the burden of avoidance should not be on an innocent bystander; it's the perpetuator that needs to be dealt with.
That being said, when rape happens, the solution is not to blame the victim. Questions like "Ano bang suot mo?" or "Bakit di ka nanlaban?" only belittle such a traumatic experience. As professor of counseling psychology Dr. David B. Feldman notes on Psychology Today, "[Victim-blaming] marginalizes the survivor, minimizes the criminal act, and makes people less likely to come forward and report what has happened to them."
Sadly victims are still stigmatized even in this day and age of "woke-ness": the belief that a woman is "asking for it" when she wears something short denies the fault of the perpetuator. It causes victims to keep silent for years for fear of being ostracized, and shows that it's okay disrespect others based on what they do and wear. Most importantly, it only strengthens the wrong notion that men don't have control over their sexual desires.
ADVERTISEMENT - CONTINUE READING BELOW
Let this be a moment of education: the "avoidance" of rape begins with teaching people about respect. Instead of a post that puts the burden on women, maybe one that discusses what rape and consent are can help uplift everyone and destroy the age-old notion that short skirts are what causes assault. The public service annoucement may have come from an honest place of wanting to help, and if that's the case, then the Angono Rizal Municipal Police Station can always show that they do listen to the people by learning with them and eventually paying it forward by teaching how it is to honor another person's dignity.
* We are currently reaching out to the Angono Rizal Police Station for a statement via phone and email. We are open to hearing their side of the story.
** If you are a victim of rape or sexual assault, don't be afraid to report it. There are a lot of people who support you.
ADVERTISEMENT - CONTINUE READING BELOW
Department of Social Welfare and Development (DSWD) - 931-8101 to 07
DSWD –NCR Ugnayan Pag-asa Crisis Intervention Center - 734-8639/ 734-8654/ 734-8626 to 27
Philippine National Police (PNP) - 723-0401 to 20
PNP-Women and Children Protection Center (WCPC) - 410-3213
NBI-Violence Against Women and Children Desk (VAWCD) - 523-8231 to 38 / 525-6028
Load More Stories