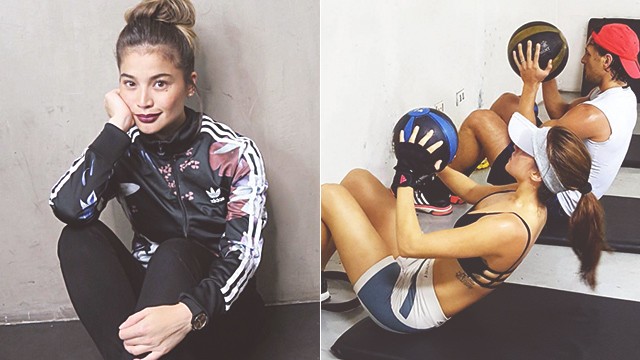 Seeing them on television, celebrities James Reid, Solenn Heussaff, and Anne Curtis seem like faraway fitness idols, who you probably think have an entire platoon of trainers to help them appear gorgeous. But the reality is that it's not about other people pushing them to look good: It's how they motivate themselves to be better.

Getting fitter and healthier is not as impossible as you may think. Taking cues from these three fitspirations who push for a healthy lifestyle, you can achieve your fitness goals by doing right by your body.

James Reid

ADVERTISEMENT - CONTINUE READING BELOW


Century Tuna brand ambassador James Reid has always been known to have a well-toned body, but for his newest commercial, he had to push himself even more, upping his fitness routine one month before the shoot.

"[My schedule] is very hectic, but at times like this… it's really diet that helps me get by. It's [a] high protein diet. I cut carbs, [and consume] a lot of fiber."

There's no easy path towards overall wellness, which is why the Till I Met You star makes sure that he always has time to exercise wherever he is. "If I have free time, I definitely go to the gym to get those weights in," James explains during a recent Century Tuna event. "But there's so much you can do without weights, [which you could do] at home, or for me, at work. There are a lot of strength exercises you can do."


James, who admits that one of his first fitspirations is actor Derek Ramsey, shares that he has fast metabolism – a blessing especially in his line of work. "I'm an ectomorph… so I focus more on heavy lifting." However, he doesn't stick to one fitness routine for long. He recommends to continuously change things up to avoid going a workout plateau. "I change [my routine] all the time because I feel like if I keep on repeating [something], I get used to it. I guess with me it's really experimenting and combining exercises."

For James, fitness is less about looking good and more about feeling good.

"You know, how my body looks and the abs --  [they] come in second, [like a] bonus. But staying healthy is really what's important to me."

Solenn Heussaff


Solenn didn't start out as the well-toned model/actress many people know her to be. She admits to having a horrible diet of cheeseburgers and pizza in her younger years, which earned her the name "Free Willy."

"The bullying led me to crash diet and I got really sick – as in rushed-to-the-hospital sick," she shares in her newest book Hot Sos. "I always tell people that I've only really felt fit these past three years. But  I didn't change to the much stronger and healthier person I am now in an instant."

ADVERTISEMENT - CONTINUE READING BELOW

For Solenn, changing is always a matter of choice, explaining that the road to fitness only takes two major steps: knowing your goal and committing to it. It's all about taking and doing things in moderation, while still honestly enjoying things that make you happy.

And her secret?

"There's really no secret," she says. "Just work hard and try to stick to it."

Anne Curtis


Anne Curtis' physique has always been the envy of many, but what makes people appreciate her efforts more is her drive not just to be physically sexy, but to be strong.

"I'm doing plyometrics and insanity workout which is pretty hardcore, but it's actually working for me," she said in a past interview with Preview.ph. "I also like to do some weights."


More than being fit, Anne's motivation comes from something far bigger than her -- helping chidren.

As the UNICEF Celebrity Advocate for Children, Anne has been supporting the foundation's projects to help raise funds for approximately 3.4 million Filipino kids who are undernutritioned. Last year, she finshed her first 21K run for the "1,000 Days" campaign, which targets the wellness of children during the crucial first 1,000 days from birth.

Although she admitted that she had trouble finishing the race, Anne said that she was encouraged by what her efforts could achieve for others. "I knew that I was running for a greater cause," she shared in an ABS-CBN report. "That's what really got me through my first 21K."

This coming October 25, Anne will once again run for UNICEF.

ADVERTISEMENT - CONTINUE READING BELOW

"I was deeply inspired by the support we received during last year's run. From children with disabilities to serious runners, the public came together for a great cause," she shared during the #HeroesforChildrenRun press launch. "

Moral of the story? A goal that goes beyond your well-being can give you the motivation you need to be a better version of you.








 

Load More Stories