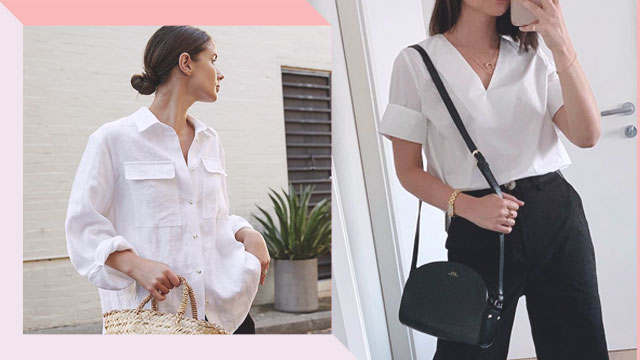 Wear anything white and you instantly look fresh. But while it's nice and crisp at first, it can also stain just as fast after a few uses. It's a common dilemma for white lovers, but with proper care, this doesn't have to be the case. All you need to be the queen of clean is to master tried and tested prevention and remedy tips to keep your white clothes looking as good as new.
ADVERTISEMENT - CONTINUE READING BELOW
1. Separate the colored from the whites.
The number one rule of laundry is to separate the colored from the whites. It's such a simple rule, and yet a lot of people tend to disregard it because of mere laziness. You'll never know when one of your colored apparel will bleed, because even light-colored pieces can cause your whites to turn yellow after just one wash together. Strictly follow this rule and you'll be on your way to lengthening the lifespan of your whites.
CONTINUE READING BELOW
Recommended Videos
ADVERTISEMENT - CONTINUE READING BELOW
2. Pre-clean stained whites before putting them in the laundry.
Never let a stain dry up because it will be harder to remove. If you stained your whites with food, coffee, or other external factors, learn first-aid! Be sure to pre-treat the areas affected before submerging them in water as it may just spread. For example, you can fight off greasy stains by rubbing powder on the area, while having a toothbrush ready will also help remove stubborn stains.
3. Keep a stain pen with you.
Accidents can happen at any time, and more often than not, our white apparel are its favorite victims. Stay ready by keeping a stain pen inside your purse at all times. It's very light and handy, so you have no excuse not to carry it around with you. Trust us, it's like having magic in your purse.
4. Wash your clothing with hot water. 
Another trick you can try to get rid of tough stains is by washing it with hot water. However, you will need to take specific fabrics into account so make sure to check the label before doing so as you may end up just ruining the item. It is also important to note that not all stains come off after the first wash so don't give up and repeat the process until the mark is gone.
ADVERTISEMENT - CONTINUE READING BELOW
5. Use baking soda to fight off yellowing. 
After some time, it's natural for white clothing to turn yellow. Some people also suffer from staining the armpit area with sweat stains. This happens when sweat is mixed with certain types of ingredients on your deodorant. Don't worry, there are a bunch of home remedies you can try. For starters, you can mix baking soda with hydrogen peroxide to whiten yellow areas. You can also try soaking your clothing in water mixed with vinegar for 30 minutes. Lemon is also known to bring your whites looking good as new.
ADVERTISEMENT - CONTINUE READING BELOW
6. Bleach when needed! 
Bleach has been invented for a reason, so use it! Whether you're trying to revive an old shirt that has seen better days, or focused on removing tough stains, bleach is here to the rescue. Apply bleach to the targeted area, or soak it in for 30 minutes depending on how yellow or dull your shirt is. But keep in mind to a) check the label first to make sure the fabric won't react to bleach, b) always do a spot test first c) be sure to use just the right amount of bleach so you don't end up causing more harm.
ADVERTISEMENT - CONTINUE READING BELOW
7. Use a detergent with bleach. 
Speaking of bleach, you can also opt to use detergents with bleach for regular washing of your whites. That way, you don't have to worry about yellowing for a long time.
8. Skip the fabric softener. 
As much as we'd love to have oh-so-soft and fragrant whites, sadly, fabric softeners add residue to garments. This, in turn, can attract dirt to its fibers and result in more yellowing.
ADVERTISEMENT - CONTINUE READING BELOW
9. Air dry your clothing under the sun. 
Instead of using the dryer, opt to let your whites dry under the sun. It has been said that the sun's rays also help bleach your garment. We say why not, there's no harm in trying, right? Plus, air drying is still the best way to make sure your garment stays smelling fresh.
ADVERTISEMENT - CONTINUE READING BELOW
10. Take extra precautions. 
At the end of the day, prevention is better than cure. Take extra care when you're wearing something white, but if an accident happens, just make sure to treat it immediately. All these tips can help lengthen the life of your garment, but ultimately, there's only so much you can do. Take lots of OOTDs, enjoy while they're white, and accept that while you can keep them white as long as you can, they won't last forever.
ADVERTISEMENT - CONTINUE READING BELOW
Comments
Load More Stories