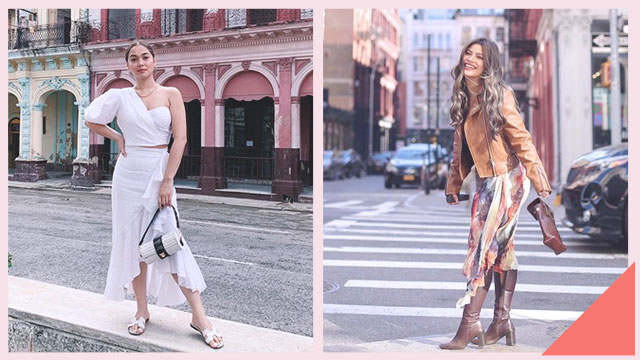 Ever noticed how celebrities seem to have the most flawless outfits whenever they travel? In fact, they're so prepared with their looks that their OOTD posts tend to feel like mini photoshoots.
ADVERTISEMENT - CONTINUE READING BELOW
Well, just so you know, those might be the work of a professional fashion stylist. Stars these days have their outfits curated beforehand, so they won't need to worry about mixing and matching—and not to mention lugging around an unnecessarily heavy suitcase for their flight.
But of course, not all of us could afford to book a stylist every single time we travel. Don't worry, though, because we have the next best thing: We asked celebrity stylist Cath Sobrevega—who curates travel outfits for the likes of Julia Barretto, Claudia Barretto, Gabbi Garcia, Maja Salvador, and Denise Laurel—to share her pro tips on how to pack smart for traveling in style. Check them out below:
1. Pack and plan for the itinerary.
"Create a fashion story. Knowing where you're going and exactly what you'll be doing—be it trekking, visiting museums, or going to the beach. It helps to make sure you're wearing the right outfits. You can also base it on the city you're going to and what the weather's like."
2. Bring your go-to accessories.
ADVERTISEMENT - CONTINUE READING BELOW
"For jewelry, I tell my clients that I want the pieces to feel lived in, something that you really wear with you all the time. So it's okay to pile them all together and layer them."
3. Coordinate the color palette of your clothes.
"Color-coordinate your outfits for the whole trip so it's easy to mix and match. Meaning, the color palette for the whole trip [should be] coordinated or complementing so you don't have to bring so many bags and shoes when you travel. For example, when Julia and Maja went to Cuba, I chose vibrant colors both their trips so we could capture the spirit of Havana. We wanted to be playful to match the lively streets of Cuba."
ADVERTISEMENT - CONTINUE READING BELOW
4. Always have a back-up.
"Pack day and night outfits so there's always extra in case there are emergencies or if you want to switch outfits during the day to make more Instagram content. Consider investing in vacuum travel bags too to compress your outfits into a fraction of its original size."
ADVERTISEMENT - CONTINUE READING BELOW
5. Make visual references for your OOTDs.
"Fit, take photos, and make a Powerpoint presentation of your everyday looks for easy reference. You can just use your phone to take pictures when you fit or if you don't have the time, sometimes even just a flat lay of the outfits plus the accessories is enough."
ADVERTISEMENT - CONTINUE READING BELOW
Load More Stories