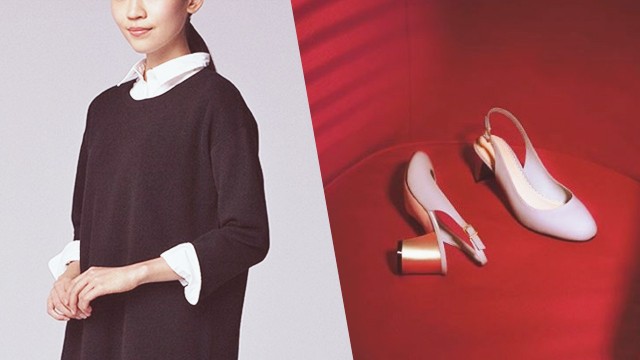 Leave the kitten heels to the interns. Just as your career has gotten better, so has your taste. These classic pieces can build the wardrobe that's fit for the kind of #GirlBoss that you are!

1. The Black Dress
It doesn't have to be little for it to go a long way. Look elegant and presentable from day to night in the easiest way possible.
ADVERTISEMENT - CONTINUE READING BELOW
Try: Muji
Muji owes its unique brand authenticity to its philosophy of functional fashion. You'll feel the quality of the fabric and the accuracy of the fit with this minimalist Japanese brand.

2. The Crisp White shirt
Let this versatile piece speak volumes. Look clean and fresh with an outfit that's easy to accessorize.
Try: Carbon
This local boutique puts a sophisticated touch to basic pieces. Carbon's tops display an androgynous appeal but with a very feminine sensibility in the deep necklines that are sexy but safe for work.

3. The Chic Pair of Trousers
Who's wearing the pants in this situation? You are! Get comfortable but stay classy with a piece that you can always mix and match.
ADVERTISEMENT - CONTINUE READING BELOW
Try: Marks & Spencer
The London retailer is a one-stop shop for the essentials. Marks & Spencer's classic collection offers modern pieces that rarely go out of style.

4. The Power Pumps
Dress your outfit from the ground up. Pumps automatically make you feel more confident so you can nail that client presentation you've been working so hard on.
ADVERTISEMENT - CONTINUE READING BELOW
Try: Charles & Keith
Charles & Keith's footwear make for reliable additions to your collection. The young Singaporean brand's sling-backs and Mary-Janes befit both office wear and post-work outfits.

5. The Stylish Carry-All
Lug your office and personal essentials in a stylish and sturdy tote.
Try: Dune London
Dune London is playful and professional, perfect for your day-to-night ensemble. They get the formula of bright colors on classic silhouettes down pat.
ADVERTISEMENT - CONTINUE READING BELOW
Load More Stories