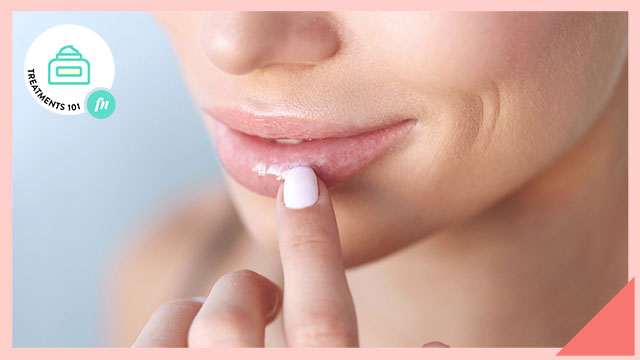 While dark, hyperpigmented lips are rarely a cause for concern health-wise, they might be something that has you feeling self-conscious. You might find yourself nitpicking at your makeup look because of the effect of your lips, or you might mask them with dark, bold colors that don't suit your personality and make you even more uncomfortable. While things like smoking, stress, and medications can darken your lips, there are things you can do in the short-term to tackle this problem before resolving the issue in the long term. Below, we list the causes of dark lips and what you can do to help even their tone.
ADVERTISEMENT - CONTINUE READING BELOW
CONTINUE READING BELOW
Recommended Videos
What causes dark lips?
1. Sun Exposure
When you lay out under the sun, your skin tans and gets darker—so why shouldn't the same go for your lips? Your skin triggers the production of melanin to protect itself from ultraviolet rays, so it's important to help your lips out by using a lip balm with an SPF of 30 or higher. 
2. Smoking
Smoking cigarettes and vaping might exacerbate dark lips. Nicotine and benzyprene can trigger melanin production, which could cause your lips to darken. 
3. Dryness and Chapping
If you're into skincare, you'll know that exfoliating your face can get rid of dry, dead skin cells and reveal a brighter complexion. Dryness isn't limited to just your skin, though. It can be a big problem when it comes to your lips, especially since the skin of your lips is completely exposed to the elements. Don't forget to wear lip balm and exfoliate your lips once a week to make sure the cells turn over properly. 
ADVERTISEMENT - CONTINUE READING BELOW
4. Hyperpigmentation
Sometimes, genetics and hormones can cause dark lips. You'll notice patches of dark brown or grey on your lips—especially if you're pregnant or have a hormonal imbalance. It's definitely something you shouldn't feel bad about, though, and usually, these patches fade over time or with the help of some derma-recommended topical treatments.  
5. Allergies
Allergies don't just manifest in sneezing or hives, they can also show up us dark, pigmented spots on your lips. Avoid your known allergens and make sure to check if your lipsticks, glosses, and lip pencils aren't expired. If you know a product causes allergies, you'll have to stop using it immediately. 
How can you treat dark lips at home?
1. Scrub your lips.
Since exfoliating can help reveal bright skin, you'll want to scrub your lips regularly to even out the tone. Create your own lip scrub concoction by combining one teaspoon of honey and one teaspoon of sugar. Apply it to your lips and massage in a circular motion, then rinse it off with warm water. Don't forget to moisturize your lips after! Exfoliating can make your lips sensitive, so it's important to hydrate and protect it with lip balm right after. 
ADVERTISEMENT - CONTINUE READING BELOW
TRY: Lush Lip Scrub, P495, Lush
2. Lighten your lips with a lemon. 
Lemons are a known skin-lightening home remedy, and you can use them to help chemically exfoliate your lips. Simply slice a lemon in half and hold it to your lips for no longer than a minute. When you're done, rinse off the juice and apply lip balm. The citric acid from the lemon will help remove the dead skin cells. Since lemons are acidic, it's important to do this with care and avoid it altogether if you have cuts on your lips. 
ADVERTISEMENT - CONTINUE READING BELOW
TRY: Nuxe Paris Rêve de Miel Lip Balm, P845, BeautyMNL
3. Massage your lips with oil.
Massaging your lips with oil can help boost blood circulation to the area, bringing more color to your peckers. Using an oil will also help moisturize and hydrate your lips—we recommend using a rich emollient like coconut oil or sunflower oil. Massage your lips at least three times a day, and you'll begin to notice the effects in no time!
ADVERTISEMENT - CONTINUE READING BELOW
TRY: Human Heart Nature Sunflower Oil, P199, Sesou
What are some treatments you can have done for brighter, pinker lips?
1. Laser Lip Lightening
Laser treatments aren't just for lightening areas on your skin, they can also be done on your lips! This method uses light to penetrate the skin and stimulate cell turnover—ridding your lips of dry, damaged, and dead skin cells. It's the perfect treatment for those who haven't had any luck with DIY treatments and topical creams to help fade hyperpigmentation. Clinics like Skin Buffet offer lip lightening laser treatments, so why not book an appointment?
ADVERTISEMENT - CONTINUE READING BELOW
2. Permanent Makeup
Shorten your makeup routine by getting a permanent lip tint. This will help disguise the appearance of dark, hyperpigmented lips while imparting a fresh, rosy color that won't fade any time soon. You can even choose to subtly redefine your lip area with just a lip liner tint, or you could saturate your lips with color when you go for a full lip tint. 
ADVERTISEMENT - CONTINUE READING BELOW
3. Lip Peels
Not only can acid peels brighten your lips, they can also help smooth fine lines and wrinkles that might be forming above them. Since it makes use of acids, your lips might feel raw and sensitive at first, but once they've healed, they'll look just as bright as your smile! Ask you derma what you best options are if you want to go for a treatment like this. 
ADVERTISEMENT - CONTINUE READING BELOW
Comments
Load More Stories