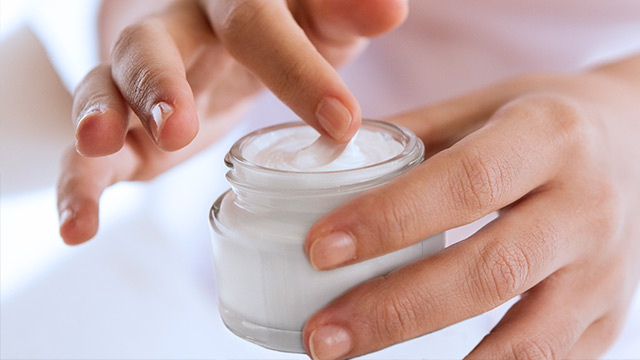 Moisturizers may be the last step in your skincare routine, yet it deserves your full attention. The wrong moisturizer, which can either be too light or too thick for your skin type, can be a major culprit of oiliness or worse, breakouts. 
ADVERTISEMENT - CONTINUE READING BELOW
To help you get it right, we listed down the important factors to look for when finding a moisturizer for your skin type—plus, the best drugstore moisturizers that you can start adding to your routine! Because having a healthy, hydrated complexion doesn't have to hurt your wallet. 
CONTINUE READING BELOW
Recommended Videos
The Best Drugstore Moisturizers to Use, Based on Your Skin Type 
For Sensitive Skin 
It may be tempting to splurge on a moisturizer with fancy ingredients, but "most sensitive skin will benefit from a basic moisturizer without a lot of added chemicals or preservatives," notes Total Beauty. As sensitive skin types are prone to redness, irritation, and other skin concerns like rosacea and eczema, it would be best to look for gentle moisturizers with "fewer ingredients [as it means] fewer potential interactions with fragile skin," shares California dermatologist Dr. Sonia Badreshia-Bansal with Web MD. 
Cetaphil Moisturizing Lotion Body and Face
P344, Watsons, SM Beauty, and Beauty MNL 
ADVERTISEMENT - CONTINUE READING BELOW
Cetaphil is a highly-raved brand known for mild, gentle, sensitive skin-friendly products—and this moisturizing lotion is no exception. Its lightweight, fragrance-free formula soothes dry skin, and it even targets common sensitive skin issues like eczema and rosacea. Take note that because it's extremely gentle, anyone with intense dry skin may feel like it isn't providing enough hydration; it works wonders for women with normal to dry, sensitive complexions! 
ADVERTISEMENT - CONTINUE READING BELOW
Simple Hydrating Light Moisturizer
P499/125ml, Lazada
Sensitive-skinned gals know too well how their skin easily reacts to strong ingredients. This lightweight moisturizer is fragrance-free, dye-free, oil-free, and harsh chemical-free, so you're pretty much safe! Packed with nourishing ingredients like Pro-Vitamin B5, Vitamin E, Glycerin, and Borage Seed Oil, it also repairs the skin's moisture barrier, making your sensitive complexion less prone to rashes, redness, and irritation. 
ADVERTISEMENT - CONTINUE READING BELOW
For Dry Skin 
Dry-skinned ladies who suffer from stubborn, flaky patches need extra-hydration, and rich, thick creams will be your BFF for that. It'll take a bit of trial and error until you find "The One", but you can start by "looking for ingredients like hyaluronic acid and dimethicone, which help keep skin hydrated," when splurging for moisturizers, notes WebMD. 
Olay Regenerist Micro-sculpting Cream
P1,899/50mg, Watsons 
Hit two birds with one stone by not only hydrating the skin but also softening the look of fine lines and wrinkles with Olay's best-selling anti-aging cream. This one is super-thick and creamy, but massage it onto the skin, and it'll dry up into a velvety smooth finish—no oily residues here! It's formulated with amino-peptide complex II, hyaluronic acid, and niacinamide (vitamin B3) that all work to plump the skin surface, reversing the damage caused by all those nights of puyat in your 20s. 
ADVERTISEMENT - CONTINUE READING BELOW
Oily Skin 
Here's a friendly reminder: you still need to moisturize even if you've got shiny skin. Otherwise, it will only compensate with the lack of hydration by producing more sebum, and well, you know where this results to: pesky pimples.
Moisturizers don't have to feel uncomfortable to wear. You can look for lightweight, water-based gels and lotions that are fast-absorbing so it won't leave a greasy residue on your face. "Stay away from creams, which weigh heavier on your skin," notes Dr. Cameron Rokshar in an interview with Women's Health Magazine. Look for the terms "oil-free" and "non-comedogenic" (this means it won't clog the pores) on the packaging as these are signs that the moisturizer is suitable for oily complexions. 
ADVERTISEMENT - CONTINUE READING BELOW
Celeteque Dermoscience Hydration Facial Moisturizer 
P150, Watsons, Beauty MNL, SM Beauty, and all leading supermarkets 
This moisturizer's water-based, gel formula allows easy absorption so it certainly won't add up to your skin's oiliness; what's more, it won't make oily-skinned gals dread wearing moisturizer even when it's too hot outside. 
This moisturizer may be light in weight, but it's formulated with a powerful Triple Moisturizing System of glycerin, provitamin B5 and aloe vera to deeply hydrate the skin, and it also contains Dimethicone to seal in the moisture, keeping the skin smooth yet shine-free all day. 
ADVERTISEMENT - CONTINUE READING BELOW
For Acne-Prone Skin 
Excessive sebum is an acne-prone-skinned lady's biggest enemy, as it's the most common reason behind breakouts. So when shopping for moisturizers, "you always want to look for an oil-free, non-comedogenic brand for acne," New York City dermatologist Dr. Michele Green shares with Self. Apart from that, you should generally look for lightweight creams and gels (heavy creams tend to clog your pores and make your skin breakout), which contain blemish-fighting ingredients like tea tree Oil and salicylic acid. 
Bioderma Sebium AKN Fluid
P1,118/30ml, Watsons and SM Beauty 
This moisturizer is a godsend for those suffering from pimple-prone complexions. It's non-comedogenic, which means it'll nourish your skin without clogging your pores, and it regulates oil production to prevent more pimples from showing up. As it contains chemical exfoliators like AHA (this gets rid of dead skin cells on the skin's surface) and BHA (which goes deep into the skin, cleaning out excess sebum from the pores), this lotion helps keep the skin clear and glowing in the long run. 
ADVERTISEMENT - CONTINUE READING BELOW
For Combination Skin 
Finding a moisturizer that tackles your dry, oily, and acne-prone skin issues in one go can be challenging, but don't give up! The key is to look for multi-tasking products that "find the right balance between moisture and weight", according to the folks over at Cosmo.ph.
ADVERTISEMENT - CONTINUE READING BELOW
Neutrogena Hydro Boost Water Gel
P898/50g, Watsons and SM Beauty 
This lightweight moisturizer is seriously like a cold glass of water for dry-to-oily skin—its gel formula feels watery, and it leaves a cooling feeling once applied on the face. It contains hyaluronic acid, a dream ingredient that acts like a sponge to pull water into your skin. 
With its lightweight consistency, this product is quickly absorbed by the skin so your face feels silky-smooth without the greasy finish. If you hate the sticky feel of moisturizers—especially during your morning commutes—you'll love this one for sure. It's noncomedogenic too, so it's suitable not only for dry, oily skin but also for acne-prone complexions. 
ADVERTISEMENT - CONTINUE READING BELOW
Load More Stories