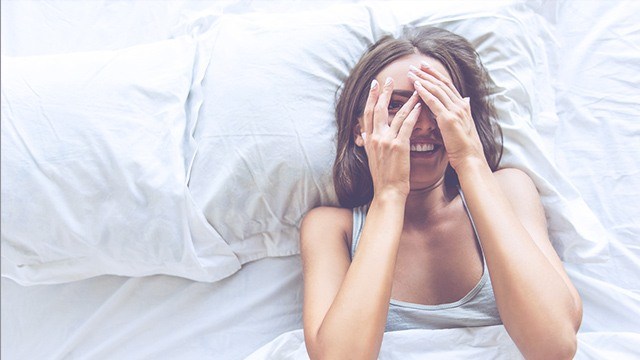 Today's pollution and harsh UV rays can diminish your complexion's health and glow. Add the busy lifestyle we lead, and you can bet you'll see signs of skin aging even before you hit 30.  

Early signs of aging appear in the skin through dark spots, fine lines, dullness, lines and wrinkles, dryness, sagging, and the like. But one shouldn't wait for these skin problems to show before doing something about it -- a good skin care regimen early on can help prevent them.    

Also, make sure you're incorporating these nighttime habits, which can give you a more youthful complexion:
ADVERTISEMENT - CONTINUE READING BELOW
CONTINUE READING BELOW
Recommended Videos
1. Use silk or satin bedsheets.

It's what we read on Oprah.com! They're more gentle on the skin than cotton or flannel, according to Rachel Nazarian, M.D., an assistant clinical professor of dermatology at Mount Sinai Hospital in New York. Certain kinds of fabric cling and pull on the skin that leads to wrinkles. If you're often sleeping on your back or your side, switch to silk or satin sheets.

It could also prove beneficial for your hair when you use silk or satin bed linens. Celebrity hairstylist Jen Atkin tells Cosmopolitan.com, "Cotton absorbs moisture from the skin, while silk retains it." As a result, your tresses retain their natural oils, keeping your hair nourished. 
2. Don't skip the makeup remover in your routine

We all know that leaving makeup on when you sleep is a big no-no, and with today's longwear, waterproof cosmetics, you might need more than a gentle cleanser to wipe them off your face completely.

Leftover makeup could lead to clogged pores and dull skin, and thus speeds up aging, Nazarian says. To address this, invest in a makeup remover and use it before washing your face. Come to think of it: makeup remover may cost less than anti-aging products in the long run. 
ADVERTISEMENT - CONTINUE READING BELOW
3. Don't forget the night moisturizer
We know, you barely have time to wash your face before going to bed. However, as beauty experts recommend, it would be wise to have a moisturizer that is different from what you use during the day. 

Night creams are formulated to work and repair skin tissues on a deeper level. Night moisturizers and even anti-aging formulas are usually richer to lock in moisture as you sleep, so you wake up to a more refreshed glow. 
4. Easy on the AC

Too much sun exposure without proper skin protection can lead to dry skin. It can also make your skin vulnerable to eczema and atopic dermatitis flare-ups, and could trigger rosacea, an inflammatory condition that accelerates the aging process, says Nazarian.
With our tropical weather, always apply sunscreen. And according to a feature on Cosmo.ph, humidifiers can actually be one of the things that can help you get better skin (surprise!). If you sleep in an air-conditioned room, a humidifier can help keep the air moist.
ADVERTISEMENT - CONTINUE READING BELOW
5. Take your time 

Start with the lighter formulas first and slowly work your way to heavier ones. It should be in this order: facial cleanser/makeup remover, toner, serum, eye cream/spot treatment, and moisturizer.

"Keep in mind that you need to give your skin time to absorb each product (20 seconds at the most) before layering on another skincare concoction. Otherwise, you won't be getting the full effects of each product." If you're applying a product with retinol, an anti-aging ingredient, make sure your skin is dry. 

And don't neglect your neck and hands -- they're also one of the first to show aging. 
This story originally appeared on Smartparenting.com.ph.
* Minor edits have been made by the Femalenetwork.com editors.
Comments
Load More Stories