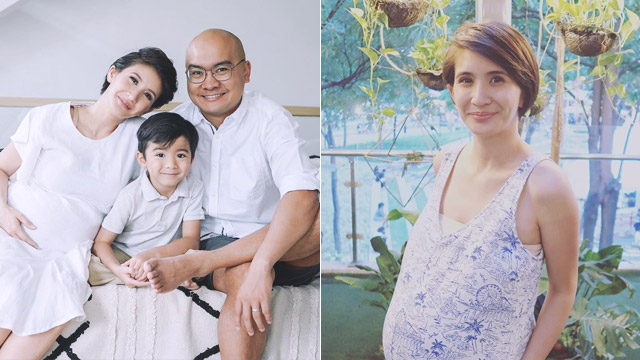 Rica Peralejo hopes to give birth to her second child at home. The former teen actress takes to Facebook to explain why she thinks this option is the "best possible birth" and "the most natural way" to do so for the baby and the mother.
ADVERTISEMENT - CONTINUE READING BELOW
CONTINUE READING BELOW
Recommended Videos
"It is the little one's first encounter in life, and we do not want to rob him of the chance to get a very strong imprint in his soul that this is not only the momma's job, or the doctor's job, but that he has his very own part to play in this world," Rica writes.
ADVERTISEMENT - CONTINUE READING BELOW
The way she sees it, home birth plays out "according to God's wonderful design for the woman's body and the baby's agency," and that is how Rica wants to welcome her second son.
She continues in her post, "So really, if I were to rank births, caesarian or a highly medicalized birth is last on the list of what I think to be the best birth possible. And the first would be homebirth, in the presense of all your loved ones and a birthing team who are willing to do everything possible to make it their first choice to trust God's intelligent design for our bodies..." However, Rica clarifies that she doesn't look down on other methods, particularly cesearean delivery or C-section. 
ADVERTISEMENT - CONTINUE READING BELOW
Rica writes, "This is not to say that I am not grateful for the way science has advanced our knowledge when it comes to births, as these highly surgical procedures have no doubt saved many lives already. But the sad truth is that this method hasn't been used only for TRUE emergency purposes but more abused for reasons of convenience, money..."
Rica adds through her Instagram Stories: "I do not look down on people who chose c-sec, epidural, chemical induction. You have your reasons. And after all, I was C-SEC!
"But all I am saying is that for as long as I can, I will try for an ALL NATURAL BIRTH, believe that: 1) true complications aside, it is the best possible birth 2) that where there is a privilege, why would someone not get it? Would you avail of a gift if you had the chance to get it? It's the gift of BIRTH. Not everyone gets that opportunity,"
ADVERTISEMENT - CONTINUE READING BELOW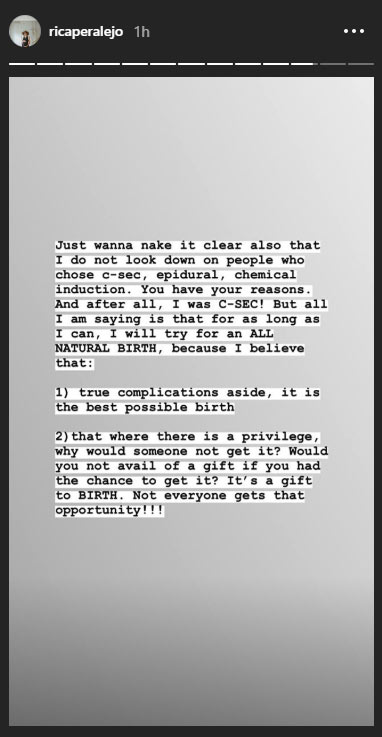 At the end of her Facebook post, Rica puts out a link to the trailer of Why Not Home?, a 2016 American documentary that tells stories of home birth from the perspective of doctors, nurses, and midwives.
ADVERTISEMENT - CONTINUE READING BELOW
Read her full Facebook post below:
Rica and her husband Pastor Joseph Bonifacio announced that they were expecting their second child in January 2019. 
The celebrity mom was in the middle of her second trimester at the time she posted the video announcement on her YouTube channel.
Here's what you need to know about home birth: 
An article from Mayo Clinic presents an overview of what to expect from home birth.
ADVERTISEMENT - CONTINUE READING BELOW
Among the main reasons why home birth is considered include:
A desire to give birth without medical intervention, such as pain medication, labor augmentation, labor induction or fetal heart rate monitoring
A desire to give birth in a comfortable, familiar place surrounded by family
Dissatisfaction with hospital care
A desire for freedom and control in the birthing process
Cultural or religious concerns
A lack of access to transportation
Lower cost
On the other hand, home birth is not recommended in the complicated pregnancy cases such as multiples, if the baby is not settled in a position that allows a headfirst delivery (in Filipino, when the baby is suhi), and the mother has had a previous C-section delivery.
The American Pregnancy Association adds home birth is not for a person who is diabetic, has chronic high blood pressure, and has had preterm labor in the past.
If home birth is still a possible birth option, Mayo Clinic suggests the best way to reduce risk of complications in the process is to choose a trained birthing team to assist.
ADVERTISEMENT - CONTINUE READING BELOW
It reads: "Choose a certified nurse-midwife, a certified midwife, a midwife whose education meets specific standards or a doctor practicing obstetrics within an integrated and regulated health system.
"Make sure he or she has access to consultation with doctors or specialists at a collaborating hospital. If you're interested in additional support, consider hiring a professional labor assistant (doula)."
The expecting parents must also prepare a birth plan, which includes when to arrange a hospital transfer.
Mayo Clinic says, "Discuss with your health care provider the signs and symptoms that might necessitate going to a hospital and how a transfer will affect your birthing plan. Ideally, your home or other planned birth location is within 15 minutes of a hospital with 24-hour maternity care.
"Make sure you have access to transportation. Ask your health care provider to make arrangements with a nearby hospital to ensure that you can be promptly transferred and treated, if necessary."
ADVERTISEMENT - CONTINUE READING BELOW
There is already a lot of Filipino trained and certified doulas in the country. You may inquire about them and their services, plus attend their many workshops and training sessions on their Facebook Page, Pinay Doulas Collective. 
Comments
Load More Stories