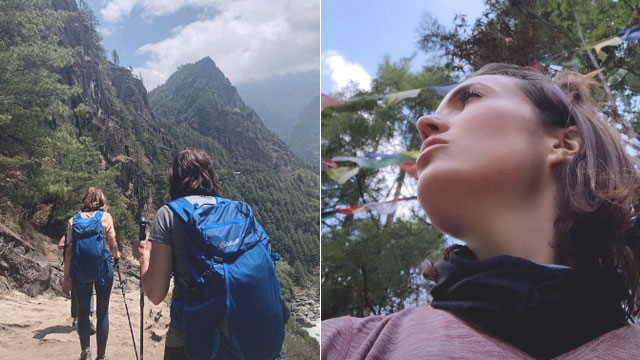 Mandy Moore just finished a journey to remember.
The actress recently conquered the base camp of Mount Everest. With the help of friends and experienced trekkers, Mandy, an avid hiker and traveler, was able to tick another milestone off her bucketlist.
ADVERTISEMENT - CONTINUE READING BELOW
CONTINUE READING BELOW
Recommended Videos
In various Instagram posts, Mandy excitedly shared with her followers her experiences and realizations on her week-long journey.
"There is so much magic in these mountains. They represent adventure in the grandest form and in a language all their own," she captioned one of her posts.
"Traversing this terrain has its challenges. Breathing at altitude, for instance, is not easy.
"Besides hydration and staying nourished, breathing is THE vital key in the fight against altitude sickness. It's also a major takeaway that I will be employing back to the real world whether I'm in the midst of a tough workout or a weird day." 
Meanwhile, in another post, Mandy revealed the reasons why she decided to do the hike.
"There's no way to distill this experience down to a few sentences. There's no way to encapsulate what coursed through our veins and brains living in the mountains this past week. It will come in time.
ADVERTISEMENT - CONTINUE READING BELOW
"I think I'm slowly learning that I feel most like me when I'm outdoors. [It] couldn't be any more outside my every day realm and yet there's something entirely refreshing about being tasked with nothing more than breathing and slowly putting one foot in front of the other.
"We shared everything: laughs, toilet paper, snacks, skincare, the silly songs that got stuck in our heads, milk tea, selfies, the 'happy naturals', etc.... all the makings of a quality trip to the most remarkable place any of us have ever been.
"It's easy to daydream and make big plans when you're down at sea level but it's a much taller order to do it while in the grips of something truly difficult. Message received. I dug deep while in the midst of all of those pressure breaths and made a mental list of things that scared me but I was anxious to tackle. Now that I'm back on solid ground, I can't wait to [go] home and get to it."
ADVERTISEMENT - CONTINUE READING BELOW
Mandy also acknowledged that her trek was far different from those who aim to reach the summit of the world's highest peak. Recently, many have been reported missing and some lives have officially been lost at Mount Everest; the overcrowding, the inexperience of some who try to climb, plus the unpredictable weather, have been considered to be a few of the factors that continue to cause accidents. The actress honored these people with a post: 
"Not to take away from our journey but I felt compelled to explain the difference between our trekking trip to Everest Base Camp vs the experienced and professional mountaineers and alpinists who are CLIMBING Everest," wrote Mandy prior to her ascent. "If all goes well, we will have completed what is only 1/6 of the entire trip for someone who actually climbs (8 weeks total). We stand in awe of the fortitude and training and superhuman strength it takes to attempt a feat like Everest and are deeply honored just to be here and feel the Khumbu vibes."
ADVERTISEMENT - CONTINUE READING BELOW
With additional reporting by Charlene J. Owen.
Comments
Load More Stories