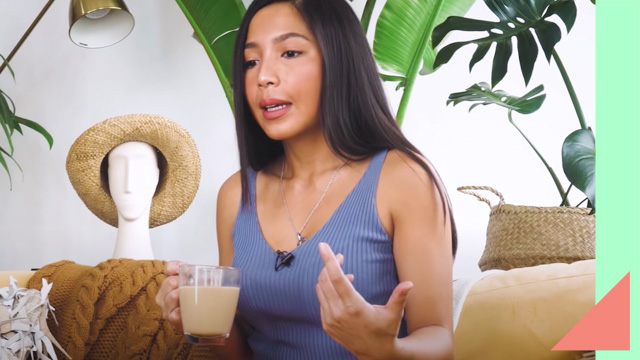 Dancer, host, and actress Dawn Chang recently called out a man who slid into her Instagram DM to ask her a highly inappropriate question.
Sharing a screenshot on her account last weekend, the message read (published as is): "Hi ms Dawn. Do you like sex? Not that I'm asking for it."
ADVERTISEMENT - CONTINUE READING BELOW
READ MORE ON WHAT CONSENT IS:
"Are men these days this desperate and rude?" She posted.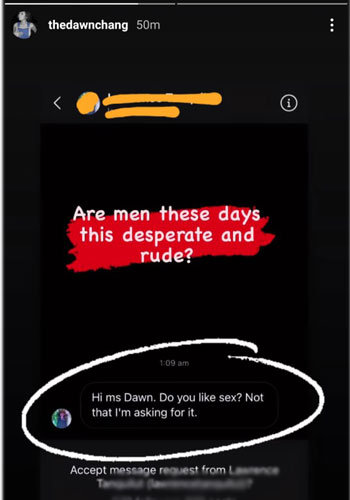 Pep.ph reached out to her about the issue.
"There is nothing wrong with sex. Want and desire are part of normal sexual behavior," Dawn said in a message sent on Saturday, October 10. "If acting on a sexual desire means to violate or to make derogatory comments towards another person, then the boundary of respect has been crossed."
She also underlined that "Men should stop objectifying women for their own sexual gratification.
"Just because a woman shows a little bit of skin or wears makeup, doesn't mean it is an invitation to be sexualized or have unwanted attention towards them," she continued. "There is a serious problem with our society if we accept that it is ok for men to objectify and exploit women, it says so much about our mental capacity and moral values."
READ MORE ON WHAT CONSENT IS:
"It is never ok to touch someone without their consent. Men are not entitled to women's bodies married or not."
Dawn has always been a strong voice on women's issues. In one of the episodes of her YouTube series Brutally Honest, she was asked about her "daring" way of dressing, to which she answered, "Wearing sexy clothing is not a sexual invitation. People need to understand that. Besides, you know, kahit magdamit ako ng balot na balot... That's not gonna stop me from getting sexually harrassed, or ma-catcall ako. 
ADVERTISEMENT - CONTINUE READING BELOW
"Wear whatever you want to wear, so long as you feel beautiful in it, so lang as you're happy with the way you look, go ahead."
Preach! 
This story was translated from Filipino and originally appeared on PEP.ph.
Minor edits have been made by the Femalenetwork.com editors.
With additional reporting by Charlene J. Owen
Load More Stories