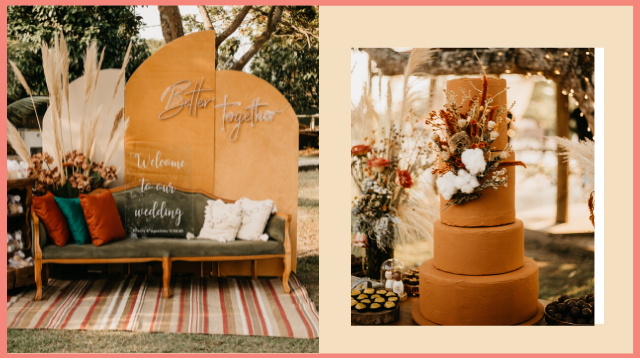 While coming up with a theme for your wedding reception isn't really a requirement, a unique and creative one can help turn your special day into an even more memorable event. And that won't just go for you and your future spouse, but even for the family and loved ones who will share the moment with you.
ADVERTISEMENT - CONTINUE READING BELOW
For many brides who have been dreaming of their wedding day for years, it can be rather easy to curate a Pinterest board of wedding reception design pegs. But for those who have yet to find an aesthetic that resonates with their personality, here's a list of ideas you might want to consider when you finally tie the knot.  
Wedding Reception Design Ideas 
Boho Chic
Boho has emerged as a popular wedding theme over the years and that's mainly because it looks effortlessly stylish as an event design. And that's not to mention how the muted tones and greenery can make any wedding snap Instagram-worthy.
For brides who want to pull off this look for their wedding party, consider trading fresh flowers for dried leaves or succulents when setting the table. Amp up the candlelight and complete your setup with wicker lanterns, rattan furniture, and woven decorations. Lastly, don't worry about mismatched ornaments as mixing modern and rustic elements can only add to the bohemian feel.
Art Deco
The glitz and glamour of the 1920s are ideal for any bride who loves a vintage vibe. The Jazz Age comes with a look that strikes as more elegant when compared to the 50s rockabilly or the 70s disco. When done right, the art deco theme can lend an old-world charm to your party. 
ADVERTISEMENT - CONTINUE READING BELOW
If you're not too keen on black table cloths and backdrops, you can opt to contrast gold accents with white linens and porcelain for an understated yet luxurious look. Make a statement with geometric shapes when curating your ornaments, use feathers for flair, and don't be afraid to go for more sparkle. 
Celestial
What better way to say that you love your partner to the moon and back than going for a celestial theme on your wedding day? With the rise in popularity of astrology, it's not surprising to find many brides eager to incorporate this theme when planning their reception. Besides, what could be more romantic than celebrating your first moments as man and wife surrounded by stars?
To achieve this aesthetic, go all out on the astronomical motif. If you're not eager to have stars and crescents hanging from the ceiling, you can pull off a night-sky backdrop with strings of fairy lights or a projector set against a dark backdrop. Setting the table with gold, silver, or crystal accents will also help make the day feel more magical. 
ADVERTISEMENT - CONTINUE READING BELOW
Maximalist
If you believe in the saying "go bold or go home," maximalism just might be the look you should go for when styling your reception venue. After all, you're only going to get married once so you might as well make your special day a splash.
Unlike minimalism which follows the idea that "less is more," "more is more" when you go maximalist. And while this design idea can get rather pricey, everything pays off with a fantastical, almost fairy-tale-like feel during your big day. 
ADVERTISEMENT - CONTINUE READING BELOW
Take for example the wedding reception of recently married couple Kris Bernal and Perry Choi. In keeping with their sunflower theme, the couple had their reception venue transformed into a brightly lit sunflower field. According to event stylist Gideon Hermosa, the sunflower idea was a request from the bride, as the flower symbolizes positivity, good luck, and lasting happiness. Looking at these photos, it's hard to argue with #PerryTaleNiKris.
ADVERTISEMENT - CONTINUE READING BELOW
Monochromatic
Of course, if you don't want to fuss over sourcing and matching decors following a certain theme, the easiest wedding reception design idea to follow is to keep everything monochromatic. This timeless approach remains popular not just because it's easy to execute, but also because it provides a coordinated effect. 
ADVERTISEMENT - CONTINUE READING BELOW
As in fashion, the key when going for a monochromatic design is to play with textures. This can be achieved by mixing different materials in a similar hue. If you're not comfortable choosing just one color, you can always pick a unique combination or curate your own palette. You can even ask your guests to play along, just as long as you don't stress them over finding a very specific, hard-to-find color. Pro tip: All-white never goes out of style.
ADVERTISEMENT - CONTINUE READING BELOW
READ MORE: 
12 Simple Yet Chic Wedding Dress Designs That Are Perfect for the Minimalist Bride
How This Couple Spends Only P5,000 for Their Intimate Wedding
This Couple Tied the Knot at Sunrise and the Photos Are Breathtaking
The Little Details in Bianca King's Low-Key Wedding in Sydney
Load More Stories