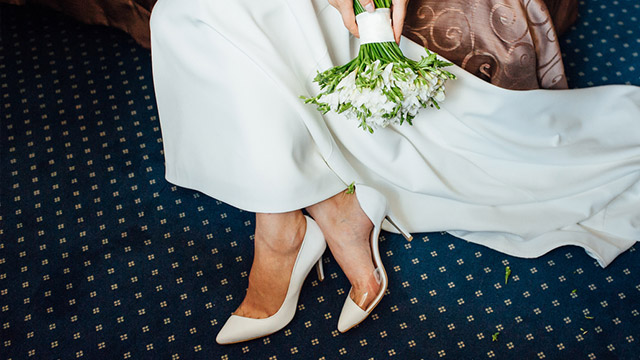 Ever purchased a stunning pair of heels that ended up being horribly painful to wear? The last thing you want is for the same scenario to happen on your big day. The right footwear will help you not only look but also feel your best, especially as you go from taking those mandatory pre-wedding shoots to dancing in with your guests until dawn—and let's not forget that these are the shoes you'll be walkind down the aisle in. If you look great, but you struggle on every stride, the discomfort will only ruin the special moment for you. 
ADVERTISEMENT - CONTINUE READING BELOW
CONTINUE READING BELOW
Recommended Videos
Here are a few easy ways you can check if the wedding heels you fell in love with won't turn out to be a purchase you'll regret: 
1. Pay attention to the heel. 
Yup, those stilettos with thin heels look super sexy on your feet but unless you're a regular wearer of heels, you'll probably end up kicking them off come reception time. So if you want to save yourself from the hassle of having to switch shoes, go for thicker soles (think: block heels) or heels that come with platforms. The thicker the heel, the more comfortable it is, as it provides more support for your weight. Plus, they're a lot more stable, too, which means the chances of you wobbling as you walk down the aisle are slim. 
2. Don't set them aside; wear your wedding shoes before your big day. 
Any woman knows how a brand new pair of heels—especially when it's crafted from leather—often feels a little too stiff on the first few wears. One tried-and-true solution is to walk around wearing them to start breaking it in. One of our GIRLTalkers even went as far as wearing her shoes for four hours at home. "Hindi talaga siya sumakit, so I [was] pretty confident that I could last up to eight hours [in my wedding heels]." 
ADVERTISEMENT - CONTINUE READING BELOW
Another tip: try going up and down the stairs to check if your heels have the possibility of slipping out (if this is the case, those over-the-counter gel insoles will come in handy!). 
3. Here's a quick way to spot a comfortable pair of shoes: Check the distance from the sole to your heel (a.k.a. the arch!). 
Basically, the farther they are from each other, the less pain you'll feel. This is mainly because your weight tends to shift to your toes when the arch is too high. 
FN Tip: If you can't resist wearing a sky-high pair of heels on your wedding day, consider opting for platform styles. "...many women feel more comfortable in a heel with a front platform because it softens the arch angle," Lindsey Bennett, the lead fashion designer at Azazie, explained to Insider. 
4. Watch out for any slight feeling of discomfort. 
When trying on a potential pair of wedding shoes, don't shrug off any discomfort that you may feel, thinking, "luluwag din 'to." According to Meghan Cleary, a footwear expert and author of Shoe Are You, in a feature on Fox News, "Any points that feel little bit uncomfortable, are going to be massive pain points later." 
ADVERTISEMENT - CONTINUE READING BELOW
As Italian shoe brand Roccamore also pointed out, "If the back of the shoe is rubbing your heel in the store, you will probably develop a blister wearing them in real life." 
5. Avoid heels with straps that are too thin. 
You'll know it when the straps are too slim—when worn, they tend to feel like the straps could easily break. Take that alanganin feeling as a clear sign that you won't feel comfy walking in those shoes for several hours. The lack of support only causes your feet to easily feel tired. 
Places to buy wedding heels in Manila 
1. CLN 
Location: 
Looking for something sparkly? You'll find many bedazzled (and metallic) heels, mostly in silver and gold tones, in this local store—and they won't cost you more than P3,000.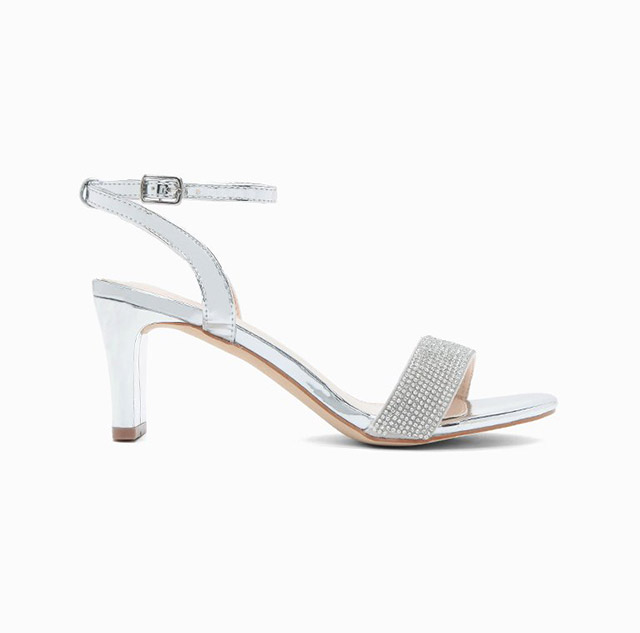 TRY: CLN Demure Heel Sandals, P1,499, available online
ADVERTISEMENT - CONTINUE READING BELOW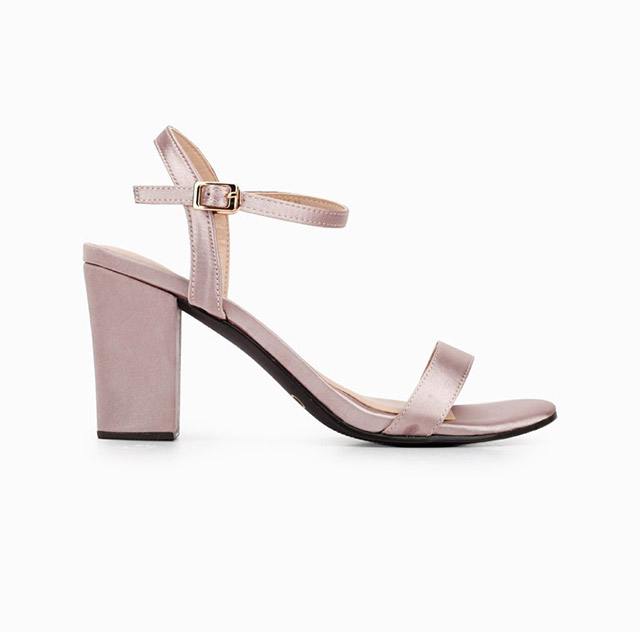 TRY: CLN Estrelle Heel Sandals, P999, available online
2. Dune 
Location: Greenbelt 5 and Rustan's Makati 
Head to this U.K. brand's local stores for elegant low heels that you can wear even beyond your big day.
ADVERTISEMENT - CONTINUE READING BELOW
3. Charles and Keith 
Location: Bonifacio High Street, Eastwood Mall, Robinsons Place Manila, SM Aura, and more branches here 
Charles and Keith offers heels in various styles and heights, from modest kitten heels (a.k.a. those low heels with thin but comfortable soles) to chunky yet still elegant block heels.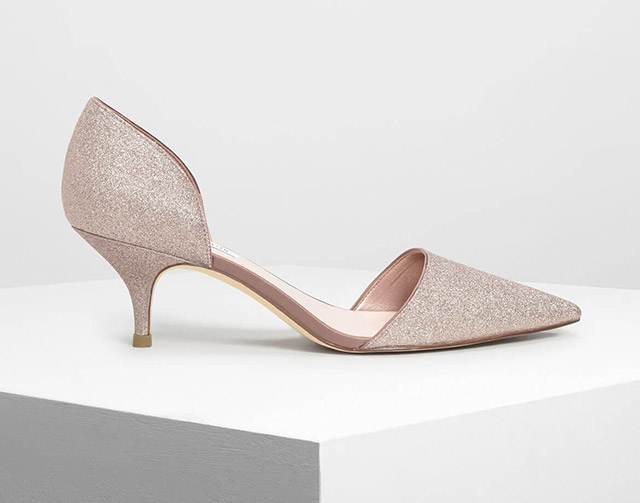 ADVERTISEMENT - CONTINUE READING BELOW
TRY: Charles & Keith D'Orsay Glitter Fabric Kitten Heel Pumps, P2,699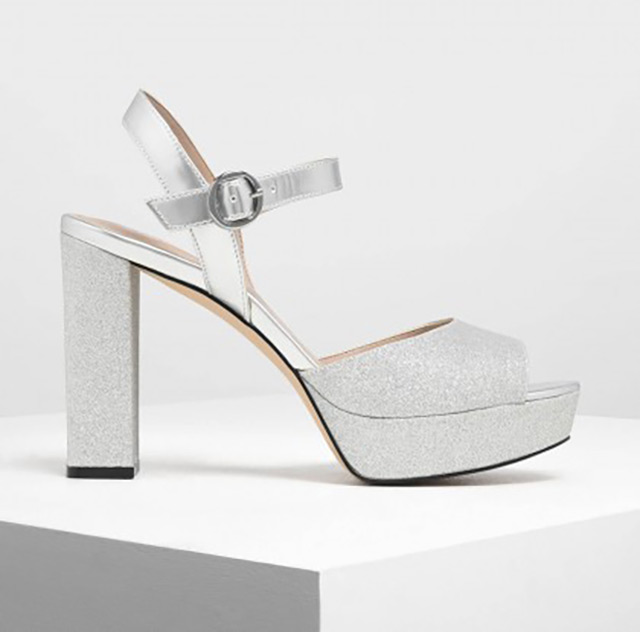 TRY: Charles & Keith Glitter Platform Heels, P2,599 
4. Nine West
Location: Alabang Town Center, Robinson's Galleria, Rustan's Gateway, SM Megamall, Trinoma, and more branches here 
Pay Nine West a visit if you're looking for something timeless and sturdy; apart from serving block heels, they've got a variety of sand-friendly wedges and even flats that are perfect for beach (or garden) nuptials. 
ADVERTISEMENT - CONTINUE READING BELOW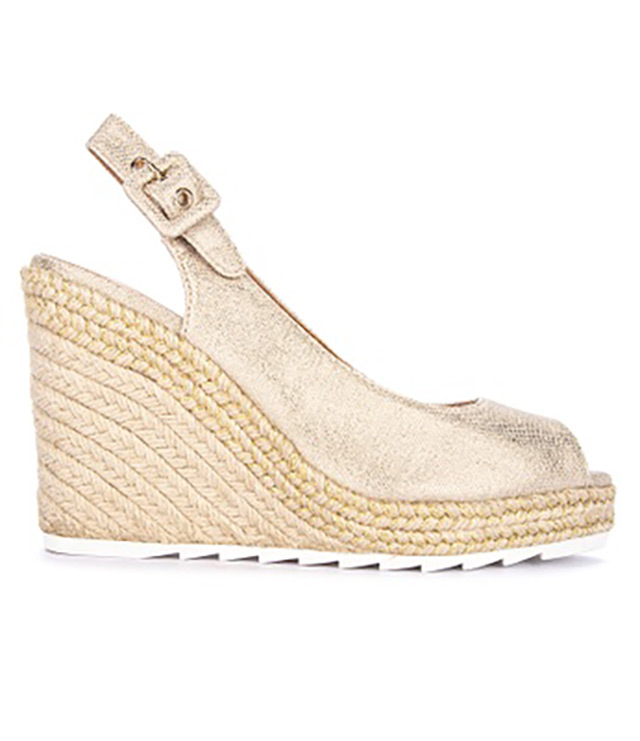 TRY: Nine West Zoey7 Espradille Wedge, P5,450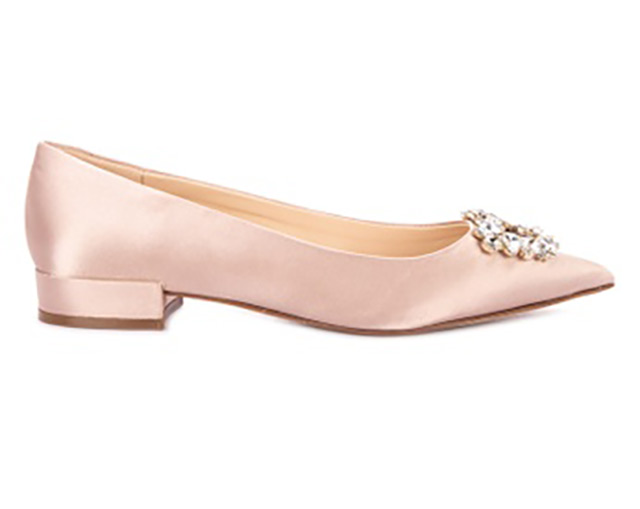 ADVERTISEMENT - CONTINUE READING BELOW
TRY: Nine West Fionela2 Pointed Toe Flats, P5,950
5. So! Fab
Location: Greenhills Shoppesville, Market! Market!, SM Fairview, SM Manila, Gloriette 1, SM Megamall and more branches here 
Here, you'll find various shoe styles—from classic to playful—mostly under P2,000! 
TRY: So! Fab Mikaela Heel Pumps, P1,499 
ADVERTISEMENT - CONTINUE READING BELOW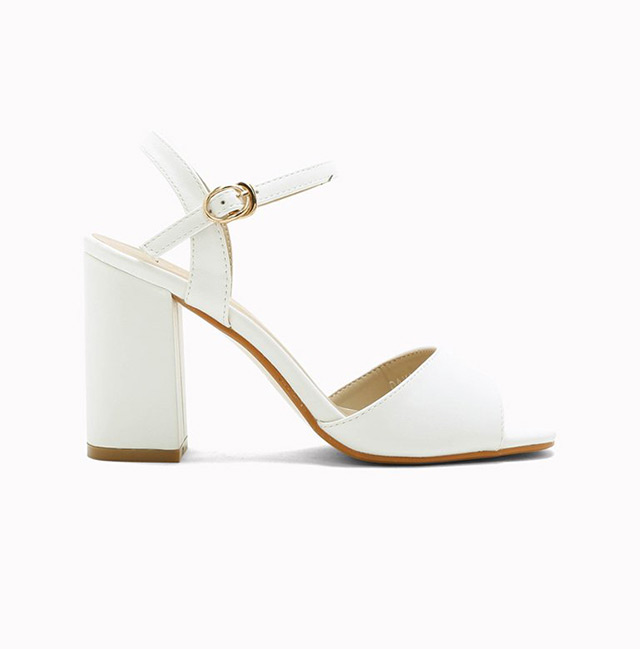 TRY: So! Fab David Heel Sandals, P749 (from P1,499) 
Where to get your bridal shoes customized
1. Jefferson Si
Contact number: (0917) 779-5710
Meet the local designer behind the wedding shoes of celebs like Dani Barretto and Kylie Padilla. Jefferson's creations are highly-raved for being uber-comfortable to wear; in fact, he once shared in an interview with Female Network that his brides get to wear their heels from the ceremony up until the reception, without having to switch into their flats (thanks to feet-saving details like memory foam padding.) 
ADVERTISEMENT - CONTINUE READING BELOW
ADVERTISEMENT - CONTINUE READING BELOW
2. Shoepatos
Contact number: (0917) 536-7336
Shoepatos' customized heels are specially handcrafted in Marikina so you can be sure they're gonna be memorabilia from your wedding that you can keep and rewear in the years to come. 
ADVERTISEMENT - CONTINUE READING BELOW
ADVERTISEMENT - CONTINUE READING BELOW
Here are a few helpful reminders before buying your wedding shoes: 
Buy your heels before the first fitting of your bridal gown. By wearing them, your bridal designer gets to properly check how much length needs to be adjusted. 
Consider your wedding venue. Will you be walking on grass, sand, or even cobbled stones?
FN Tip: Low, block heels are ideal for beach weddings; the chunkiness of the heel provides you with a much more stable base, especially when standing on uneven surfaces like the beach shore. 
Comments
Load More Stories