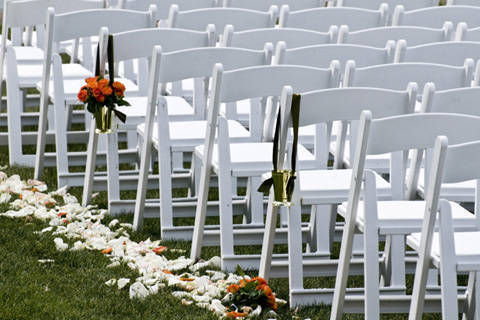 While many have gone searching for greener pastures in other countries, there's still no place like home--which is why it's unsurprising that a lot Filipinos living abroad fly back to the Philippines to get married. But planning a wedding takes a lot of work, and in case these overseas Pinoys can't fly home immediately, they just plan their special day from thousands of miles away.
You might think that with the technology available today, wedding planning from abroad shouldn't be too difficult. But the reality is that even with modern conveniences, putting your wedding together is still a major effort. Wedding coordinator Ernest Pascual of Bespoke Manila has helped out couples who have had to deal with long-distance wedding planning. He shares his insights about planning a wedding from abroad.
Take time to carefully pick suppliers.
"Some couples have difficulty deciding where to hold their wedding because more often than not (since they are based abroad), the couples would be in Manila [just] a few weeks (or for some, a few days) before the wedding," Ernest says. "Their decisions rely on pictures they see on the Internet. Some of them would base their choice on recommendations from friends and relatives." While pictures and testimonials can sometimes be very helpful, bear in mind that photos can also be deceiving and your loved ones may not have the same aesthetic sensibilities that you have. There are many decisions you will have to make, so you have to sift through all the photos, and carefully deliberate on the friendly suggestions before making a choice.
ADVERTISEMENT - CONTINUE READING BELOW
Pick your point person.
When planning a wedding from abroad, it's very important to have a person whom you trust--and whose taste you trust as well--to help you out. "Aside from the coordinator, ask a friend or your mom to be your ears and eyes for the wedding preparations," Ernest says. This person will be the one who will serve as a go-between for you and your suppliers. Ernest says this is actually one way of bonding with your loved ones while you're in the wedding planning stage, and doing this can make your wedding more memorable. 
Allot time for accomplishing papers.

Another common--and major--dilemma that couples face during long-distance wedding planning is acquiring a marriage license. Getting the license usually requires the couple to make personal appearances at certain seminars, in addition to obtaining special church requirements (which entails submitting your baptismal and confirmation certificates with a special "for marriage purposes" annotation)--all of which demand a lot of time and effort to chase down. "This is why I suggest to my overseas-based couples to get married civilly [first], and just send their marriage contract to the church as proof that they got married," Ernest says. "This way, there is no need to apply for a marriage license which is part of the church requirements."
ADVERTISEMENT - CONTINUE READING BELOW
You might also want to check:

Comments
Load More Stories