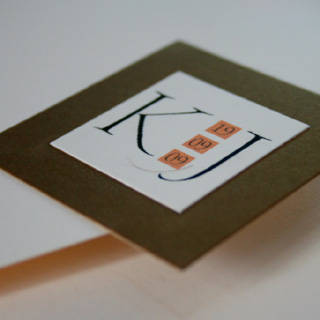 Nowadays, it's easier to be smarter with your budget for your wedding invitations, as being on a budget does not necessarily mean that your invitations would be less impressive. Moreover, being constrained with resources allows creativity to happen.
Apart from the obvious do-it-yourself invitations, and rounding up your dearest friends for a weekend to help you make your own invites, here are some other easy and doable ways to save on your printed matter:
Choose only the essentials.
You can do away with letterpress and engraving. Today's practical society allows for laser printing or thermography, and these invitations could still look as classy and as impressive as its costlier counterparts.

You can save more too, by limiting your invitation set to one or two cards to announce your wedding, ceremony details, and reception. If you want entourage cards made, then you could print less of these and send out the limited set to your sponsors, entourage, and very select friends and family.
Embellish plain invites.
If you do decide to order your invitations and you opted for a simpler design to save on cost, jazz up your invites to make them unique. Using a sweet bow to wrap your invitations, or adding a few crystals on your invitations could make the difference.  
Opt for free invitation templates found online.
If there's nary a creative bone in either you or your hubby-to-be, you can still score impressive invites by checking a variety of templates from the Internet. If you're worried that these free designs might be too generic for your big day, then you may want to purchase a wedding printable from a website instead. For a minimal fee (some go as low as $5.00), these sites allow you to personalize your invites too: pick a design, select the color/s you want, pay for your template and provide your wedding particulars. Once you've done this, the template with all your wedding details is then be emailed to you for you to print at home. Among the sites offering this service are Etsy.com.
ADVERTISEMENT - CONTINUE READING BELOW
Use e-invites.
You can also pick out a free wedding invite template online, and then put your childhood, couple, or prenuptial photos to good use. Lay these out on your computer, add your wedding details, and send these out to your guests as picture files. For a reasonable fee, some wedsites allow its users to design, create, and send out e-invitations--some can even track guests' responses. With e-invites, you not only save on printing, but on delivery costs as well. If you have the time and resources, you can also consider sending out a video invitation instead.
Note though that not all guests may be as web-savvy as you, so you may want to send out printed invitations to this group of guests.
You might also want to check:
Comments
Load More Stories