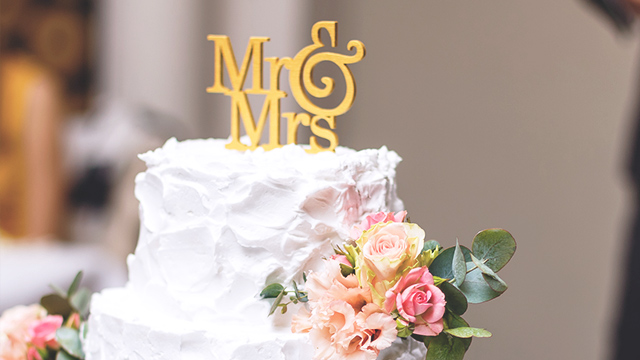 With the rise of the bridal industry came the evolution of wedding cakes. Coupled with advanced techniques, 3D printing, and a focus on personal aesthetic like never before, there are now many ways you can get creative with your cake design (with some even foregoing cakes entirely and opting for savory centerpieces like pizza or quirkier options like a pancake tower!).
ADVERTISEMENT - CONTINUE READING BELOW
From size and ingredients to overall design, here's everything you need to know about choosing a wedding cake:
CONTINUE READING BELOW
Recommended Videos
How much does a wedding cake cost
With all the suppliers available in the market, a wedding cake can cost as high or as low as your budget allows. If you're looking for the simplest, most accessible option, Goldilocks offers a wedding package for as low as P4,000. It comes with a single layer round fondant-inspired mocha wedding cake, and four round miniature cakes you can give to your sponsors.
One bride who proved to be a satisfied customer shares her experience on Girltalk: "We just chose (a) classic design and changed the color according to our motif... maganda kinalabasan, very yummy, and inexpensive, too."
Of course, if you're working with a tight budget, or your cake design just isn't a priority, some single layer cakes can even be available for as low as P2,000. You may also ask your caterer, as some packages already include a classic wedding cake and styling. One bride shares she was able to select hers as one of the two freebies that came with her P199,000 package for 150 guests.
ADVERTISEMENT - CONTINUE READING BELOW
Now, for a typical two-tier cake, you can expect to shell out about P6,000 to P12,000, granted that your design isn't overly complicated. One bride also shares that while canvassing for a naked cake, she was able to source a supplier for P9,500, while most gave her an estimate of P10,000 to P15,000 for the similar designs.
Prepare to spend as high as P26,000 to P30,000 for four- to five-tier wedding cakes, and even more should you require the entire cake to be edible, or if there are real fruits or other special ingredients you want to add.
If you're looking for more tips and reviews of suppliers, visit our Engagements and Weddings forum over at Girltalk and join the conversation. 
Here are other frequently asked questions about wedding cakes to help you and your fiance decide on the right design for you:
How much wedding cake do I need for 150 guests
The size of the cake will depend on your intention—if you are choosing to serve the cake as a dessert, you will logically need a bigger cake so the guests can truly savor the flavors. In this case, a good size would be a four-tier wedding cake at 6, 8, 10 and 14 inches. However, if your cake cutting is merely ceremonial, you can opt for a smaller, three-tier wedding cake at 6, 10 and 16 inches, 9, 12 and 14 inches, or even a two-tier one at 8 and 12 inches (for about 85 people) if you don't really plan on serving cake to all your guests. (via Takes the Cake)
ADVERTISEMENT - CONTINUE READING BELOW
Since this is not an absolute science, it's best to discuss the wisest option with your baker in order to maximize your budget. Other things to consider include your menu (especially if dessert is already included), and your knowledge of your guests' preferences. Check out the infographic below to see how you can cut your cake, depending on your final headcount:
ADVERTISEMENT - CONTINUE READING BELOW
How to decorate a wedding cake
There are many ways to decorate a cake to suit your theme (or you may even opt to barely decorate them, like naked cakes which have become the go-to for rustic weddings). According to Melissa Pedreña-Cardenas of Lovelots Cakes in an interview on Preview, there are three common elements that comprise a wedding cake design: Sugar flowers, couple toppers, and acrylic toppers.
"I always recommend sugar flowers over real flowers. Real flowers undergo chemical treatments that are not food safe. Some advantages of having sugar flowers is that the cake artist can make it for you even when that flower is not locally produced or not in season. They also last very long especially when placed in an airtight container away from humidity," she shared. 
Couple toppers, on the other hand, can be a good way to show off your personality as a couple especially if you're united by a common hobby or passion. Example, if you both like sneakers, you can dress your mini-topper versions with your favorite kicks. You can also make them suit your theme, like this beach-inspired wedding cake:
ADVERTISEMENT - CONTINUE READING BELOW
Anne Curtis and Erwan Heussaff even cemented their roles as furents by including their beloved pets on their cake toppers. (Hi, Pancho!)
ADVERTISEMENT - CONTINUE READING BELOW
Acrylic toppers—which are usually letters that spell out your name, date, or nowadays, even your wedding hashtag—can be another way to go. According to Melissa, this is perfect if you're going for a more classic vibe. "These are usually seen in gold, but now, they are available in a variety of colors. They are also available in wooden finish, too. We usually recommend that they reuse this topper on their first anniversary cake for that total sentimental vibe."
Who pays for the wedding cake
Each country has their own tradition, and a few rules can even get complicated. In some Western cultures for instance, the bride's family traditionally shoulders most of the wedding ceremony and reception expenses, while the groom's side pays for the rehearsal dinner, the alcohol, marriage license and officiant's fees, the bridal bouquet, wedding rings, as well as boutonnieres and gifts for the groomsmen. In the Philippines, the tradition is for the groom's side of the family to shoulder the cost of the wedding, believed by many to signify the supposed capacity of the man to 'provide' for his new family.
ADVERTISEMENT - CONTINUE READING BELOW
Nowadays, however, the common practice is for the couple to pay for their own wedding—yes, this includes the wedding cake—with financial support from the parents (if given willingly). This is ideal especially if you're particular with what you want. On the other hand, if you truly need more help with your budget, and a wedding complete with your family and friends is something your parents would also want, there's no harm in asking your families to pitch in. Just be prepared to make some sacrifices along the way, and try to determine who will shoulder what as early as possible. Trust us, when it comes to wedding planning, you'll need to pick your battles.
Load More Stories