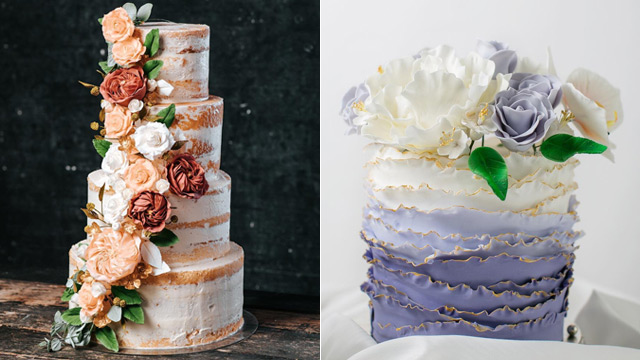 Choosing a wedding cake isn't as challenging as picking your bridal gown or even your wedding invitation, but it deserves your's and your fiancé's full attention, too, especially if cake cutting is a highlight at your wedding. After all, the ceremonious cake-cutting is a big part of Filipino wedding traditions, as it's supposed to symbolize the commitment to provide for one another. This confection can also be the centerpiece of your reception (especially if you want to save a bit on the decor), so you'll want to make it count.  What's even more amazing is that nowadays, aside from the design, you can also customize the ingredients so you can make a wedding cake that's vegan, sugar or gluten-free, and more! 
ADVERTISEMENT - CONTINUE READING BELOW
CONTINUE READING BELOW
Recommended Videos
Before meeting with your cake supplier to delve right into the important details like the cake's flavor, size, and your budget, it would be best to come ready with pegs. Once you go through various wedding cake designs, you'll start to recognize the details that you love—and even the details that you don't. Plus, having pegs will come in handy when describing the look and feel you're going for to your cake supplier. Start with our list of the dreamiest wedding cake inspos below: 
Wedding Cake Designs 
To help you narrow down your peg options, think about your personality, theme, or venue and use it as a guide. Are you hosting a relaxed, garden wedding or a more formal reception in a ballroom? Are you a bold or a "less is more" type of couple? "The cake serves as another puzzle piece in the overall design of your wedding, so make sure it fits in rather than stands out," notes We Take The Cake. 
ADVERTISEMENT - CONTINUE READING BELOW
1. The Naked wedding cake 
Complete a rustic-themed wedding with this modern, undone-looking cake design that looks like it came straight out of Pinterest. Instead of covering up an entire cake with fondant, the cake is partially frosted with icing; the exposed breading resembles carved woods, which give off the rustic vibe. Naked wedding cakes are typically topped off with fresh decorations like plants, florals, and fruits. 
2. Ruffled cake 
Keep your wedding's romantic vibe going even down to your cake with a confection that's wrapped with delicate and edible frills. It'll be one sweet detail in your wedding that deserves a closer look. 
3. One-tiered cake 
While traditional wedding cakes often involve multi-layers, why not show off your modern taste with understated one-tiered cakes? These confections prove that a towering height isn't required to make an impact.  
4. Ombré cake 
Insta-worthy cakes designed with gradient coloring are nothing new, but it still remains to be a fun yet sophisticated choice of cake design today. Choose the same colors as your motif for the ombré design, and your cake will easily fit right in with your reception decorations.  
ADVERTISEMENT - CONTINUE READING BELOW
5. Cakes with 3D Florals 
Cakes decorated with sugar flowers are a classic, but if you want to make a true statement, order from artisan wedding cake makers that specialize in creating more intricate, life-like blooms! 
Get inspired by the floral arrangements, too—cascading florals, for instance, make this wedding cake feel extra elegant. 
6. All-white cakes 
As modern, minimalist weddings have proven, an all-white nuptial is never boring. It's insanely refined and tasteful—and the same goes for all-white cakes! Strategically placed details like florals and ruffles add visual interest to the colorless confection. This is perfect for couples who are leaning towards throwing a classic and traditional wedding but want to still keep the wedding as interesting as possible. 
7. Marble cakes 
Looking for something more unique? Prepare to swoon over a marbelized fondant. The swirled pattern of the stone looks so elegant and modern when incorporated to the classic fondant cake.   
ADVERTISEMENT - CONTINUE READING BELOW
8. Multi-tiered cakes with hints of gold 
Gold foil doesn't only look good on your wedding invites! Metallics make a stunning contrast against soft, dainty hues, and will even help make your cake stand out from afar. 
9. Grey wedding cake 
Grey may seem like a dull and boring color for a cake, but when it's artistically hand-painted on a fondant, it turns out to be a sophisticated pick. Additional details like florals also breathe new life to the monotone hue. 
Wedding Cake Suppliers
Now that you've got a wedding cake design in mind, here are some of the best cake suppliers based in Manila that you can book for your big day: 
Naked Patisserie 
Contact: 0945 468 5141 or naked.patisserie@gmail.com 
As its name suggests, this bridal cake maker has no shortage of rustic, 'naked' wedding cakes that have celebs like Iza Calzado, Kryz Uy, Julia Barretto, and Moira Dela Torre's seal of approval. 
ADVERTISEMENT - CONTINUE READING BELOW
The Delightful Miss Joyce 
Contact: thedelightfulmissjoyce@gmail.com 
Pastry chef and artisan wedding cake designer Joyce Urieta's elegant, minimalist creations will make your heart skip a beat. Mind you, her minimalist cakes are far from boring; Joyce has a knack for strategically adding intricate details to make each wedding cake standout. 
Joy San Gabriel 
Contact: (02) 585 11 07 
When it comes to Joy's wedding cakes, the design isn't only the star of the show but also the flavor. Drop by her booth at a bridal fair, and you'll be surrounded with couples delightfully trying out her unique wedding cake flavors that go far beyond traditional vanilla or carrot (think: mango cheescake, sea salt caramel, and coffee caramel!). 
FN TIP: Instead of getting a single-flavored fondant cake for your big day, consider ordering Joy's three-tier, multi-flavored creation so you and your soon-to-be spouse won't feel umay when indulging in your cake after the celebration. 
ADVERTISEMENT - CONTINUE READING BELOW
Audrey's Pastry Boutique 
Contact: (02) 500 7961
Audrey's Pastry Boutique offers a wider variety of styles; whether you're after a clean, minimalist fondant or a meticulously-designed floral confection, they can do both! 
Cakes By Mannix 
Contact: 0915 293 9900 
Mannix Peña's creations are anything but simple; each cake is elaborately but tastefully detailed with blooms, ruffles, and such.  
Piece of Cake By Yumi Castrillo 
Contact: 0917 805 4063
Creating life-like blooms is Yumi Castrillo's expertise, so you can't go wrong with booking her if a romantic, floral wedding cake is what you're after. 
Comments
Load More Stories