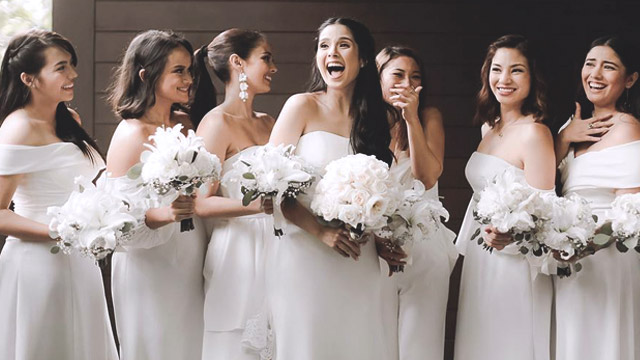 More and more couples have been getting hitched on their own terms, either breaking or rewriting long-honored rules to make their wedding feel more uniquely theirs. Remember when Chynna Ortaleza and Kean Cipriano hosted an all-black wedding? Recently, we've also noticed the growing popularity of another rule-breaking trend: All-white weddings! 
ADVERTISEMENT - CONTINUE READING BELOW
CONTINUE READING BELOW
Recommended Videos
Often, wearing white to a wedding is considered a major faux pas as it tends to "upstage" the bride. But times have changed, and as modern brides like Kim Kardashian and Maxene Magalona have shown us, all-white weddings are too breathtakingly beautiful to cross off your options. Forget age-old beliefs—surrounding yourself with your nearest and dearest who are all clad in the pure color gives the wedding scene a refreshingly modern, ethereal, and most importantly, unified feel. You are, after all, celebrating your union with everyone in that room. 
Additionally, letting your bridesmaids (or even guests) rock the bridal hue doesn't necessarily mean you'd totally blend in with the pack, too. If you're all matching in terms of color, you can still subtly set yourself apart by playing up the other little details of your dress. For proof, here are a bunch of ways you can do so:
ADVERTISEMENT - CONTINUE READING BELOW
Fabric 
Yourself and your ladies may all be decked out in crisp whites, but a simple contrast in texture can help yours standout. Think: Contrasting a tulle ball gown with sleek, neoprene bridesmaid dresses. Or, take inspiration from how Martine Cajucom did it—she opted for white silk bridesmaid dresses that beautifully complemented (and contrasted) her frothy ball gown by Rosa Clara. 
Shade 
White comes in a variety of shades, from stark white and ivory, to cream. The colors may not seem too different from each other, but rocking a distinct shade of white can help distinguish your bridal gown from the pack (especially when you're posing side-by-side for your wedding photos!). 
Length
Hemlines make a world of difference. As most bridal gowns are often floor-length, you may also consider opting for ankle- or knee-length bridesmaid dresses to allow for some sweet distinction. More than that, shorter dresses come with a slew of perks; your ladies can re-wear these frocks on multiple occasions and the comfortable length makes it easy for them to move around, especially when the wedding is set outdoors. 
ADVERTISEMENT - CONTINUE READING BELOW
This can also be a cute way to highlight the shoes of your entourage should you opt for matching or coordinated styles. (You may even opt to give them white shoes for your thank you gifts to hit two birds with one stone!)
Design 
Play up the neckline or silhouette to really stand out! If you're dressed up in a high neck bridal gown, off-shoulder or spaghetti strapped-entourage dresses will complement that, and vice-versa. Or, you can skip the popular mix-and-match style and have your BFFs wear matching dresses instead, so that yours clearly shines through. 
Bridesmaid dresses aside, here are a few things worth taking note of to pull off an all-white wedding:
1. Flowers are your biggest accessory

Perhaps, one of the most challenging parts of throwing an all-white wedding is keeping the entire venue from appearing flat and washed out. The solution? Play around with as much textures as needed. Start with fresh white blooms in various shades and textures to dress up and bring life to the elegant space. 
ADVERTISEMENT - CONTINUE READING BELOW
Baby's Breath 
Boost the ethereal vibes of your all-white nuptial by filling up the space with clusters of baby's breath, a delicate, airy and cloud-like floral. 
Take cues from Martine who also opted for baby's breaths for her bridesmaids' bouquets—and even hair accessory!
Lily of the valley 
Normally paired with Baby's Breath, lily of the valley flowers are characterized by dainty, bell-shaped blooms—a.k.a. a dreamy touch to your white space (and your bouquet)! 
For proof, take Korean actress Song Hye Kyo who looked like a dream in her dainty dress that's complemented with a bouquet of Lily of the Valley. Known as one of the most expensive flowers in the world, the bouquet reportedly costs more than her wedding ring, with its price tag amounting to $9,000 (P463,000), according to Cosmo.ph. (Luckily, it was reported that it was a gift from a friend.)
Locally, Dra. Vicki Belo also carried a similar bouquet filled with nothing but the tiny, delicate blooms: 
ADVERTISEMENT - CONTINUE READING BELOW
Orchids 
Simple and refined but powerful in presence, orchids are ideal for the minimalist brides who want to take the 'less is more' approach to floral decorations. 
Tulips and Calla Lillie 
Take your all-white wedding reception up a notch with towering floral arrangements. Classic tulips and calla lillies are perfect for that with their long, distinct, statement-making forms. 
Delphinium 
Ceilings that are too high up can make the venue feel quite bare; these hanging flowers are normally used to dress it up and make the space feel more intimate. Plus, it also helps bring the outdoors in if ever your garden-themed reception will be held in a ballroom. 
Bonus: Mixing up your white blooms with foliages not only make a great contrast to the all-white scene, but they also add a rustic, earthy feel to the overall setup. 
2. Dress up your ceremony venue with covered chairs and white red carpet to look extra-dreamy as you walk along that aisle
ADVERTISEMENT - CONTINUE READING BELOW
3. Go for textured white cakes
When intricately detailed with ruffles, florals, or rough frostings, colorless wedding cakes can beautifully make a statement, so don't think twice about adding an all-white wedding confection to your reception. 
4. Add subtle accent colors 
Every single detail doesn't have to be white. You can also throw in some decors in muted hues like lavender or pale pink that won't totally distract from your pristine color palette. 
Alternatives to an all-white wedding motif 
If you're still a little iffy about going all-white for your big day, you can still achieve a similar clean and refined feel with these soft color palettes below: 
1. Shades of blue and white 
This color palette is easy on the eyes. And as seen on Coleen Garcia and Billy Crawford's nuptials, it's perfect for oceanside weddings, as the serene hues complement both the sea and the sky! 
2. White and gold 
ADVERTISEMENT - CONTINUE READING BELOW
Here's a theme for the couples who literally want to shine on their big day. The metallic shade stunningly pops against a white backdrop! 
3. Pastels pink and purple, and white
This dainty combination looks just as immaculate as a pure white motif. 
4. All-neutrals
If a refined, rustic vibe is what you're after, this color theme surely fits the bill. A mix of golds, tans, and whites add warmth to a space, making it feel cozy, relaxed, and all the more inviting for the guests. 
Comments
Load More Stories