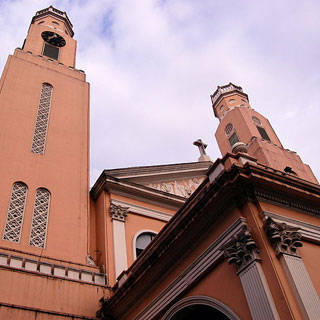 Tying the knot isn't just about picking the perfect wedding dress, selecting the best menu and music or being surrounded by the most beautiful flowers you've ever seen; it's also a lot of hard work, especially when it comes to preparing for your church wedding--requirements, guidelines and all. And as they say, knowing is already half the battle. So read on for a smooth church bound journey.
General church wedding requirements include submission of baptismal and confirmation certificates of both the bride and groom, marriage banns, marriage license, attendance to a pre-Cana seminar and a canonical interview. Some churches, however, will make brides and grooms-to-be go the extra mile with their not-so-usual requirements--below are just some of them:
Additional Marriage Banns
Most soon to wed couples know that marriage banns have to be submitted to their respective parishes, but other churches, like the Shrine of St. Therese, will require you to submit marriage banns even in the church where the bride and groom were baptized--so that's two additional banns on top of the normal. It doesn't seem that difficult, but if you were baptized in a faraway province, then that would mean additional legwork.
ADVERTISEMENT - CONTINUE READING BELOW
ID Photos of You and Your Groom
Your upcoming nuptials will be announced at the parish three weeks before the wedding, and to accompany the banns, the church might request for 1" x 1" or 2" x 2" identification photos of you and your groom. With the photos, parishioners can easily identify you, strengthening the purpose of the marriage banns.

Age Minimum for Young Entourage Members
Churches are now getting stricter when it comes to young attendants too--some churches impose a minimum age requirement for flower girls and bearers. Young members of the entourage should be five years old or older (and hopefully they'll be easier to pacify during the ceremony). There's a logical reason behind this ruling: some churches just want to make sure that the young entourage members can walk down the aisle unassisted.
Restrictions on Ceremony Décor and Favors
Some churches host one wedding after another, and that would mean there can be little time for clean-up in between weddings. In the popular wedding church, Sanctuario de San Antonio, flower girls aren't allowed to shower the aisle with flower petals, since that would mean additional maintenance for the next group who'll use the church. If you want your exit to have that stylish flair, you can instead opt to have your guests wave wishing wands as you and your groom emerge from the church.
ADVERTISEMENT - CONTINUE READING BELOW
Reservation Requirements
Some churches want to set their expectations with you prior to the big day. You have to be prepared to comply with their reservation requirements--some churches ask couples who want to book their wedding to attend the orientation on wedding rules and regulation first before they can finalize their reservation.
There's one church that requires non-parishioners who want to get married there to hold their reception in their own café. Some couples might find this requirement very restricting, especially since it's supposedly the couple's day.
Additional Requirements for Foreigners
It gets even more complicated if you're a Filipino and you're marrying a foreigner. The non-Filipino bride or groom has to submit a certificate of Legal Capacity to Marry, which they can obtain from their embassy. The form for this has to be filled out by someone who has known the bride or groom for a long time, and then the paper has to be notarized. If your soon-to-be husband or wife is a foreigner, better get a head start on your nuptial church's requirements.
ADVERTISEMENT - CONTINUE READING BELOW
Copy of the Wedding Invitation
Some churches just want to make sure that you'll be really pushing through with the wedding on the date you've reserved, and so they might ask for a copy of the wedding invitation when they're available. The invites will be part of their church files.

The requirements for church weddings really vary, so it's essential for you soon-to-weds to visit your chosen nuptial church as soon as you've set the date. This will give you and your betrothed ample time to prepare not only for your date at the altar, but for the paperwork and legwork that come with it. And as in all aspect of marriage preparation, the two of you shouldn't lose your cool. Just enjoy each other's company and every bit of the journey--stress, effort, fruits of your labor and all. Come your wedding day, everything will be worth it.
ADVERTISEMENT - CONTINUE READING BELOW
You might also want to check:
Comments
Load More Stories