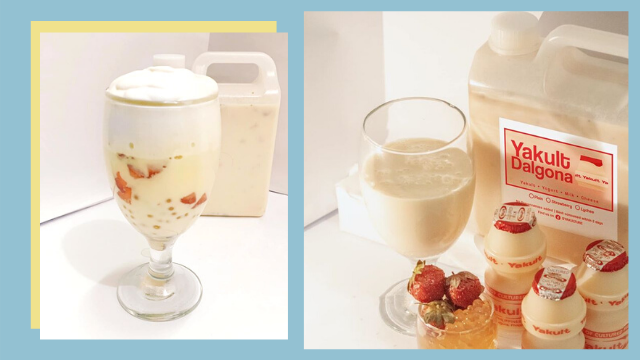 Yakult has been capturing the hearts and tastebuds of people for many years now. People love the drink so much that when Luzon was placed under quarantine, supermarkets had to limit the purchase of Yakult because stocks were running out fast. Through the years, the sweet and tangy yogurt drink has evolved into different—but equally delectable—forms, such as ice cream, iced tea, and soju.
ADVERTISEMENT - CONTINUE READING BELOW
Love for the drink coupled with the right timing led entrepreneurs Shenna Mariano and Bryan Consignado to start their business, Kulture Diversity. Launched on May 2, 2020, Kulture Diversity offers Yakult-flavored dalgonas (a thick and creamy beverage) in one-liter containers.
CONTINUE READING BELOW
Recommended Videos
PEP.ph interviewed Shenna, or "Shi" as people call her, via Facebook Messenger on May 14, 2020. She and her boyfriend Bryan began planning their business in late February 2020, a month before the quarantine was implemented in the country.
ADVERTISEMENT - CONTINUE READING BELOW
She said, "Kulture Diversity actually started with the idea of making something out of Yakult because my boyfriend and I would mix it in almost all of our drinks. Our business was supposed to be launched in June this year, after the enhanced community quarantine. But because of the unexpected idle time, we decided to launch it earlier than planned. I realized, we already have our resources right now, so we might as well try to create the drink."
Preparing for Kulture Diversity's launch
The couple had been dreaming of starting a small business since they were in college.

When Shi graduated in 2018, a year after Bryan did, they made sure to regularly save a portion of their salary for their plans and necessities.

Shi detailed, "We started saving for our planned small businesses since I graduated from college last June 2018. Our allotted savings from our salary per cut-off was PHP2,000 to PHP2,500." As smart savers and investors, Shi and Bryan kept their capital for Kulture Diversity at a minimum. Our capital was only above PHP10,000. It was the last spare money we got from our latest cut-off, apart from our savings."

ADVERTISEMENT - CONTINUE READING BELOW

To keep their budget intact, the couple tapped their connections and made use of their own resourcefulness. "Since my partner works in the retail industry, he is associated with suppliers who can deliver to us. And if we experience a sudden shortage, there's Grab naman to deliver the suppliers' goods to us."

KULTURE DIVERSITY'S SUCCESSFUL LAUNCH

ADVERTISEMENT - CONTINUE READING BELOW

On May 2, Shi and Bryan launched their business on Facebook. While most businesses are at a standstill during this pandemic, Kulture Diversity is turning out to be a success.

"Two weeks have passed and we were really loaded with orders!" Shi beamed. They have been receiving orders on a daily basis, but because they "are on a made-to-order basis," the couple "decided to schedule the deliveries every other day."

She continued, "Also, we currently have a weekly reorder of 35 to 80 pieces from a reseller, which we weren't expecting because we are just on the initial stage of our business. The reseller has assured us of her credibility because she properly handles our Yakult dalgonas."

The pricing varies on the flavor, for Plain Yakult Cheese, PHP220; for Lychee Yakult Cream, PHP230; for Stawberry Yakult Cheesecake, PHP250.

Aside from the fact that there are countless of Yakult addicts in the Philippines, the couple credits their early triumph to trusting themselves and one another.

ADVERTISEMENT - CONTINUE READING BELOW

"Sometimes, two heads are better than one," Shi said. "But, it is still important to believe in yourself. If you know well enough that your ideas are rooted in your passion, go ahead and do it."
Load More Stories