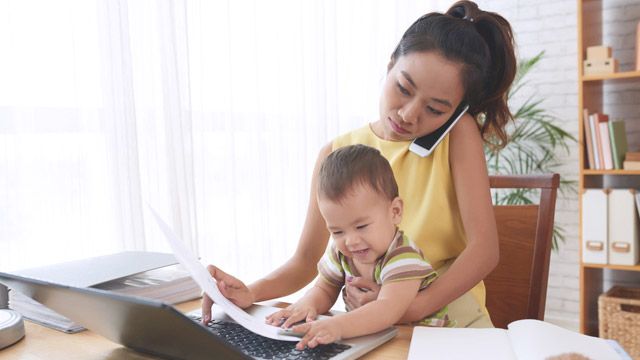 Some moms would drop everything, including a blossoming career, after having kids. For other moms, however, the choice isn't easy. A one-parent-income family today might have difficulty making ends meet, so she decides to work. But it's so difficult to find good, reliable, and trustworthy help these days that often, she has no choice but to stay at home. 
Some moms, though, feel that a stay-at-home life isn't for them. As evidenced by the number of comments on Doug and Chesca Kramer's controversial post about their own family setup, many moms strongly feel that they can bring something else to the table other than caring for the kids or managing a home.
The study, published in the Journal of Family and Economic Issues, evaluated 2,000 moms, which were divided into four groups based on their work outside the home duties, and if they loved where they are at the moment. Unsurprisingly, those who voluntarily stayed home and those who worked outside the home of their own volition scored higher satisfaction levels and were the most psychologically healthy. 
ADVERTISEMENT - CONTINUE READING BELOW
Also unsurprising is that moms who are working or staying home but preferred the opposite were the unhappiest. But the moms who stayed at home but who preferred to work particularly had the lowest satisfaction and personal fulfillment levels and highest levels of loneliness and emptiness. These mothers even reported to having more difficulty adjusting to having kids and having feelings of rejection towards their kids.
"Our findings essentially showed that for women who wished to work but couldn't because of child care issues, there seemed to be great costs to the women's mental health. And as we know well, when mom isn't happy, nor are those whom they tend," wrote Suniya Luthar, Ph.D., of the Arizona State University and a co-author of the study, on Psychology Today. 
American moms who participated in the study voiced out that they wanted equal pay between fathers and mothers who work, as well as affordable childcare—as do Pinay moms also. We, too, wish for affordable childcare, a trusty yaya or household help, and better benefits for working new mothers (and dads, too!). Many Filipino moms also want to contribute to the family, and not just through traditional ways. 
However, in our culture, moms who feel this way are often judged and branded as ungrateful, or accused of belittling moms who stay home. Moms who chose to stay home and "submit" to their husbands are also labeled "sayang" or enslaved, by our patriarchal society.
The study says women are happiest when they are able to do what they want, whether that's staying home, or working and continuing their career.
That's what each woman or mom should strive for—to do what she wants and what she thinks is best for their family—without the fear of being judged for their choices.
ADVERTISEMENT - CONTINUE READING BELOW
Besides, if a woman isn't happy where she is, she should do something about it, and her husband should be able to support her. "Happy wife, happy life" after all.
This story originally appeared on Smartparenting.com.ph.
* Minor edits have been made by the Femalenetwork.com editors.
Comments
Load More Stories