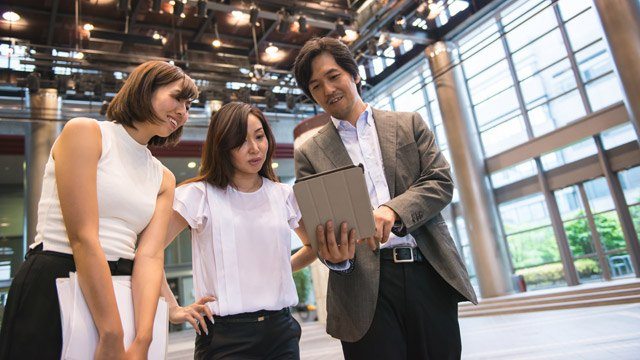 There will always be companies that are a cut above the rest; those that go beyond profit in order to invest in their employees, managing talent and building lives in the process. These institutions were recently revealed by Jobstreet.com.ph in their Top 10 Companies for 2017 list, which is based on data collated from 3,658 survey results provided by job seekers and currently employed Filipinos.
ADVERTISEMENT - CONTINUE READING BELOW
CONTINUE READING BELOW
Recommended Videos
First on the list is Meralco, which has also become the first utilities firm to get into the top 10. Food and beverage conglomerate San Miguel Corporation follows as the second most preferred employer in the country. Google Philippines comes in third due to its solid multinational status. Nestlé Philippines and Accenture Philippines are at fourth and fifth. BDO Unibank, Procter & Gamble, ABS-CBN, PLDT, and Unilever fill in the sixth to tenth places consecutively.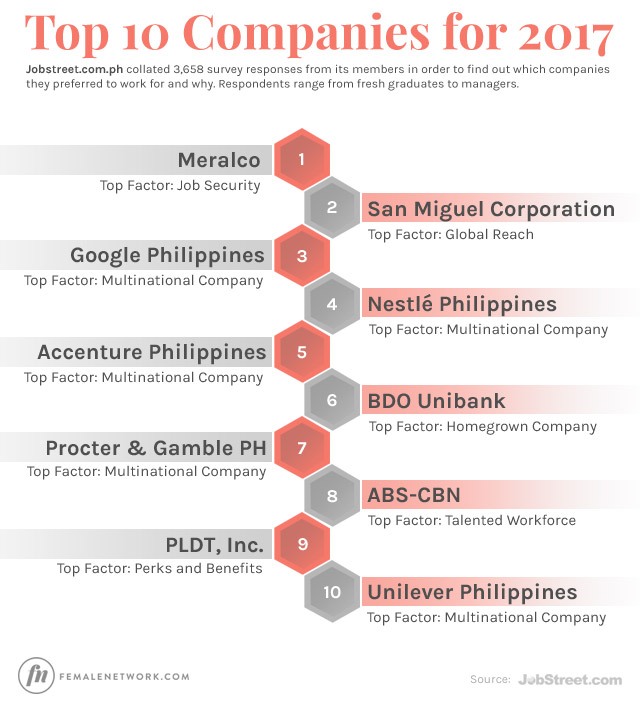 ADVERTISEMENT - CONTINUE READING BELOW
Additionally, survey results revealed that while Filipinos value job security over everything else, they also wish to have careers that offer them enough opportunities to get promoted and to grow as individuals. They also give huge importance to superior perks and benefits, and are open to corporate training. Lastly, Filipinos value excellent management and leadership, as these can help them grow their careers with the proper work-life balance.
Compared to previous years when Filipino employees put top premium on benefits (Jobstreet.com.ph 2015 survey) and a competitive basic salary (Jobstreet.com.ph 2016 survey), they now focus more on long term achievements and continuous self-development. And while not everyone is in the company they wish they were in, data shows that job seekers are willing to invest in good institutions, which can actually bode well for businesses and the workforce.
If you're planning to finally shift into that career you want in the company you've always dreamt of working for, don't fret—it's never too late to make the change. Here are simple ways on how you can up your chances of getting accepted:
ADVERTISEMENT - CONTINUE READING BELOW
Gain experience.
More than just beefing up the aesthetics of your resume, you need to have something solid to put in it if you want to get noticed. It doesn't matter if these experiences are raket or side hustles—what's important is that you've done your share of training which means that the company you'd want to work for won't spend so much time teaching you the ropes. Time is money, after all.
Accept freelance jobs from your dream company.
If you're into gaining experience, what better way to get one foot in your dream company than to work for them on the side? Doing so helps you build your resume, your skills, and your relationships with people with whom you want to build your career. Most importantly, you'll be top-of-mind once a job opening comes along.
Be assertive, but amiable.
Don't be afraid to directly contact the company you wish to work for. Whether it's through cold calling or via email, you can relay your intention of offering your services as long as you do so professionally and politely. In fact, you can even head on to sites such as LinkedIn, search for the HR personnel of the institution of your choice, and just shoot them a message. Who knows? Maybe a bit of proactiveness can get you exactly what you want.
ADVERTISEMENT - CONTINUE READING BELOW
Additional source: The Muse
Comments
Load More Stories