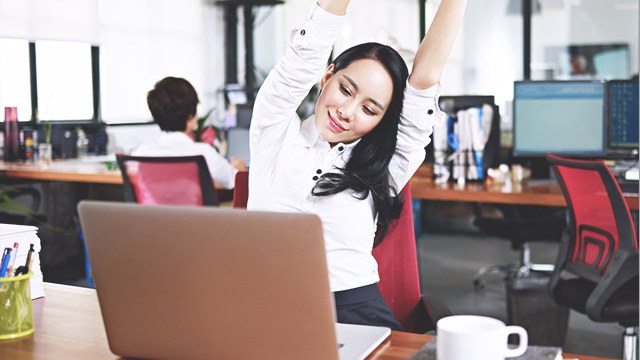 Congratulations! Your three-year work anniversary is coming up soon. By now, you've already accomplished so much! You've built a steady relationship with your team, streamlined all work processes and may have even enjoyed a salary increase and performance bonuses. But while enjoying the perks of a stable job is certainly not a crime, always remember that getting too comfortable could also stunt your growth. So the question is, after these three whole years of hard work... what's next?
ADVERTISEMENT - CONTINUE READING BELOW
Here's how to decide what your next steps should be as you celebrate this career milestone:
1. "Where will I be in three more years?"
If you ask your boss about your future in the company, and she doesn't have a clear vision as to what the next stage is for you, then it might be time to rethink your place. By this point in your career, the stakes are higher as you invest more time and effort into your work. Make sure your job can still provide new experiences and opportunities to grow. "As a younger person, you might want to move often to gain experience of a different companies," says Nigel Parslow, UK managing director of Harvey Nash Executive Search. "But when you're a bit older, sticking around longer might make better sense." To help ensure that you achieve your long-term goals, build the skills necessary to advance your career and start applying them at work. Remember, it's one thing to stay good at your job, but another to show that you're capable of more. "In your twenties, you tend to gain technical knowledge, while in your thirties, we build management skills," writes Rhymer Ribgby on The Telegraph.
2. "Could I be getting paid more somewhere else?"
"I would often see resumes that only had a few years at each company. I found that the people who had switched companies usually commanded a higher salary," says Bethany Devine, a Senior Hiring Manager in Silicon Valley. "The problem with staying at a company forever is you start with a base salary and usually annual raises are based on a percentage of your current salary. There is often a limit to how high your manager can bump you up since it's based on a percentage of your current salary. However, if you move to another company, you start fresh and can usually command a higher base salary to hire you."
Remember that you don't always have to look for an opportunity outside the company. If there's a position you think you're qualified for, it wouldn't hurt to take the plunge and apply. Sometimes the only thing standing between you and a promotion is your fear of rejection.
ADVERTISEMENT - CONTINUE READING BELOW
3. "Am I proud of the work I do?"
At the end of the day, there are many ways to define success. If you find fulfillment in what you do, don't hestitate to continue doing good work. Just remember to keep things fresh, and that proper work-life balance will ensure that you don't get burnt out while you pursue your passions.
On the other hand, if you find that you are truly unsatisfied where you are, then explore career opportunities outside your current company. While you may think that it will look bad on your resume to change jobs after three years, remember that work culture is different now. Fast Company reports that "job hoppers are believed to have a higher learning curve, be higher performers, and even to be more loyal." So go ahead and make your own path. You work will speak for itself.
Load More Stories