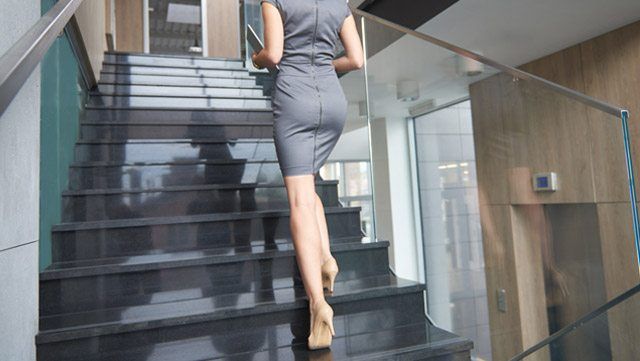 The subconscious is a funny thing. It pushes you to perceive people in a certain light based on social and personal biases. Add that to how first impressions matter in the workplace, and you've got a lot of personal judgment going on.
A study published on PLOS One and featured on Business Insider reveals that one factor that people are judged with is physical appearance based on what society deems to be "beautiful." This phenomenon, which is called "the halo effect" causes everyone to conclude that those who are visually appealing have intrinsically positive personalities: they're seen as more intelligent and more responsible than the rest, even without actual evidence.
CONTINUE READING BELOW
Recommended Videos
ADVERTISEMENT - CONTINUE READING BELOW
Height is also one thing that the subconscious factors in when picking leaders. Taller people are seen as more dominant, and for women, height gives "higher perceived intelligence." As the study notes: "Taller men and women run for positions of leadership more frequently, and are more likely to be selected to leadership positions within the business world. Taller men and women are also more dominant and assertive and less anxious."
It's not easy to work around these biases, especially since they all happen to everyone subconsciously. In fact, you may have subscribed to these at some point as well. But being on the opposite end of the spectrum and feeling that you're being judged and belittled without cause can be disheartening, especially when you know that how tall you are or how pretty your face is should never matter in or outside the workplace.
Don't be discouraged and face these biases head-on. Here are a few subtle ways you can deal with them and make them work for you:
ADVERTISEMENT - CONTINUE READING BELOW
Don't try to prove yourself to anyone.
There's a reason why you're placed in your current position, and it isn't something that you should have to explain to anyone. Instead of trying to prove yourself to those who doubt you, prove how much you're really capable of to yourself. The only challenger worth facing is the one you see daily on the mirror, so just keep surpassing your previous accomplishments, and others will eventually respect you for it.
Don't let the negativity of others affect you.
You will always have your share of critics and haters, especially if you're doing good at work. Don't let their nastiness make you feel bad, and don't let them feel good about themselves at your expense. As Dory said in Finding Nemo, "Just keep swimming!" Ignore the bad vibes and just keep on doing you.
ADVERTISEMENT - CONTINUE READING BELOW
Sift through all the noise.
You'll get hurtful comments from time to time, but instead of feeling bad about them, pick up those that you can use to improve yourself. Constructive criticism, even those wrapped in negativity, can be a good wakeup call for you if you're starting to get complacent. Learn to differentiate them from useless noise, and use the feedback to improve.
Let what others pull you down with, lift you up.
Tyrion Lannister said in Game of Thrones: "Never forget what you are, the rest of the world will not. Wear it like armor and it can never be used to hurt you." Make what others perceive to be your weakness your strength. Own your greatness and your flaws. Whatever others say about you, use it to your advantage until they become the very things that will propel you towards success.
Comments
Load More Stories