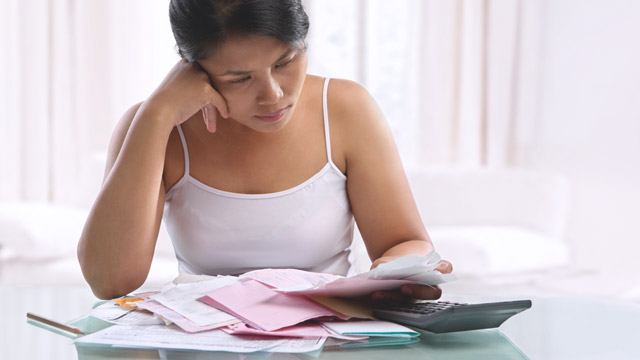 In your 30s, you've already formed some good and bad habits related to different aspects of your life that can (and will) have repercussions in years to come. Spending habits are no exception.
You have a stable career, which gives you a steady source of money to spend. But are you letting go of your cash correctly? Do you have the right attitude towards money?  Are you saving and investing enough for the future? Since your thoughts and habits have a huge impact down the road, here are a few bad money habits that you need to break.
CONTINUE READING BELOW
Recommended Videos
ADVERTISEMENT - CONTINUE READING BELOW
1. Spending more on wants than needs.
Your spending can be divided into two: needs and wants. Needs are necessary for survival such as food, shelter and security. Wants, on the other hand, are considered luxuries. Although you need food, do we really need to eat at that fancy restaurant weekly? Although you need a place to stay during out-of-town trips, do you really need to book a room at that 5-star hotel you only intend to sleep and not stay in?
Being able to indulge in wants once in a while is okay, but overindulging can have an impact on your future finances. Let's take a look at coffee. Coffee is a staple for most adults.  A cup of branded coffee on average can cost around P150. It might not seem a lot each day but if we compute our spending on branded coffee every day for the next ten years with an average inflation rate of 3%, it results in a significant amount of money that can be invested for more substantial returns.
ADVERTISEMENT - CONTINUE READING BELOW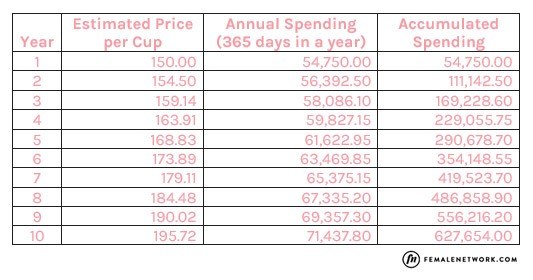 Think twice before regularly spending this much on your cups of joe.
2. Spending beyond your means.
A credit card is a blessing because it allows you to delay paying for your purchases for at least a month. It also allows ease in transacting because you don't need to carry cash all the time. However, it also gives you the opportunity to spend beyond your means. For example, a credit card can give you a monthly credit limit of P50,000, but you only earn P30,000 a month. You don't really feel the effect of your overspending until you get our monthly billing.
ADVERTISEMENT - CONTINUE READING BELOW
To control spending, you can either ask the bank to reduce your credit limit, or simply limit using credit cards for certain expenses such as purchasing gadgets on installment or booking a flight online. Stay on top of your spending by setting a monthly budget for needs and wants and allocating an amount for savings and investment.
3. Paying the minimum on your credit card balance.
Banks give you an option to pay your credit card bills in full or pay the minimum balance. Paying the minimum balance might seem like the best option since you're setting aside our cash for your other dues, but this may have huge financial repercussions.
When you fail to pay the full balance, the remaining balance will incur interest of around 3% a month (this may vary depending on the credit card). Below is a simplified computation of interest incurred in a year given the following assumptions:
ADVERTISEMENT - CONTINUE READING BELOW
Purchase: P20,000
Interest: 3% per month applied to ending balance instead of average daily balance
Payment made monthly: 5% minimum payment + interest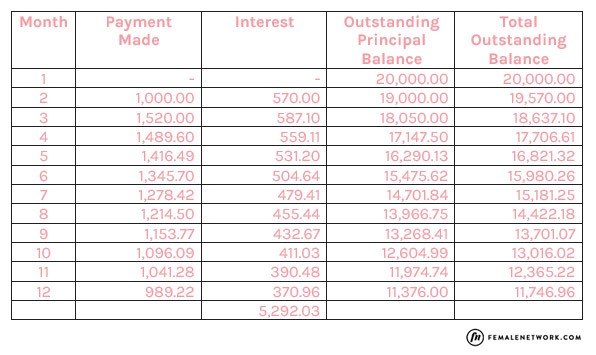 4. Paying late.
Your salary can't come early enough but in paying our obligations, you normally delay it until the last minute. It's actually a strategy to stretch your funds. What you don't realize is you are putting yourself at risk of incurring more costs. When you delay payments like utilities, you could end up incurring interest and penalties. Worse, you can end up with the service cut and having to pay the amount due in full, plus a reconnection fee ranging from P100 to P 8,500. Usually, this has to be done directly at the office of the service provider rather than at collection agencies.
ADVERTISEMENT - CONTINUE READING BELOW
In addition, it's also possible for you to accumulate a bad reputation if you continue paying late. It doesn't leave any room to ask for favors like discounts, extension of terms or increases in limits.
Schedule payments at least one day before the due date. You can be on top of these deadlines by setting alarms on your mobile phone.  If the due date falls far from your payday, you'll need to set aside a part of your salary for recurring bills before you spend for any wants.
* Pamela Lloren is a Certified Public Accountant and is currently teaching accounting and finance subjects at the University of the Philippines.
Comments
Load More Stories