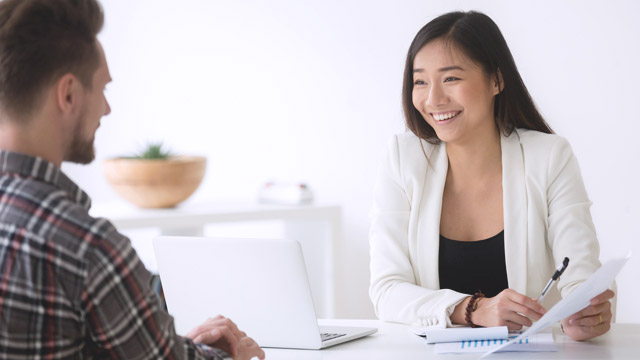 Just as it's easy for you to send your resume online, so is it quicker for companies to filter who'll they consider. A lot of institutions—probably even the one you're applying for—can now pre-pick possible hires through a software system called the Applicant Tracking System (ATS). The ATS works by detecting certain keywords (provided by the company) that should be in your resume. If your application has those words, then you'll move on to the next step: a face-to-face interview with the HR.
ADVERTISEMENT - CONTINUE READING BELOW
In a news bulletin, JobStreet.com shared 10 possible words that your resume needs to beat the ATS robots. They are the following:
1. Organized
"Your leadership skills will shine with this word," says JobStreet.com "This indicates that you have the necessary temperament and skills to lead a team to success. Other than your leadership chops, this can also give credence to your team player claims in your resume."
2. Introduced
Instead of using the word "innovated" JobStreet.com suggests that you should use the word "introduced" as a replacement. "It is a bit weaker than innovated but a lot more believable," they add.
3. Redesigned
According to the recruitment website, the word "redesigned" shows that you have leadership skills and that you are willing to change something that doesn't work.
4. Strengthened
"A word like this generally denotes adding something to the existing structure instead of entirely changing it," JobStreet.com shares. "This also indicates that while you're prepared to innovate and such, you're not one to mindlessly raze everything to the ground. Why reinvent the wheel when you can strengthen it?"
5. Directed
The word "directed" sounds stronger than the cliché word "handled." This means that you're willing to do more than your share of work for the sake of achieving success as well.
6. Increased
Don't forget to back this word up with numbers and data during the interview!
7. Spearheaded
The word "spearheaded" should be put in replacement of the words "helped" and "assisted" in your resume. "Spearheaded" makes you sound more like a leader, and not just a mere participant in a project.
8. Committed
Prove to the company you're eyeing that you're in it for the long haul by using this word. This also shows that you'll finish whatever work or project will be assigned to you.
9. Awarded
Of course, who doesn't want an outstanding performer in their company? "Including the word 'awarded' indicates that you have accomplished more than what was required of you, thus the recognition," advises JobStreet.com.
ADVERTISEMENT - CONTINUE READING BELOW
10. Credited
Another recognition word that you should add is "credited." JobStreet.com explains: "This can be used when talking about company ideas or policies that proved immensely helpful when implemented. 'Credited for the imposition of a company-wide upgrade of…' or 'Credited for the decrease in turnovers…'" 
FYI: Not all words should be used, of course! Be honest with your job experiences!
This story originally appeared on FHM.com.ph
*Minor edits have been made by FemaleNetwork.com editors.
Load More Stories