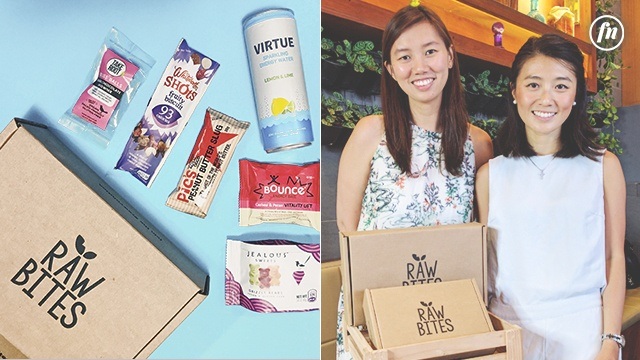 It's not easy to set a business up (especially in the Philippines), but sometimes, you just need to be with the right friend and partner to get things going.
For 31-year old Pinays Gail Go and Jane Dee, it was their solid friendship, work attitude, and unchanging resiliency that got Raw Bites on  its feet. Raw Bites is the country's first healthy snack subscription box, which offers its clients alternatives to the usual junk food. Each box contains a mix of local and international products shipped from the UK, Australia, and New Zealand.
ADVERTISEMENT - CONTINUE READING BELOW
CONTINUE READING BELOW
Recommended Videos
Gail, who previously worked in food retail while she was based in the UK, used her expertise in sourcing good brands that can uphold their standards. She explained that while there were a lot of subscription diet meals in the country, nobody seemed to be dealing with what people ate in between hours.
"[We'd like] Filipinos [to] unbox their health…" Gail said during their recent launch. "Every month, you receive a box of healthy snacks. It can range from eight snacks to 15 snacks depending on what subscription you get. The flavors and the brands will change every month, so there's an element of surprise to it. And we also partner with local fitness centers so every [customer] will also receive a voucher… Every month there's also that element of exercise."
ADVERTISEMENT - CONTINUE READING BELOW
While it took over a year of planning, Raw Bites only recently got things going smoothly, partly through the technical know-how of Jane, who used her web developing skills to stabilize the company's website.
But their online presence wasn't the hardest hurdle they had to jump over—it was getting everything legally going.
"For me, [the hardest thing] was the regulatory part," said Jane. "It was our first time to deal with it—what requirements we need[ed] to submit… [And] finding suppliers, 'cause every month, [the box] has different items, so imagine how many different suppliers we have to source out throughout the entire year."
They haven't even gotten far when the two friends hit a snag with the Food and Drug Administration (FDA) and their first product got denied.
"It was so hard working with the Regulatory," Gail admitted. "Initially when we first got our denial for the first product, we were so heartbroken. That was the first product! We were like—'Oh no, [what if] everything got denied! There's no business!'"
"You're like, 'Why? We don't understand,'" said Jane. The two women had extensively prepared to present their case by reading legal documents and administrative orders on imported products, that the memory of their first FDA denial still garnered disbelief.
"But we kept on going," shared Gail. "We kept on pushing, and then, eventually, they all got approved… It's sounds cheesy, but keep on trying for things [you] believe in. Don't just give up."
"And I'm proud of this," Jane added. "We also don't deal with any red tape."
ADVERTISEMENT - CONTINUE READING BELOW
While becoming a local entrepreneur might not be a walk in the park, Gail suggested that it's always a good thing to follow your passion while keeping in mind the risks that may arise from it.
"If you're scared, then balance it out. If you don't want to leave your job, then don't leave your job, but make sure that you make time for your passion, like do it in the evenings, do it in the weekends. 'Cause that's what entrepreneurship is. We don't have a nine-to-five job. We work almost 24/7. And we're okay with that. We accepted that kind of lifestyle, so if you're scared, it's fine. Do split first, then depending on where you see yourself leaning towards, then maybe, if you're hobby or your passion is making more money than your corporate job, then jump boats! But at least you balance your risk."
ADVERTISEMENT - CONTINUE READING BELOW
And if the whole project doesn't work out, Gail and Jane assured each other that they would definitely still remain friends.
Comments
Load More Stories