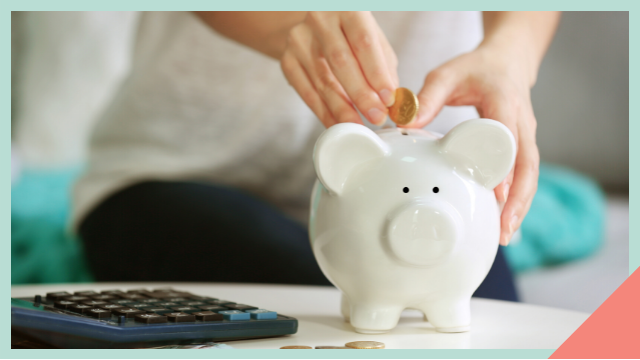 Are you looking for ways to increase your savings but you're still hesitant to dive into high-risk schemes? You might want to explore what the Modified Pag-IBIG 2 (MP2) Savings Program can do for you. 
ADVERTISEMENT - CONTINUE READING BELOW
The MP2 Savings is a government-backed savings platform that typically offers low risk yet considerably high returns for its investors. For the past couple of years, the Pag-IBIG fund has had an impressive performance in the market. In 2019 alone, the total savings collected by the MP2 Program has skyrocketed to 176%, making it a popular option among potential investors.
In this article, we'll guide you through what the MP2 Savings is and how it can be helpful for your investment goals. 
What is Pag-IBIG MP2 Savings? 
The Pag-IBIG MP2 Savings is a special savings facility that offers a five-year maturity. According to Pag-IBIG Fund, it's being offered to their members who "wish to save more and earn even higher dividends, in addition to their Pag-IBIG Regular Savings." 
Pag-IBIG invests at least 70% of its investible funds in housing finance, as well as government securities and corporate bonds. 
Reasons to invest in the Pag-IBIG MP2 Savings
The minimum amount you can save monthly in your MP2 Savings is P500. There is also no limit to how much money you want to save. 
The program doesn't impose penalties for missed contributions.
The MP2 Savings also offers a great safety net for your deposit since it's sanctioned by the Philippine government. You will also receive dividends from the program without yearly tax deductions. 
ADVERTISEMENT - CONTINUE READING BELOW
Recommended Videos
Who can apply for Pag-IBIG MP2 Savings? 
Any active Pag-IBIG Fund member is eligible to save under the MP2. Former Pag-IBIG Fund members with other sources of income, including those who are receiving monthly pensions, are also eligible, provided that they have 24 months of monthly savings before their retirement. 
How to apply for Pag-IBIG MP2 Savings? 
Go to the official Modified Pag-IBIG II Enrollment page to register.
Key in all the necessary information for your application. (Name, Pag-IBIG ID number, birthday)
Enter the amount of your desired monthly contribution to the Pag-IBIG MP2 Savings.
From the choices given, select your preferred option for dividend payouts, mode of payment, and source of funds.
Wait for your interface to show the accomplished Modified Pag-IBIG II Enrollment Form, which has your 12-digit MP2 account number in it.
Submit the completed MP2 Savings Application form at the nearest Pag-IBIG branch. You will also have to present a valid ID card and a passbook or an ATM card of your nominated bank, where you want to receive your earnings. You can download the MP2 Savings Application form from the Pag-IBIG website.
ADVERTISEMENT - CONTINUE READING BELOW
How much can you potentially earn from Pag-IBIG MP2 Savings? 
To give you an idea of how your money can grow in five years with this program, here's a sample computation posted on Pag-IBIG Fund's website for a monthly deposit of P500 (this is based on an annual 7.5% dividend rate):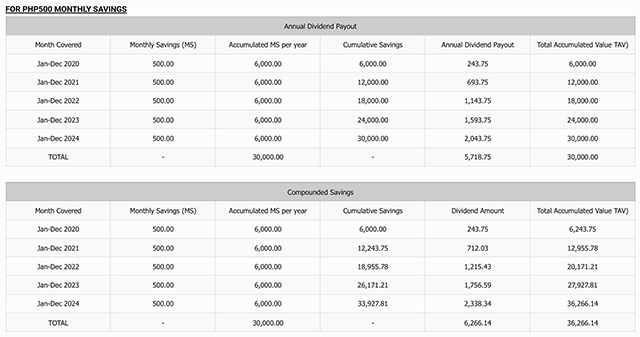 ADVERTISEMENT - CONTINUE READING BELOW
Keep in mind that the dividend rate may vary. In 2020, Pag-IBIG's dividend rate reached 6.12%. 
Where to pay for your Pag-IBIG MP2 contribution?
There are three ways you can pay for your Pag-IBIG MP2 Savings contribution:
You can have an agreement with your employer to have it deducted automatically from your salary.
You can go to the nearest Pag-IBIG branch to make the payment.
You can also pay through Pag-IBIG's accredited collection partners like G-Cash, ECPay, and Cash Pinas Moneygment App, etc. 
ADVERTISEMENT - CONTINUE READING BELOW
The Pag-IBIG MP2 Savings is a great option for you if you want to grow your savings, but you're not yet ready for other forms of investment that have higher risks. Through the MP2 Savings, you can get higher earnings while knowing that your money stays safe.
Click here to know more about Pag-IBIG's MP2 Savings. 
Female Network is now on Quento! Click here to download the app and enjoy more articles and videos from Female Network and your favorite websites!
Load More Stories